September 14, 2018
Mendez wins 2018 Paul Revere Award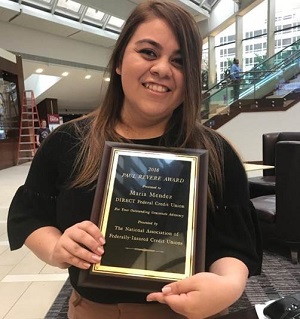 Maria Mendez, legislative and regulatory affairs liaison for Direct Federal Credit Union (Needham, Mass.), received NAFCU's 2018 Paul Revere Award.
The Paul Revere Award recognizes a NAFCU-member credit union advocate who goes to great lengths in his or her grassroots and political efforts.
"Maria's efforts and hard work have helped to give credit unions and their members a strong voice in Washington," said NAFCU President and CEO Dan Berger. "We are proud to honor Maria with the 2018 Paul Revere Award in honor of her commitment to the credit union industry, its members and the communities they serve."
"It is an honor to be recognized with NAFCU's Paul Revere Award," said Mendez. "I am proud of the work credit unions do to better the financial lives of their members and local communities, and I with the rest of the Direct Team look forward to continuing to advocate on their behalf. Grassroots advocacy is a powerful tool of ambassadorship for the credit union difference."
To be considered for the Paul Revere Award, candidates must:
be from a NAFCU-member credit union;
have held at least two meetings during 2017 or 2018 with each of their members of Congress (two senators and one representative);
have responded to all NAFCU Grassroots Alerts by completing the actions requested, such as phone calls, emails and letters to their lawmakers; and
be in regular contact with NAFCU for the most up-to-date legislative and regulatory information.
Mendez has actively participated and brought the credit union voice to various congressional town hall meetings, political campaigns, district offices of Members of Congress and Capitol Hill. In the past year alone, Mendez has met with several members of Congress. During those discussions, she ensured they were informed on credit union issues. Additionally, Maria has not only engaged her colleagues at Direct Federal Credit Union, but has also orchestrated a peer-to-peer campaign with other credit unions.
Related Resources
---
Get daily updates.
Subscribe to NAFCU today.