June 20, 2018
Metsger: NCUSIF distributions slated end of July/early August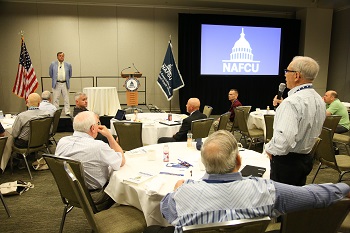 NCUA Board Member Rick Metsger told attendees of NAFCU's Defense Credit Union Summit yesterday that the National Credit Union Share Insurance Fund (NCUSIF) dividend payments can be expected "sooner rather than later," with a timeline set for the end of July through the beginning of August. He added that notices will go out to those credit unions receiving a distribution within the next couple of weeks.
The Defense Credit Union Summit occurred jointly with NAFCU's Annual Conference and Solutions Expo in Seattle; the conference runs through Friday.
Metsger also discussed the agency's efforts to reform member business lending (MBL) and field of membership (FOM) regulations, risk-based capital (RBC) reforms and small-dollar lending changes.
Regarding risk-based capital reforms – strongly supported by NAFCU and currently underway on Capitol Hill – Metsger said changes to the rule likely wouldn't happen while he's on the board. (President Donald Trump on Monday nominated Rodney Hood to the NCUA Board to fill Metsger's current seat.) Metsger noted that there are some legal aspects to the rule – set to go into effect Jan. 1, 2019 – that NCUA Board Chairman J. Mark McWatters has some concerns about but that a rule on RBC will not go away. "I think you'll see new action on this of some kind," Metsger said, while noting that this kind of rule is needed.
Metsger also reviewed the changes the agency has made to its MBL and FOM regulations, noting that FOM II is set to be finalized during Thursday's NCUA Board meeting. He referred to continued improvements in these regulations as adding more tools to credit unions' toolboxes.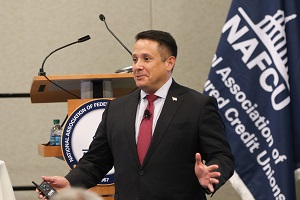 On small-dollar loans, Metsger said this type of lending is really important for almost one-third of the American public. "We realize that our program isn't as good as it could be," Metsger said, which is why the agency is seeking feedback on a PALs (payday alternative lending) II program. He also noted that the agency outlined to the Bureau of Consumer Financial Protection (previously the CFPB) how the NCUA is working to better its PALs program and make sure the bureau will include these changes within its payday lending safe harbors.
Metsger also discussed the agency's efforts on cybersecurity. During a Q&A portion of his talk, Metsger talked about the biggest threats to the NCUSIF. The biggest threat, he said, was another financial downturn.
Also during NAFCU's Defense Credit Union Summit:
Alecia Grady, director of personnel and family readiness at Joint Base Lewis-McChord, discussed the financial trends she is seeing among those servicemembers on the base. She said about one in 10 servicemembers are experiencing some type of financial difficulty. She added that credit unions make great partners to servicemembers.
Tony Hernandez, president and CEO at Defense Credit Union Council (DCUC) – a group NAFCU has partnered with on various defense-related issues – urged defense credit unions to use resources available through the DCUC. He also explained some concerns with the Department of Defense's Military Lending Act rule and the military banking program and how the council is working to find solutions. He also touched on the European Union General Data Protection Regulation (GDPR) and what it means for those defense credit unions that serve members all over the world.