March 23, 2020
NAFCU advocates against extending Durbin Amendment, other efforts that could harm CUs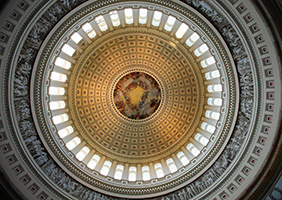 As various options to address the economic and health concerns of the coronavirus are considered by lawmakers in emergency aid packages, NAFCU is advocating against all that could harm the credit union industry. Of note, the association is currently pushing back against attempts from some trade groups to extend the Durbin Amendment of the Dodd-Frank Act – which places a price cap on interchange fees on debit card transactions – to credit cards.
"Proponents of the harmful Durbin Amendment are once again looking to pull the wool over consumers' eyes while our nation is fighting a national pandemic by advocating to expand this failed policy," said NAFCU President and CEO Dan Berger in response to these efforts. "In the aftermath of the 2008 financial crisis, the Durbin Amendment passed with almost no debate or study while its proponents promised consumers billions of dollars in savings via lower prices through a government-sponsored price control on interchange fees. However, these savings never found their way into consumers' wallets.
"Instead, the savings ended up in retailers' and merchants' coffers while consumers also saw fewer free checking options and the elimination of debit reward programs. If history is any lesson, the COVID-19 pandemic is no time to be expanding the failed policies of the past, and it is imperative Congress reject expanding this anti-consumer policy," Berger argued.
NAFCU has long urged for a repeal of the Durbin Amendment, arguing that merchants have not passed the benefits on to consumers while retail prices keep rising. Although the amendment sought to exempt smaller institutions from the fees, the price control put in place by Congress has trickled down to also affect credit unions under $10 billion in assets.
NAFCU will fight against efforts that would extend the Durbin Amendment and will continue to call for its repeal.
Another issue the association is engaged on is one to alter credit reporting procedures that could negatively impact lenders' operations.
In a letter to congressional leadership, NAFCU and several other financial trade groups advised against "a blanket suppression of all adverse information in credit reports." The groups noted that lenders use certain credit codes in times of natural disasters "to ensure delinquent or missed payments resulting from the economic impact of coronavirus do not adversely impact individuals' credit" and confirmed that this coding does not harm credit scores.
"While suppression is well intended, it could undermine safety and soundness," they wrote.
NAFCU will keep credit unions updated of any provisions that could negatively impact their business and members.
Related Resources
Add to Calendar 2023-03-20 14:00:00 2023-03-20 14:00:00 Liquidity Considerations in Light of Silicon Valley Bank As the financial industry is discussing the ramifications of the recent closings of Silicon Valley Bank (SVB) and Signature Bank, many are asking themselves, "Where do we go from here?" This is an opportunity to take a step back and evaluate your institution's next steps in this rapidly changing environment. The combination of mindset, critical thinking, and an understanding of the potential impact of different scenarios has increased in importance.  In this webinar, Liquidity Considerations in Light of Silicon Valley Bank, your questions and concerns will be addressed about short-term and long-term liquidity management and analysis, opportunities and risks that could arise from member actions, and the importance of maintaining trust and communication with your members throughout this wild ride.    Key Takeaways Heighten your thought process and strategies regarding the position of your credit union and considerations around potential actions Understand how evaluating your liquidity, ranging from expectations to stress events, from 3 levels helps you gain perspective on how much you may directly control, versus liquidity that is reliant on others Explore examples of critical thinking around the potential outcomes that you may want to examine FREE FOR ALL   Register NowOne registration gives your entire team access to the live webinar and on-demand recording until March 20, 2023.Go to the Online Training Center to access the webinar after purchase »   Who Should Attend C-suite Executive vice presidents Education Credits NCRMs will receive 1.0 CEUs for participating in this webinar Web NAFCU digital@nafcu.org America/New_York public
Credits: NCRM
Webinar
Add to Calendar 2023-03-09 14:00:00 2023-03-09 14:00:00 ALM Guidance to Inform Big Decisions Decision-makers are grappling with the interdependencies between cost of and access to liquidity, rapid changes in interest rate risk profiles, the cost of growth, and realigning typical KPIs with today's realities.   During this webinar, ALM Guidance to Inform Big Decisions, you will have the opportunity to explore how to elevate your decision insights through the use of ALM intelligence.  Done well, this helps address these issues head-on while effectively navigating uncertainties and opportunities as they continue to unfold.  Key Takeaways Identify and communicate potential conflicts with traditional KPIs Examine three (3) major questions when addressing liquidity Communicate potential future effective cost of funds as pricing decisions are being made Learn to look up and down, including twists and turns   Purchase Now$295 Members | $395 Nonmembers (Additional $50 for USB)One registration gives your entire team access to the live webinar and on-demand recording until March 9, 2024.Go to the Online Training Center to access the webinar after purchase » Who Should Attend CFOs Senior finance titles NCRMs, risk titles Compliance, BSA and risk titles Education Credits NCRMs will receive 1.0 CEUs for participating in this webinar CPA credit information is below; recommended 1.0 CPE credits. CPA Certification Credit Information Reviewer: Josie Collins, Senior Associate Director of Education, NAFCU Learning Objectives:  See key takeaways Program Level: Basic Prerequisites Needed: None Advance Preparation Needed: None Delivery Method: Group Internet-Based Recommended CPE Credits: 1.0 credits Recommended Field of Study: Finance – Technical About Our Webinars Our webinars are streamed live from NAFCU headquarters near Washington, DC. Your audio/video feed of the presenters includes presentation slides and downloadable handouts. You can easily submit your questions to the presenters at any time during the live broadcast, with no dialing over the phone! The audio and video stream directly through your computer. Web NAFCU digital@nafcu.org America/New_York public
Credits: NCRM, CPE
Webinar
Operations Examination & Enforcement
Blog Post
---
Get daily updates.
Subscribe to NAFCU today.