August 09, 2016
NAFCU Board opens member vote on Articles of Incorporation
NAFCU announced on Tuesday that its Board of Directors unanimously voted to amend NAFCU's Articles of Incorporation to give federally-insured, state-chartered credit unions full membership.
The vote opens to NAFCU's membership today and will close on Sept. 9.
If approved, state-chartered NAFCU members would have full voting rights and be eligible to vote on all NAFCU matters, including elections. In addition, full membership would allow state-chartered members to run for and serve on the NAFCU Board of Directors.
"This announcement is a natural evolution of NAFCU's mission and supports our goal to help all federally-insured credit unions with federal issues by becoming a stronger, more impactful organization," said NAFCU Board Chairman Richard L. Harris. "This unanimous decision included enthusiastic support from our board and staff. NAFCU will remain focused on representing our members at the federal level.
"As NAFCU continues to grow, state-chartered members should have an equal vote and seat at the table, for the benefit of our membership and the industry," Harris continued. "One member – one vote."
In order for the amendment to pass, 25 percent of all voting members must vote, and of those, two-thirds must vote to support the changes. The amendment would not alter NAFCU's focus, which would remain on federal issues affecting the nation's federally-insured credit unions.
"NAFCU's Board has once again shown tremendous leadership," said NAFCU President and CEO Dan Berger. "The NAFCU staff and I are thrilled about their decision to offer state-chartered members a seat at the table. If our membership votes in favor of the board's unanimous recommendation, NAFCU-member credit unions would benefit from an even stronger and more influential partner in Washington, D.C. This change would strengthen the voice of all NAFCU-member credit unions and our industry at the federal level."
The NAFCU Board voted last year to expand association membership to federally-insured, state-chartered credit unions, in recognition that credit union issues at the federal level impact all credit unions. NAFCU's membership already included numerous federally-insured, state-chartered credit unions that were grandfathered into membership after converting from federal to state charters. Currently, federally-insured, state-chartered credit unions are eligible to be associate members and cannot vote or serve on the NAFCU Board.
NAFCU invites its members to contact Berger at dberger@nafcu.org with any questions about the vote.
Related Resources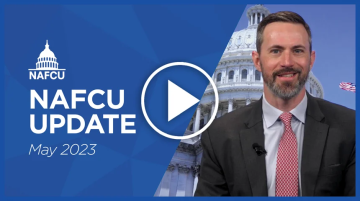 Video
Add to Calendar 2023-06-01 09:00:00 2023-06-01 09:00:00 Managing Risk with Derivatives In today's interest rate environment, derivatives are an essential tool that plays a key role in mitigating rate risk in credit unions' loan portfolios and in pricing member share accounts. By providing access to fairly priced products and services, credit unions support their local communities and play an important role in the nation's financial health. Get the Report: Location NAFCU digital@nafcu.org America/New_York public
preferred partner
Piper Sandler
Whitepaper
---
Get daily updates.
Subscribe to NAFCU today.