March 23, 2020
NAFCU calls for more CU relief, parity with banks in coronavirus packages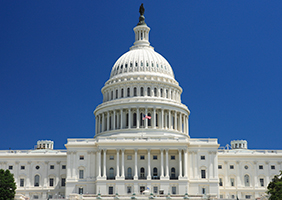 NAFCU through the weekend aggressively lobbied Capitol Hill and the Trump administration as negotiations related to Phase 3 of coronavirus relief – the CARES Act – continued. Yesterday, NAFCU President and CEO Dan Berger sent a letter to congressional leadership urging that any resources provided to banks in relief efforts are also provided to credit unions and reiterated specific areas of relief for credit unions.
The future of the package is uncertain as Democrats and Republicans in the Senate have yet to reach an agreement to pass the bill and the Senate last night failed to advance it in a procedural vote, although Senate Majority Leader Mitch McConnell, R-Ky., indicated that he intended to retry the procedural vote.  In addition, House leadership has indicated they will begin working on an alternative to the Senate's Phase 3 relief package, details of which could emerge today.
In addition to amending provisions to provide parity between credit unions and banks, Berger called for:
measures providing relief from the member business lending cap and increasing access for credit unions to Small Business Administration (SBA) programs;

providing capital relief by delaying the current expected credit loss (CECL) standard, granting relief on troubled debt restructurings, requesting the NCUA further adjust its risk-based capital (RBC) rule, and more;

modernizing governance provisions of the Federal Credit Union Act;

allowing credit unions to serve more underserved communities and fully funding programs that support these efforts;

raising the 15-year maturity limit of certain credit union loans;

modernizing the E-SIGN Act (read more here); and

urging financial regulators to provide more regulatory relief.
The association also joined with a coalition of other financial industry trades to share feedback on efforts to support increased lending to small businesses and provide relief. "We are hearing from our members that the [Small Business administration (SBA)] departments at institutions across the country are being flooded as billions in small business loans are no longer able to be made conventionally," they wrote.
Specifically, the trades outlined enhancements to the Small Business Administration's (SBA) 7(a) loan program to ensure lending can be done right now to preserve the small business economy, including:
fee waivers for small business borrowers and lenders;
increased federal guaranty;
increased deferment flexibility to remove existing hurdles and provide borrowers critical deferment relief;
increased maximum loan size for all 7(a) loans;
increased maximum loan size for all Express loans; and
increased general 7(a) and secondary market authorization caps to allow for increased lending while utilizing the above enhancements.
In order to encourage speed in providing SBA loans, the groups also recommended authority for the SBA administrator to:
waive real estate appraisal requirements prior to loan closing; and
suspend requirements that the income tax verifications are necessary prior to loan closing.
The groups urged that these SBA loan enhancements be included in the final CARES Act to help address economic concerns of the coronavirus.
NAFCU will continue to be actively engaged through all coronavirus relief discussions to ensure credit unions' and their members' needs are addressed.
Related Resources
---
Get daily updates.
Subscribe to NAFCU today.