FOR IMMEDIATE RELEASE | February 24, 2022
NAFCU CEO stands in support of Ukraine, UACUA
Russia's actions are a "threat to democracy across the globe"  
WASHINGTON – The National Association of Federally-Insured Credit Unions (NAFCU) President and CEO Dan Berger issued the following statement following Russia's attacks against Ukraine: 
"Russia's invasion of Ukraine is not only an attack on innocent lives and a clear violation of the country's sovereignty, but a direct threat to democracy across the globe," said Berger. 
"NAFCU stands with the Ukrainian American Credit Union Association -- the 12 Ukrainian American credit unions and their more than 100,000 members -- who have family, friends, and colleagues in their home country. With over $4 billion in combined assets, these credit unions play an important role in the American economy," added Berger. "We join them in support of the Ukrainian people and our U.S. leaders and allies as they move to swiftly hold Russia accountable." 
"The entire NAFCU organization believes in the principles of peace, prosperity and freedom. As always, we will remain a helpful resource for the entire credit union community and their members as markets across the world undoubtedly respond to these reckless actions," concluded Berger. 
###
The National Association of Federally-Insured Credit Unions is the only national trade association focusing exclusively on federal issues affecting the nation's federally-insured credit unions. NAFCU membership is direct and provides credit unions with the best in federal advocacy, education and compliance assistance. For more information on NAFCU, go to www.nafcu.org or @NAFCU on Twitter.
Related Resources
Examination & Enforcement
Blog Post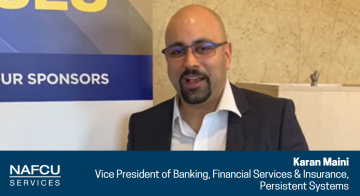 preferred partner
Persistent Systems
Video
Fraud, Current Affairs, Credit Unions, Compliance, Risk Management
preferred partner
Allied Solutions
Blog Post
Add to Calendar 2022-05-16 09:00:00 2022-05-16 09:00:00 Managing Fraud at Credit Unions in an Increasingly Digital World To remain competitive, credit unions are increasingly adopting digital offerings. However, digital growth can lead to increased application fraud. Legacy systems primarily intended to ensure compliance with Know Your Customer (KYC) and Customer Identification Programs are no longer effective. With so much personally identifiable information available, both real and synthetic, newer and more dynamic technologies are required to stop fraud. What's at stake: The ability to keep up with banks and fintechs increasingly able to provide a seamless digital onboarding experience and access to new products and money right away. Getting it wrong not only means higher losses, but reduced growth in the long term. In the face of this increasingly digital world, it's not realistic to manually review everything. Newer types of fraud such as synthetic identities often go undetected and can account for up to 10% of chargeoffs. Evaluating the identities of potential new members at onboarding has to be done in an automated fashion using technology that includes phone and email intelligence, as well as other signals to flag high risk applications so they can be more fully vetted. Understanding how to incorporate new technology at account opening and knowing what verification strategies to pursue when you suspect fraud can help credit unions ensure predictable growth with minimal losses. Get the Report: Location NAFCU digital@nafcu.org America/New_York public
preferred partner
SentiLink
Whitepaper
---
Get daily updates.
Subscribe to NAFCU today.