August 11, 2021
NAFCU combats Fed proposed changes to interchange regulation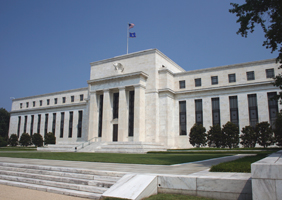 NAFCU Regulatory Affairs Counsel James Akin wrote to the Federal Reserve Tuesday in response to proposed modifications to Regulation II clarifying the requirement for debit card issuers to enable – and allow merchants to choose from – at least two unaffiliated networks for card-not-present (CNP) transactions, such as online purchases.
The Fed issued the proposal to make changes to Regulation II – which covers debit card interchange fees and network routing exclusivity – in May.
"NAFCU requests that the Board immediately withdraw the proposed modification to Regulation II," wrote Akin. "To the extent that the Board continues in this rulemaking, NAFCU requests that the Board provide further analysis on the impacts of the proposed modification on the payment routing ecosystem, and that it consider the severe repercussions that the modification would have on credit unions and their members due to increased fraud risk and compliance costs, and decreased interchange income."
Akin argued that Regulation II and the Durbin Amendment be repealed for the benefit of consumers and opposed any type of reopening. In addition, he flagged concerns that this change will produce a negative impact on credit union interchange income and arbitrarily revoke existing guidance.
"NAFCU members also face an increased likelihood of fraud in transactions with entities that are not subject to the same rigorous oversight and supervision as credit unions and other federally examined institutions," noted Akin. "While depository institutions have had a national standard on data protection since the passage of the Gramm-Leach-Bliley Act (GLBA) over two decades ago, other entities who handle consumer financial data are not held to the same standards."
Akin explained the change would create a de facto technology mandate that would drive most transactions across rails and with authentication methods which credit unions may judge to be inferior and not best-in-class.
Additionally, Akin mentioned that due to the fundamental differences between the modification to Regulation II and its current requirements, the costs associated with the proposed rule would be impractical and damaging to undertake for many credit unions.
Read the full letter. NAFCU has previously shared with the Fed ways in which this proposed change will hurt credit union members and has urged against any type of modification to Regulation II.
Related Resources
Add to Calendar 2021-10-21 14:00:00 2021-10-21 14:00:00 FFIEC IT Examination Handbook Update - Deconstructing the Architecture, Infrastructure & Operations Booklet If you have ever wanted to know what's new in the Federal Financial Institutions Examination Council (FFIEC) IT Examination Handbook, this is the session for you.  In this webinar we will deconstruct the Architecture, Infrastructure & Operations (AIO) booklet by comparing the AIO booklet to the Operations booklet which it replaces. We dig into what's new to AIO, including how the principles, design and content could impact your credit union during future IT exams. If you are a CISO, ISO, responsible for IT governance, or just want to stay on top of changes to IT regulatory guidelines, this session is for you. Key Takeaways Discover the key differences between the AIO booklet and the Operations booklet it replaces. Identify new principles in the AIO booklet as they relate to IT safety and soundness. Compare and contrast principles and concepts that overlap with the IT Security booklet. Review ideas on how to implement the AIO into your credit union's Information Security Program. Purchase Now$295 Members | $395 Nonmembers (Additional $50 for CD)One registration gives your entire team access to the live webinar and on-demand recording until October 21, 2022.Go to the Online Training Center to access the webinar after purchase » Who Should Attend? NAFCU Certified Compliance Officers (NCCOs) NAFCU Certified Risk Managers (NCRMS) Chief Executive Officers Chief Financial Officers Chief Information Officers Chief Technology Officers Compliance, risk, and audit titles Education Credits NCRMs will receive 1.0 CEUs for participating in this webinar NCCOs will receive 1.0 CEUs for participating in this webinar CPA credit information is below; recommended 1.0 CPE credits. CPA Certification Credit Information Reviewer: Josie Collins, Associate Director of Education, NAFCU Learning Objectives:  See key takeaways Program Level: Basic Prerequisites Needed: None Advance Preparation Needed: None Delivery Method: Group Internet-Based Recommended CPE Credits: 1.0 credits Recommended Field of Study: Regulatory Ethics – Technical About Our Webinars Our webinars are streamed live from NAFCU headquarters near Washington, D.C. Your audio/video feed of the presenters includes presentation slides and downloadable handouts. You can easily submit your questions to the presenters at any time during the live broadcast, with no dialing over the phone! The audio and video stream directly through your computer. Web NAFCU digital@nafcu.org America/New_York public
Credits: NCRM, NCCO, CPE
Webinar
Strategy, FinTech, Web/Tech, Technology, Cloud Computing
preferred partner
Q2
Blog Post
---
Get daily updates.
Subscribe to NAFCU today.