July 01, 2019
NAFCU counters ABA inquiry with NCUA letter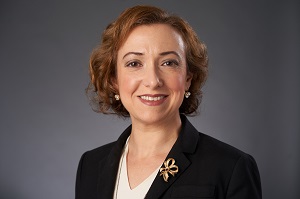 Late last week, the American Bankers Association's (ABA) sent a letter to the NCUA requesting an assessment of credit unions and their commitment to underserved populations. NAFCU's EVP of Government Affairs and General Counsel Carrie Hunt hit back immediately, responding with a letter, also to the NCUA, that NAFCU supports the agency remaining focused on priorities that will help the credit union industry.
"The ABA's request is nothing more than an intimidation tactic," said Hunt. "The ABA has long sought to extinguish credit union competition from the marketplace, and the association's promotion of a poorly conducted and factually inaccurate paper – that they themselves funded – should leave no doubt about what their real motives are.
"If the ABA is truly concerned about the well-being of underserved communities then it should immediately drop their lawsuits seeking to prevent credit unions from helping these exact same communities. More so, the ABA should begin actively supporting and advocating in favor of legislation that would allow credit unions of all charter types to add underserved areas to their fields of membership. If bankers have truly reformed themselves and atoned for their behavior in 2008, they should step up to the plate and work to help people for once."
Hunt's NCUA letter points out that the report lacks original data and analysis – providing little support for its conclusions.  "When competitor institutions question our mission and principles, they do so not out of concern for the average consumer or small business, but to draw attention away from their own, less appealing legacy, and to eliminate threats to shareholder returns," wrote Hunt.
Hunt also acknowledges that the report "fails to recognize the countless fines levied against banks and their endless attempts to thwart the law," pointing to the fact that banks have been fined at least $243 billion since the 2008 financial crisis. The fines alone would be enough to decimate the credit union industry.
"NAFCU supports a safe and sound credit unions system, a strong, independent NCUA, and a vibrant financial system in the country where credit unions and banks co-exist. It appears the banks want the entire pie for themselves," said Hunt's letter.
NAFCU has long called for the credit union industry to be exempt from rules and regulations that were created due to the banking industry's poor behavior.  As the industry's Washington Watchdog, NAFCU and its staff actively push back against banking lobbyists' efforts to rid credit union competition from the marketplace and, in doing so, often meet with members of Congress from all political affiliations, as well as leaders at the CFPB and the NCUA. The association most recently met with Chairman Hood to discuss regulatory burdens facing the industry.  
Related Resources
Add to Calendar 2022-09-29 14:00:00 2022-09-29 14:00:00 Coming Soon: CECL This is a deep-dive refresher into the requirements of the Current Expected Credit Losses (CECL) standard. ASC 326 (CECL) is the most significant accounting standard to impact credit unions in many years. Your credit union should be prepared to adopt CECL in 2023 – this will be an effort to make sure you have a sound calculation, appropriate accounting policies and sufficient disclosures. In this Coming Soon: CECL webinar, you'll get a baseline understanding of the accounting decisions required by the standard, with a focus on those that have tripped up earlier adopters; lessons learned from previous adopters; best practices and key items to consider for your model on a go-forward basis. Key Takeaways Understand requirements of the CECL standard Analyze lessons learned and best practices from previous adopters Evaluate key items to consider for future maintenance of the CECL model(s)   Register Now$295 Members | $395 Nonmembers(Additional $50 for USB)One registration gives your entire team access to the live webinar and on-demand recording until September 29, 2023.Go to the Online Training Center to access the webinar after purchase »   Who Should Attend Presidents and CEOs CFOs Accounting titles NCRMs Risk titles Education Credits NCRMs will receive 1.0 CEUs for participating in this webinar CPA credit information is below; recommended 1.0 CPE credits. CPA Certification Credit Information Reviewer: Josie Collins, Senior Associate Director of Education, NAFCU Learning Objectives:  See key takeaways Program Level: Basic Prerequisites Needed: None Advance Preparation Needed: None Delivery Method: Group Internet-Based Recommended CPE Credits: 1.0 credits Recommended Field of Study: Accounting – Technical About Our Webinars Our webinars are streamed live from NAFCU headquarters near Washington, DC. Your audio/video feed of the presenters includes presentation slides and downloadable handouts. You can easily submit your questions to the presenters at any time during the live broadcast, with no dialing over the phone! The audio and video stream directly through your computer. Web NAFCU digital@nafcu.org America/New_York public
Credits: NCRM, CPE
Webinar
Retirement, Relationships
preferred partner
Ascensus
Blog Post
---
Get daily updates.
Subscribe to NAFCU today.