March 23, 2018
NAFCU crowns 1,000th active NCCO this week, wraps up Reg School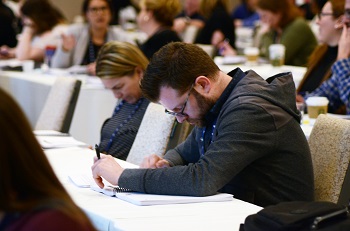 NAFCU this week certified its 1,000th active NAFCU Certified Compliance Officer (NCCO) at its Regulatory Compliance School in Arlington, Va., which wraps up today. The association's NCCO program last year earned a 2017 ASAE Power of A (association) Gold Award.
Students at this week's School have had the opportunity to take the four exams to become an NCCO. Registration is now open for NAFCU's Fall Regulatory Compliance School Oct. 8-12 in San Antonio, Texas, where the certification will be offered again. Earning this designation means a credit union professional has a comprehensive understanding of the major regulations governing credit unions' operations.
During the final day of NAFCU's Regulatory Compliance School today, students will learn about:
The CFPB's mortgage servicing rule: André Cotten, NAFCU's Regulatory Compliance Counsel, will give an overview of the rule, periodic statement requirements, and how to handle delinquent consumers, among other things.
Information and data security: Devon Lyon, NAFCU's director of education, will discuss how credit unions can safeguard member's information, the  Gramm-Leach-Bliley Act, the NCUA's Vital Records Preservation and Catastrophic Act, the Federal Financial Institutions Examination Council's IT handbook and the NCUA's security regulations.
Vendor management: Reginald Watson, NAFCU's regulatory compliance counsel, will note the NCUA's expectations, CFPB's enforcement, risk assessment and planning, and due diligence requirements related to vendor management.
Bank Secrecy Act (BSA) and the Office of Foreign Assets Control (OFAC):  Stephanie Lyon, NAFCU's regulatory compliance counsel, will give an overview, note the role of government agencies and the regulatory requirements involved in a BSA program. She will also highlight various recordkeeping and reporting requirements and the penalties for noncompliance.
Related Resources
---
Get daily updates.
Subscribe to NAFCU today.