May 07, 2019
NAFCU, CUs continue meetings with Fed banks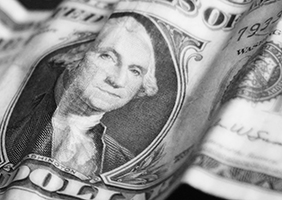 NAFCU Chief Economist and Vice President of Research Curt Long and member credit unions are continuing to meet with Federal Reserve banks to discuss various industry issues, including the economic outlook, interest rates, lending landscape and faster payments. They met yesterday with Federal Reserve Bank of St. Louis President James Bullard, and will meet Friday with Federal Reserve Bank of Boston President Eric Rosengren.
Both Bullard and Rosengren are currently voting members on the Federal Open Market Committee (FOMC) – the Fed's monetary policy-setting arm. The committee met last week and left rates unchanged, and also indicated it will continue to reduce the Fed's securities holdings.
Long and a group of NAFCU members also met last month with Federal Reserve Bank of Minneapolis President Neel Kashkari.
NAFCU continues to engage with the Fed regarding its work to make the payments system faster and more secure – an issue on which the Federal Reserve Bank of Boston is leading – and has met with Fed staff to discuss the strategy for achieving more secure payments. The association in December shared how credit unions could benefit from faster payments services, and the Fed has launched an initiative among industry stakeholders to help improve payments security.
NAFCU and its Board of Directors meet annually with the Federal Reserve to present findings from the association's Report on Credit Unions and to discuss issues critical to the credit union industry. The group met with Federal Reserve Vice Chairman of Supervision Randal Quarles in November; see a recap of the discussion here.
More information on the Federal Reserve and its regional banks is available here.
Related Resources
Add to Calendar 2019-10-10 14:00:00 2019-10-10 14:00:00 CECL Auditing Part 2: Forecasts and Calculations About the Webinar In this session, we'll discuss the importance of auditing forecasted calculations derived from historical data. We'll focus on how to audit forecast models as well as disclosure requirements. Learn about: Auditing the models underlying data and forecasts What regression coefficients mean How coefficients work into the forecast Disclosure basics Auditing model descriptions Auditing changes in models and disclosures Ways of validating the forecast This session is recommended for internal accountants, external auditors, and regulators. Watch the Webinar On-Demand Web NAFCU digital@nafcu.org America/New_York public
webinar
preferred partner
ARCSys
---
Get daily updates.
Subscribe to NAFCU today.