September 19, 2023
NAFCU details CFPB's egregious regulatory overreach ahead of hearing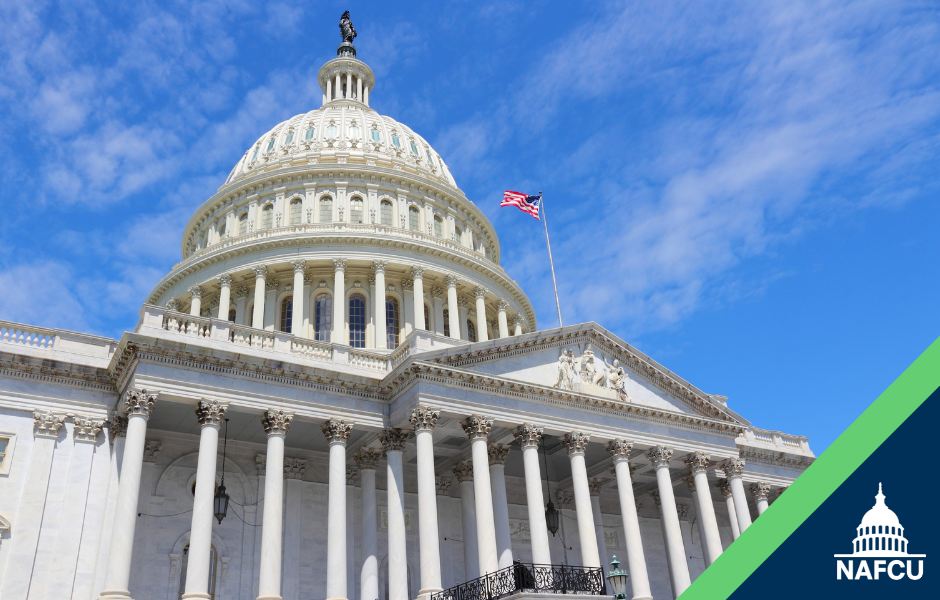 NAFCU Senior Vice President of Government Affairs Greg Mesack wrote to the House Financial Services Subcommittee on Financial Institutions and Monetary Policy ahead of its hearing examining regulatory overreach to detail how overregulation has harmed the credit union industry.
Mesack highlighted that the number of credit unions has declined by more than half since the passage of the Dodd-Frank Act. He also noted that credit unions being made subject to the rules and regulations of the CFPB despite being not-for-profit cooperatives and already being subject to strict field of membership and capital restrictions, as well as numerous consumer protection provisions in the Federal Credit Union Act, is another "major reason for the decline in credit unions."
"As such, the CFPB should be more cognizant of the unique characteristics of the credit union industry and the benefits they provide to consumers and use its exemption authority to help limit burdens on credit unions," wrote Mesack. "Unfortunately, this has not been the case."
Mesack outlined the CFPB's mischaracterization and attack on certain financial services fees as "junk fees," noting it is the most recent example of regulatory overreach by the bureau. He explained that the required disclosures of financial fees have made significant positive impacts on consumers' understanding of financial product pricing, provided for better comparison shopping, and improved consumer repayment behavior.
"Ironically, this example of regulatory overreach is also one that undercuts the CFPB's own efforts to help consumers by developing effective disclosures about financial products," added Mesack. "Ultimately, the CFPB's regulatory overreach as part of its war on fees could lead to serious negative economic consequences for consumers and community institutions."
Relatedly, NAFCU recently conducted a survey of its members, finding an overwhelming majority support CFPB reforms and do not believe the bureau's efforts are effective.
NAFCU will monitor the hearing – slated for 2 p.m. Eastern today – and will report any relevant updates via NAFCU Today. The association will continue to remain engaged with the lawmakers to ensure regulators are held accountable and credit unions are not faced with overly burdensome regulatory compliance requirements.
Related Resources
Add to Calendar 2023-09-22 14:00:00 2023-09-22 14:00:00 Understanding Credit Card Portfolio Sales & Agent Programs Both credit union and bank credit card issuers are under intense pressure from various sources, including competitor innovation, significant internal resource commitments, increasing operating expenses, uncertain regulatory and economic environments and a variety of capital and liquidity constraints. This has led to about 80% of all banks offering credit cards under an 'agent issuing' model, where a third-party issues credit cards under the financial institution's name. While hundreds of credit unions do the same, and interest in this option has increased in the last two years, the majority of credit unions still own and manage this product themselves. Deciding whether this option can meet strategic, financial and member needs can be difficult to untangle. In this webinar, Understanding Credit Card Portfolio Sales & Agent Programs, you'll delve into the structure of such programs, the financial and risk-profile impacts of such a decision, the contractual commitments required of both parties and discover evaluation tips and processes for any credit union that would like to evaluate this path. Key Takeaways Discover the structure of the agent issuing concept and obligations of both parties Understand the financial impact of entering such a program to the balance sheet, income statement, and critical performance ratios Ascertain the impacts to members, including both positive and negative possibilities Review the accompanying contractual structures and key considerations Develop an evaluation process that best protects the credit union's financial and other outcomes   Register Now $295 Members | $395 Nonmembers(Additional $50 for USB)One registration gives your entire team access to the live webinar and on-demand recording until September 22, 2024.Go to the Online Training Center to access the webinar after purchase »   Who Should Attend COOs CFOs NCCOs and compliance titles NCRMs and risk titles General counsel staff Education Credits NCCOs will receive 1.0 CEUs for participating in this webinar NCRMs will recieve 1.0 CEUs for participating in this webinar CPA credit information is below; recommended 1.0 CPE credits. CPA Certification Credit Information Reviewer: Josie Collins, Senior Associate Director of Education, NAFCU Learning Objectives:  See key takeaways Program Level: Basic Prerequisites Needed: None Advance Preparation Needed: None Delivery Method: Group Internet-Based Recommended CPE Credits: 1.0 credits Recommended Field of Study: Regulatory Ethics – Technical About Our Webinars Our webinars are streamed live from NAFCU headquarters near Washington, DC. Your audio/video feed of the presenters includes presentation slides and downloadable handouts. You can easily submit your questions to the presenters at any time during the live broadcast, with no dialing over the phone! The audio and video stream directly through your computer. Web NAFCU digital@nafcu.org America/New_York public
Credits: NCCO, NCRM, CPE
Webinar
Strategy
preferred partner
TruStage
Blog Post
---
Get daily updates.
Subscribe to NAFCU today.