May 15, 2018
NAFCU, FCC discuss CUs' TCPA concerns, future rulemakings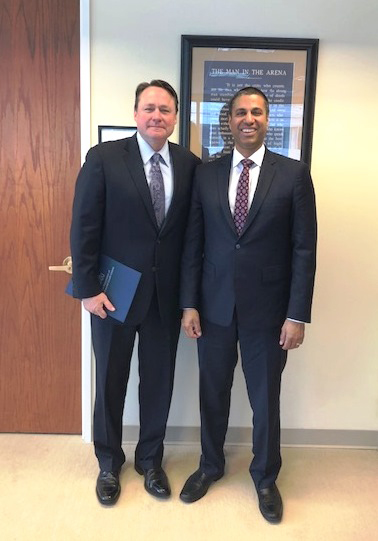 NAFCU President and CEO Dan Berger met yesterday with Federal Communications Commission (FCC) Chairman Ajit Pai to discuss the FCC's current approach to rulemaking regarding the Telephone Consumer Protection Act (TCPA) and share credit unions' concerns. NAFCU has urged the FCC for more clarity and flexibility so credit unions can contact their members without fear of breaking the law.
Along with Berger, NAFCU Executive Vice President of Government Affairs and General Counsel Carrie Hunt and Regulatory Affairs Counsel Ann Kossachev attended the meeting.
In March, the U.S. Court of Appeals for the D.C. Circuit issued a decision in a lawsuit, ACA International v. FCC, that stemmed from a declaratory ruling and order the FCC issued in July 2015 providing limited exemptions under the TCPA for financial institutions making free autodialed calls to consumers. The court invalidated the FCC's definition of "autodialer" and rejected the commission's interpretation of when a caller violates the TCPA by calling a reassigned number.
In light of this ruling, NAFCU has encouraged the FCC to clarify the definition of an Automatic Telephone Dialing System (ATDS) for the sake of consistency and take other action to "ensure that consumers whose mobile phone numbers have been reassigned continue to receive important communications." Earlier this month, NAFCU, along with more than a dozen other trade associations, petitioned the FCC to do just this.
NAFCU has engaged on this issue since the FCC issued the declaratory ruling, entering into ACA's suit in September 2015. Since then, the association has been active with the agency in order to protect financial institutions' ability to communicate with their members about sensitive financial information through numerous meetings and letters.
NAFCU is also seeking credit unions' feedback on the FCC's second further notice of proposed rulemaking related to calls made to reassigned numbers and liability under the TCPA. The FCC is in the information-gathering stage of the rulemaking process and is expected to issue a rule on reassigned numbers later this year. Credit unions can learn more and provide comments to NAFCU on this rulemaking through the association's Regulatory Alert.
Related Resources
---
Get daily updates.
Subscribe to NAFCU today.