October 05, 2022
NAFCU fights back against Sens. Durbin and Marshall effort attach NAFCU-opposed interchange bill to NDAA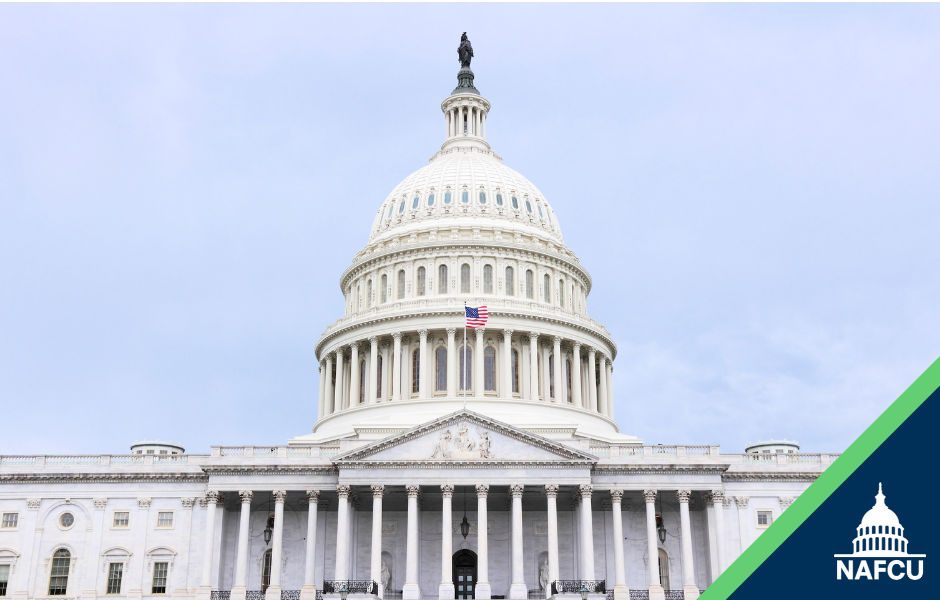 NAFCU joined with a group of other financial services trade groups yesterday in a letter to Congress, urging lawmakers to reject the latest effort of Senators Dick Durbin, D-Ill., and Roger Marshall, R-Kan., to attach the NAFCU-opposed Credit Card Competition Act (CCCA) as an amendment for consideration to the fiscal year 2023 National Defense Authorization Act (NDAA). Sen. Durbin used this tactic when he attached the original Durbin Amendment to the Dodd-Frank Act in 2010.
Additionally, the Senators are also attempting to use the NDAA as a vehicle to include a study on the impact of interchange on sales to soldiers and their families at base commissaries and exchanges as way to tie the issue into the NDAA. The Senate is slated to begin debate on amendments to the NDAA on Oct. 11, although no votes are expected until November. Still, the action could put the interchange issue on the table as Senators negotiate a Senate package and a final compromise with the House.
The letter urged against both of these efforts, arguing that "These non-germane amendments will rob military families of their credit card rewards, reduce the availability of safe credit, and undermine the nation's data security."  In addition to NAFCU, the letter was signed by the American Bankers Association, the Association of Military Banks of America, the Bank Policy Institute, the Consumer Bankers Association, the Credit Union National Association, the Defense Credit Union Council, the Electronic Payments Coalition, the Independent Community Bankers of America and the National Bankers Association.
Of note, Representatives Peter Welch, D-Vt., and Lance Gooden, R-Texas, introduced the House companion to the CCCA on Sept. 19. NAFCU has continued to strongly oppose this bill. After the CCCA companion was introduced, NAFCU President and CEO Dan Berger wrote to the House, underscoring the havoc this legislation would have on the payments system.
In his letter, Berger said, "The Credit Card Competition Act of 2022 is not about competition. It is about increasing the profits of big box retailers at the expense of consumers and financial institutions by creating government intervention in a free market and establishing a back-door price control on the credit card system."
Berger also penned an op-ed, where he highlighted the importance of interchange fees for credit unions, stating, "These fees are a critical source of revenue for the card issuing financial institution because it helps maintain system improvements, ensure online transaction safety, mitigate consumer fraud losses, and most importantly, grant financial institutions the ability to offer affordable financial services products, like checking accounts and credit cards, to their consumers."
The best messenger with policymakers in Washington is the credit union who is out there every day trying to meet the needs of their members. The association is urging credit unions to use NAFCU's Grassroots Actions Center to speak out against this bill by sending a message to their lawmakers requesting them to oppose the harmful legislation.  We also encourage you to share a statement that NAFCU can publicly use with media, members of Congress and others to oppose this bad policy.
Related Resources
Add to Calendar 2023-09-22 14:00:00 2023-09-22 14:00:00 Understanding Credit Card Portfolio Sales & Agent Programs Both credit union and bank credit card issuers are under intense pressure from various sources, including competitor innovation, significant internal resource commitments, increasing operating expenses, uncertain regulatory and economic environments and a variety of capital and liquidity constraints. This has led to about 80% of all banks offering credit cards under an 'agent issuing' model, where a third-party issues credit cards under the financial institution's name. While hundreds of credit unions do the same, and interest in this option has increased in the last two years, the majority of credit unions still own and manage this product themselves. Deciding whether this option can meet strategic, financial and member needs can be difficult to untangle. In this webinar, Understanding Credit Card Portfolio Sales & Agent Programs, you'll delve into the structure of such programs, the financial and risk-profile impacts of such a decision, the contractual commitments required of both parties and discover evaluation tips and processes for any credit union that would like to evaluate this path. Key Takeaways Discover the structure of the agent issuing concept and obligations of both parties Understand the financial impact of entering such a program to the balance sheet, income statement, and critical performance ratios Ascertain the impacts to members, including both positive and negative possibilities Review the accompanying contractual structures and key considerations Develop an evaluation process that best protects the credit union's financial and other outcomes   Register Now $295 Members | $395 Nonmembers(Additional $50 for USB)One registration gives your entire team access to the live webinar and on-demand recording until September 22, 2024.Go to the Online Training Center to access the webinar after purchase »   Who Should Attend COOs CFOs NCCOs and compliance titles NCRMs and risk titles General counsel staff Education Credits NCCOs will receive 1.0 CEUs for participating in this webinar NCRMs will recieve 1.0 CEUs for participating in this webinar CPA credit information is below; recommended 1.0 CPE credits. CPA Certification Credit Information Reviewer: Josie Collins, Senior Associate Director of Education, NAFCU Learning Objectives:  See key takeaways Program Level: Basic Prerequisites Needed: None Advance Preparation Needed: None Delivery Method: Group Internet-Based Recommended CPE Credits: 1.0 credits Recommended Field of Study: Regulatory Ethics – Technical About Our Webinars Our webinars are streamed live from NAFCU headquarters near Washington, DC. Your audio/video feed of the presenters includes presentation slides and downloadable handouts. You can easily submit your questions to the presenters at any time during the live broadcast, with no dialing over the phone! The audio and video stream directly through your computer. Web NAFCU digital@nafcu.org America/New_York public
Credits: NCCO, NCRM, CPE
Webinar
Strategy
preferred partner
TruStage
Blog Post
---
Get daily updates.
Subscribe to NAFCU today.