October 05, 2022
NAFCU fights back against Sens. Durbin and Marshall effort attach NAFCU-opposed interchange bill to NDAA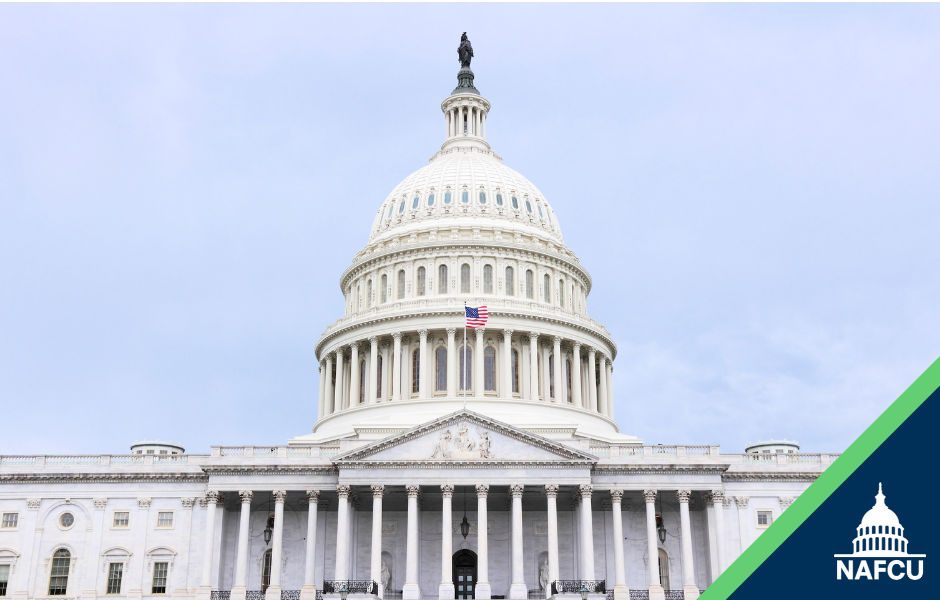 NAFCU joined with a group of other financial services trade groups yesterday in a letter to Congress, urging lawmakers to reject the latest effort of Senators Dick Durbin, D-Ill., and Roger Marshall, R-Kan., to attach the NAFCU-opposed Credit Card Competition Act (CCCA) as an amendment for consideration to the fiscal year 2023 National Defense Authorization Act (NDAA). Sen. Durbin used this tactic when he attached the original Durbin Amendment to the Dodd-Frank Act in 2010.
Additionally, the Senators are also attempting to use the NDAA as a vehicle to include a study on the impact of interchange on sales to soldiers and their families at base commissaries and exchanges as way to tie the issue into the NDAA. The Senate is slated to begin debate on amendments to the NDAA on Oct. 11, although no votes are expected until November. Still, the action could put the interchange issue on the table as Senators negotiate a Senate package and a final compromise with the House.
The letter urged against both of these efforts, arguing that "These non-germane amendments will rob military families of their credit card rewards, reduce the availability of safe credit, and undermine the nation's data security."  In addition to NAFCU, the letter was signed by the American Bankers Association, the Association of Military Banks of America, the Bank Policy Institute, the Consumer Bankers Association, the Credit Union National Association, the Defense Credit Union Council, the Electronic Payments Coalition, the Independent Community Bankers of America and the National Bankers Association.
Of note, Representatives Peter Welch, D-Vt., and Lance Gooden, R-Texas, introduced the House companion to the CCCA on Sept. 19. NAFCU has continued to strongly oppose this bill. After the CCCA companion was introduced, NAFCU President and CEO Dan Berger wrote to the House, underscoring the havoc this legislation would have on the payments system.
In his letter, Berger said, "The Credit Card Competition Act of 2022 is not about competition. It is about increasing the profits of big box retailers at the expense of consumers and financial institutions by creating government intervention in a free market and establishing a back-door price control on the credit card system."
Berger also penned an op-ed, where he highlighted the importance of interchange fees for credit unions, stating, "These fees are a critical source of revenue for the card issuing financial institution because it helps maintain system improvements, ensure online transaction safety, mitigate consumer fraud losses, and most importantly, grant financial institutions the ability to offer affordable financial services products, like checking accounts and credit cards, to their consumers."
The best messenger with policymakers in Washington is the credit union who is out there every day trying to meet the needs of their members. The association is urging credit unions to use NAFCU's Grassroots Actions Center to speak out against this bill by sending a message to their lawmakers requesting them to oppose the harmful legislation.  We also encourage you to share a statement that NAFCU can publicly use with media, members of Congress and others to oppose this bad policy.
Related Resources
Examination & Enforcement Operations
Blog Post
Add to Calendar 2022-11-29 09:00:00 2022-11-29 09:00:00 Personalizing the Member Experience About the Webinar A new frontier of connected digital and human interactions awaits credit unions. Members are shifting behaviors toward digital sales and service, making keeping up with industry leaders feel like an endless digital arms race. There is no guarantee that higher investment levels will lead to better outcomes. It will be up to credit unions to understand their members and to deliver proactive, intelligent advice that differentiates them from their competitors. An integrated approach to financial data-driven personalization encompasses both digital and human interactions.  Through this webinar, you will discover how Cal Coast Credit Union works to simplify its members' lives, offer them the best customer service available, and ultimately help them achieve financial prosperity.    Attendees will learn how to: Overcome the main challenges credit unions face, Keep up with the growing demands of members, Identify where to focus digital  investment to drive member impact Create a cohesive and long-lasting member experience across all channels. Credit unions are ideally positioned to deliver unified advice to members across digital and banker channels. With a deep understanding of members' needs and a personalized experience, the credit union can compete and stay ahead of the curve in an exciting new era. REGISTER NOW Web NAFCU digital@nafcu.org America/New_York public
preferred partner
Personetics
Webinar
Accounts Examination & Enforcement
Blog Post
---
Get daily updates.
Subscribe to NAFCU today.