April 17, 2020
NAFCU grassroots advocacy rallies Hill support for MBL relief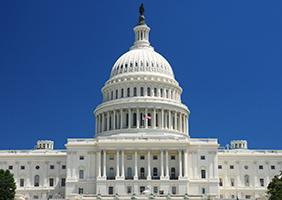 NAFCU and its member credit unions' grassroots advocacy efforts have led to more than 60 members of Congress calling for the next coronavirus relief package to include specific relief for credit unions under the member business lending (MBL) cap.
"This strong showing of support from so many members of Congress is a testament to the power of our members' grassroots efforts, and NAFCU is proud to advocate with them and for them. We thank Representatives Suzanne Bonamici, Deb Haaland, and Don Young for working with NAFCU and our members and leading the effort to increase the member business lending cap to allow credit unions to provide more assistance to small businesses and communities in need," said NAFCU President and CEO Dan Berger. "Together, we can better navigate challenging situations like the pandemic we find ourselves in today."
A Dear Colleague letter, led by Reps. Bonamici, D-Ore., Haaland, D-N.M., and Young, R-Alaska, was sent Thursday to House Speaker Nancy Pelosi, D-Calif., and House Minority Leader Kevin McCarthy, R-Calif., with dozens of other members also signing onto it. The lawmakers called for the removal of "longstanding barriers that prevent credit unions from fully serving their communities" as Congress works to provide additional support to small businesses and communities during the coronavirus pandemic.
"Credit unions across the country are working to provide loans pursuant to the CARES Act programming, but longstanding barriers prevent them from providing a full range of financial support to their small business members," the lawmakers wrote. "As we consider pandemic responses, Congress should increase the arbitrary cap that prevents credit unions from lending to more of their small business members.
"Currently, credit unions are limited to an MBL cap of 12.25 percent of assets. Increasing the cap, or removing it entirely, comes at no direct cost to the taxpayer and would allow local credit unions to effectively and efficiently unleash more capital to provide more loans to their small business members."
The lawmakers also argued that the current threshold of what qualifies as a business loan is too low and should be raised in order to "give credit unions the flexibility they need to offer additional resources and relief to small and micro businesses, especially as those small businesses try to survive during the recovery ahead."
NAFCU has long sought relief for credit unions from the arbitrary MBL cap and, amid the coronavirus pandemic, has urged Congress to amend the Federal Credit Union Act to provide credit unions with greater flexibility and relief from the MBL cap so they can increase access to lending to the nation's small businesses that are in need.
The association is also supportive of a bipartisan bill, expected to be introduced soon, that would provide a three-year exemption from the credit union MBL cap for loans made to small businesses as they recover from coronavirus national emergency.
Stay tuned to NAFCU Today for updates on MBL relief efforts.
Related Resources
Business Lending
Blog Post
Business Lending
Blog Post
---
Get daily updates.
Subscribe to NAFCU today.