June 06, 2018
NAFCU to House panel: CUs should be exempt from CFPB authority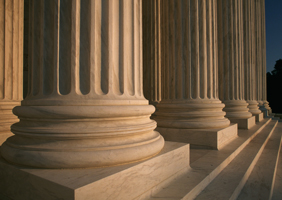 NAFCU, ahead of a House Financial Services subcommittee hearing today on ways to improve transparency and accountability at the Bureau of Consumer Financial Protection, reiterated its opposition to the bureau's authority over credit unions out of concern for overregulation, and also encouraged lawmakers to support legislation to reform the bureau's leadership structure.
NAFCU Executive Vice President of Government Affairs and General Counsel Carrie Hunt made the comments in a letter yesterday to House Financial Services Subcommittee on Financial Institutions and Consumer Credit Chairman Blaine Luetkemeyer, R-Mo., and Ranking Member Lacy Clay, D-Mo.
In addition to noting NAFCU's concerns about credit unions' increased regulatory burden under the bureau, Hunt encouraged members of the subcommittee to support a bill introduced by Reps. Dennis Ross, R-Fla., and Kyrsten Sinema, D-Ariz., that would reform the bureau's leadership structure from a single director to a five-person, bipartisan commission.
"Regardless of how qualified one person may be, a commission would allow multiple perspectives and robust discussions of consumer protection issues throughout the decision making process," Hunt wrote. "Credit unions and their 111 million members are greatly impacted by the actions of the Bureau and believe the operating structure of the Bureau should be as fair and transparent as possible."
Hunt also acknowledged suggestions made by Bureau Acting Director Mick Mulvaney to Congress that would increase transparency and accountability, including subjecting the bureau to the congressional appropriations process, which NAFCU supports. She recommended the bureau continue to have direct contact with credit unions, such as through the Credit Union Advisory Council.
Hunt's full letter is available here; today's hearing is slated to begin at 2 p.m. Eastern.
Related Resources
---
Get daily updates.
Subscribe to NAFCU today.