November 10, 2020
NAFCU launches post-election advocacy with Congress, regulators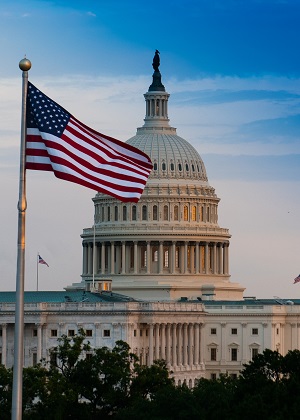 As the 2020 election season ends, NAFCU's award-winning government affairs team is doubling down on its advocacy efforts to secure even more legislative and regulatory wins for the credit union industry in the coming months. NAFCU President and CEO Dan Berger also has a new op-ed detailing what credit unions can expect under President-elect Joe Biden.
"While President-elect Joe Biden begins his transition to the White House, NAFCU is hitting the ground running to ensure policymakers are well informed of the benefits credit unions provide their members and local communities," Berger said in his CUInsight op-ed. "In fact, we have already been in communication with the Biden campaign to tout the credit union industry and how they can better serve millions of Americans – now, while facing financial hardships and uncertainty in the wake of the coronavirus pandemic, and well into the future.
"With a Biden Administration now set for the next four years, we can expect some changes in leadership at the CFPB and NCUA as well as a new outlook and approach to financial regulation. However, NAFCU will fight to ensure credit unions, as consumer-centric lenders, are not further burdened by regulations meant to prevent the egregious practices of bad marketplace actors," Berger added.
Berger went on to detail the association's legislative priorities for the next coronavirus relief package and lame duck session. Many of these issues – including the National Defense Authorization Act (NDAA), Bank Secrecy Act (BSA) reforms, and pandemic relief – were also included in a letter from NAFCU Vice President of Legislative Affairs Brad Thaler yesterday to Senate and House leadership.
In addition, NAFCU Executive Vice President of Government Affairs and General Counsel Carrie Hunt spoke with CUbroadcast's Mike Lawson about the election results and NAFCU's ongoing priorities.
NAFCU is also outlining its priorities for coronavirus relief to key regulatory agencies. Yesterday, Berger sent letters to the NCUA, CFPB, Federal Housing Finance Agency (FHFA), and Treasury Department detailing how they can "better equip our nation's credit unions to emerge healthy and strong from the pandemic and resultant economic downturn."
Here's a look at the issues NAFCU is fighting for at each; click the agency to view its entire detailed letter:
Expanding virtual meetings to help protect the health and safety of credit union volunteers.
Managing unexpected share growth by providing more specialized and flexible parameters for meeting certain capital and supervisory requirements.
Allowing additional investment opportunities, including in the areas of asset-backed securities and corporate bonds.
Capitalizing interest on loan modifications, which would create parity with bank regulators' treatment of loan modifications will ease burdens on both credit unions and consumers.
Adopting broader capital reform by finalizing the subordinated debt rule, providing more guidance on asset securitization, and further delaying the risk-based capital rule.
Finalizing an efficient and measured budget to ensure efficiency, transparency, and prudent management of credit union dollars in 2021, which is essential to the safety and soundness of the industry.
Delaying Section 1071 rulemaking due to the potential adverse impacts. The association recommends the bureau continue to study and analyze a potential rulemaking's impacts on the credit union industry.
Improving the Electronic Disclosure Relief and Credit Card Accountability Responsibility and Disclosure Act of 2009 Act (CARD Act) to provide additional relief on electronic disclosure practices and exclude secured credit cards from the ability-to-pay requirements of the CARD Act, among other changes.
Temporarily halting the qualified mortgage (QM) rulemaking until the pandemic subsides.
Revising Home Mortgage Disclosure Act (HMDA) rule and reporting to scale back the collection of discretionary data points, increase the reporting coverage thresholds, and provide flexibility regarding reporting.
Facilitating the London Interbank Offered Rate (LIBOR) transition to ensure an orderly and efficient transition to alternative rate indices by providing a supervisory policy accommodating a reasonable, and good-faith interpretation of contract language.
Providing related to unfair, deceptive, or abusive acts and practices (UDAAP) guidance and rulemaking for additional clarity on specific factual basis for violations, which will assist credit unions in mitigating the risks of a violation.
Reversing the adverse market refinance fees policy, which would impose a 0.5 percent adverse market fee on certain mortgage refinance loans.
Providing relief for originating and servicing mortgages by extending certain flexibilities and transparently conveying expectations for mortgage originators and servicers during the pandemic without raising unnecessary barriers for credit unions attempting to serve their members.
Adopting a strong but reasonable regulatory capital framework that recognizes the quality of credit union mortgages and allows the GSEs to rebuild their capital levels without impeding the availability of loans for vulnerable consumers.
Preserving access to the secondary market for smaller lenders by coordinating with lawmakers to ensure legislative guarantees of access to the secondary market for smaller lenders like credit unions are adopted before the GSEs are released from conservatorship.
Providing additional COVID-19 relief by working with Congress to reach an agreement on another stimulus package that provides more relief for credit unions and their members, including under the paycheck protection program (PPP).
Reforming Bank Secrecy Act (BSA)/Anti-Money Laundering (AML) compliance requirements and supporting legislative efforts to reform the BSA/AML framework.
Addressing excise tax on executive compensation by allowing the IRS to grandfather certain nonqualified deferred compensation plans under provisions of the Tax Cuts and Jobs Act (TCJA) and exclude fringe benefits from excise tax requirements.
NAFCU will continue to work closely with regulators and lawmakers to achieve a regulatory environment that allows credit unions to effectively serve their 122 million members and thrive. Stay tuned to NAFCU Today for the latest developments.
Related Resources
---
Get daily updates.
Subscribe to NAFCU today.