February 16, 2021
NAFCU to NCUA: Overdraft proposal provides CUs flexibility to meet members' needs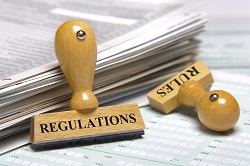 As the NCUA considers a proposed rule to remove the 45-day limit in its requirements for an overdraft policy in the agency's lending rule, NAFCU's Elizabeth LaBerge offered the association's support for "replac[ing] this timeframe with a credit union-determined timeline that is reasonable and consistently applied as this will provide credit unions with appropriate flexibility to assist their members."
"NAFCU and our members have long advocated for NCUA to eliminate this required timeframe as it creates operational burden, is inconsistent with generally accepted accounting principles (GAAP), and poses no benefit to credit union members," wrote LaBerge, NAFCU's senior regulatory counsel.
Under the existing overdraft policy, federal credit unions (FCUs) must adopt a 45-day maximum time limit for a member to either deposit funds or obtain an approved loan from the FCU to cover each overdraft. In addition to removing this requirement, the proposal would insert a cross-reference to the overdraft provisions of Regulation E for transactions covered by that rule.
The NCUA tabled an interim final rule on this issue last year; it was approved 2-1 as a proposed rule during December's board meeting.
In the letter sent Friday, LaBerge argued that the time limit restricts credit unions' ability to work with members. She highlighted how credit unions have stepped up amid the coronavirus pandemic to help members facing financial hardships – including by waving fees such as overdraft fees – and said a broad, mandated overdraft policy could limit the availability of these programs, which are intended to ensure members have access to credit union services when they need it most.
"FCUs have long reported confusion, operational burden, and member service difficulties regarding the lending rule's requirement that negative balances be resolved by depositing funds or establishing a loan within 45 days," LaBerge said. "The misalignment between the 45-day timeframe and GAAP's 60-day timeframe for determining whether a negative balance is collectible is counterintuitive and creates confusion for FCU staff in establishing procedures for handling these accounts. The 45- day timeframe forces FCUs to treat members more harshly than the credit union's own balance sheet."
NAFCU will continue to advocate for credit unions to have access to the tools and flexibility needed to meaningfully work with members who are struggling. Read LaBerge's letter here; additional details on the proposal can be found in NAFCU's Regulatory Alert.
Related Resources
---
Get daily updates.
Subscribe to NAFCU today.