March 13, 2019
NAFCU offers support for House NFIP proposal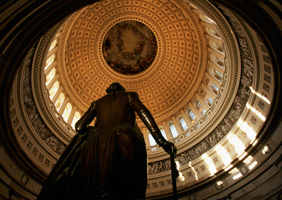 Ahead of today's House Financial Services Committee hearing on reauthorizing the National Flood Insurance Program (NFIP), NAFCU's Brad Thaler reiterated the association's call for a multi-year reauthorization of the program and offered support for a number of provisions included in draft legislation from Committee Chairwoman Maxine Waters, D-Calif.
NAFCU will attend today's hearing, set to begin at 10 a.m. Eastern. The NFIP is currently set to expire May 31.
"NAFCU supports a long-term reauthorization of the NFIP," wrote Thaler, NAFCU's vice president of legislative affairs. "The recent reauthorizations of the NFIP that have amounted to only short-term extensions, with brief program lapses, have created a high level of uncertainty for the millions of families who rely on flood insurance policies.
"This market uncertainty puts a damper on the lending volume of our nation's credit unions and the economic activity of their members," he added.
Waters' discussion draft of bipartisan legislation proposes some reforms aimed at making flood insurance more affordable and would provide reauthorization for five years. Within the draft, Thaler said NAFCU is supportive of:
addressing the affordability of flood insurance;
raising the coverage limits;
providing funds for improved mapping technology;
mitigating fraud and abuse within the claims system; and
taking steps to continue the financial solvency of the program to maintain market stability.
NAFCU has previously pushed for a number of these improvements to the NFIP. Thaler also cautioned against legislation that would increase annual premium rates too quickly.
In addition, five federal agencies – including the NCUA – recently finalized an interagency rule that requires mortgage lenders to accept both private and government-backed flood insurance policies.
Related Resources
Add to Calendar 2023-11-30 09:00:00 2023-11-30 09:00:00 Safeguarding Credit Unions with Threat Intelligence Listen On: Key Takeaways: [1:01] What is threat intelligence, and why is it important to CUs? [2:14] What are threat intelligence feeds, and what role do they play in strengthening CUs? [4:41] Leveraging threat feeds and integrating intelligence into tools is crucial. [6:35] Learn what threat CUs should be most concerned about. [7:39] Phishing is ever-evolving, and user awareness is critical. [10:43] Learn how Defense Storm uses feeds to protect its customers. [13:28] Threat intelligence is not as complicated as some think; initiation can be easy through Slack, discussions, and a reporting culture. Web NAFCU digital@nafcu.org America/New_York public
preferred partner
DefenseStorm
Podcast
Consumer Lending
Blog Post
Add to Calendar 2023-11-28 09:00:00 2023-11-28 09:00:00 Growing Creatively & Innovatively in 2024 Listen On: Key Takeaways: [0:58] What can credit unions do to best prepare themselves for 2024? [2:12] Although he sees a glimmer of hope, Jack points out that the liquidity crisis and slow prepayment speeds hamper rapid recovery. [5:22] We discuss how credit unions seek low loan growth through member-centric strategies such as second mortgages and home improvement lending. [7:34] Credit unions are leveraging advancing technology for member-focused engagement. [9:31] How will technology continue to evolve and affect credit unions? [11:43] What role does AI play in innovative growth? [14:14] Credit unions adopt technology for efficiency, enabling staff to focus on personalized member interactions, especially with younger generations. [17:14] Closing thoughts, emphasizing competition against banks and fintech for younger generations. Web NAFCU digital@nafcu.org America/New_York public
Strategy & Growth, Consumer Lending
preferred partner
Allied Solutions
Podcast
---
Get daily updates.
Subscribe to NAFCU today.