June 09, 2022
NAFCU Reg Alert examines FinCEN ANPRM on NAL program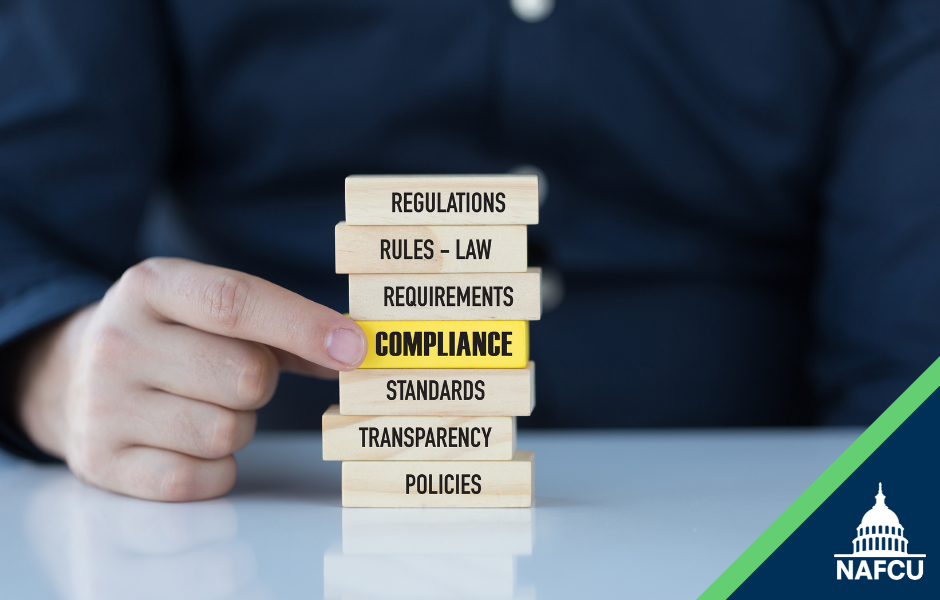 NAFCU Wednesday sent members a Regulatory Alert breaking down and soliciting feedback on the Financial Crimes Enforcement Network's (FinCEN) advanced notice of proposed rulemaking (ANPRM) on creating a No-Action Letter (NAL) program.
The ANPRM notes that NALs would be "a letter indicating [FinCEN's] intention not to take or recommend enforcement action against the submitting party for the specific conduct presented in the submitting party's request." 
Through the Regulatory Alert, NAFCU highlighted:
FinCEN's current mechanisms for obtaining regulatory guidance are not made public and therefore are not able to be widely used when developing and implementing new products or services;

NALs essentially provide pre-approval from FinCEN to engage in certain activities; and

NALs could aid in providing clarity when seeking to comply with Bank Secrecy Act requirements.
Comments in response to the ANPRM are due to NAFCU July 22 and can be submitted through the alert; comments are due to FinCEN Aug. 15.

Subscribe to receive Regulatory Alerts in your inbox.
Related Resources
Add to Calendar 2023-02-03 09:00:00 2023-02-03 09:00:00 Winning the Battle for Deposits Listen On: Key Takeaways: [01:28] An overview of the current macro environment. [02:55] Traditional tactics used by credit unions in the battle for deposits and why these are no longer enough. [07:39] Rife competition in the credit union space and how to stand out from the crowd.  [10:23] The benefits credit unions can experience by reducing the cognitive load of their members [18:17] Advantages and disadvantages of PFM tools in the battle for deposits.  [20:14] What credit unions should demand of their vendors. Web NAFCU digital@nafcu.org America/New_York public
preferred partner
Personetics
Podcast
Add to Calendar 2023-02-02 14:00:00 2023-02-02 14:00:00 How to Leverage Loan Participations in a Low Liquidity Environment About The Webinar As credit unions continue to face challenges with liquidity starting off 2023, strategic pricing and long-term alternative funding strategies can play a key role in allowing credit unions to serve more members and successfully manage the balance sheet. Loan participations can play a key role helping credit unions sustainably grow their originations, provide the marketplace access to quality, short duration investments, and successfully grow market share. Please join Amy Henderson, Chief Consumer Services Officer at Greenstate CU, Devin Hughes, VP of Business Development at LendKey, and Michael Adams, VP of Lender Development at Open Lending for a panel discussion to learn how credit unions can strategically serve more members, effectively price for loans, and successfully manage their balance sheet. Attendees will: Hear from Credit Union and FinTech experts Learn about loan pricing strategies and participation strategies Glean best practices from industry leaders who have been executing on these innovative strategies that better position the balance sheet for long term growth Find out how credit unions can start the process to identify trusted partners to help them execute on this strategy and serve more members Register for the Webinar Web NAFCU digital@nafcu.org America/New_York public
preferred partner
Open Lending
Webinar
Management, Relationships, Consumer Lending
preferred partner
Wolters Kluwer
Blog Post
---
Get daily updates.
Subscribe to NAFCU today.