June 16, 2020
NAFCU reiterates call for a national data security, privacy standard ahead of HFSC hearing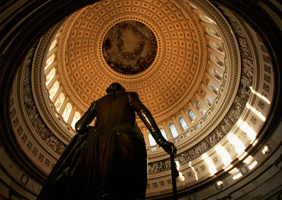 Ahead of a House Financial Services subcommittee hearing on cybersecurity and cybercriminal exploitation amid the pandemic, NAFCU's Brad Thaler told members how credit unions are seeking to combat a rise in fraudsters targeting members during this time and urged the subcommittee to continue to work on a national data security standard – specifically for institutions that collect and store consumer information. Thaler also recommended a national standard for data privacy to ensure consistency throughout the country.
"Credit unions are keenly aware of the hardships their members are facing due to the COVID-19 pandemic and are working around the clock to proactively assist them," wrote Thaler, NAFCU's vice president of legislative affairs in the letter to the Subcommittee on National Security, International Development, and Monetary Policy. "This assistance includes warning members about bad actors who will seek to commit fraud to take financial advantage of them."
On the need for greater data security, Thaler explained that depository institutions have had a national standard on data security since the passage of the Gramm-Leach-Bliley Act (GLBA) over two decades ago, while "other entities who handle consumer financial data may not be held to the same rigorous standards or subject to meaningful supervision."
"Although we have been calling on Congress to enact a national standard for years, we believe that action now is more critical as more bad actors seek to exploit the current situation," wrote Thaler.
In addition, Thaler also reiterated NAFCU's belief that the Bank Secrecy Act (BSA)/Anti-Money Laundering (AML) system is in need of "improvements and reform" due to the burdensome implementation requirements.
The hearing is set to begin at 12 p.m. Eastern today and will be available via livestream.
As a leader in calling for national data security standards, NAFCU has many resources available to ensure credit unions can effectively identify and address cybersecurity concerns. The association is committed to helping credit unions stay informed of cybersecurity initiatives; subscribe to NAFCU Today for the latest updates.
Related Resources
Accounts Operations Consumer Lending
Blog Post
Credit Unions, Board of Directors, Web/Tech, Organizational Change, Merger
preferred partner
DDJ Myers
Blog Post
---
Get daily updates.
Subscribe to NAFCU today.