April 19, 2023
NAFCU reiterates need for proper oversight of digital assets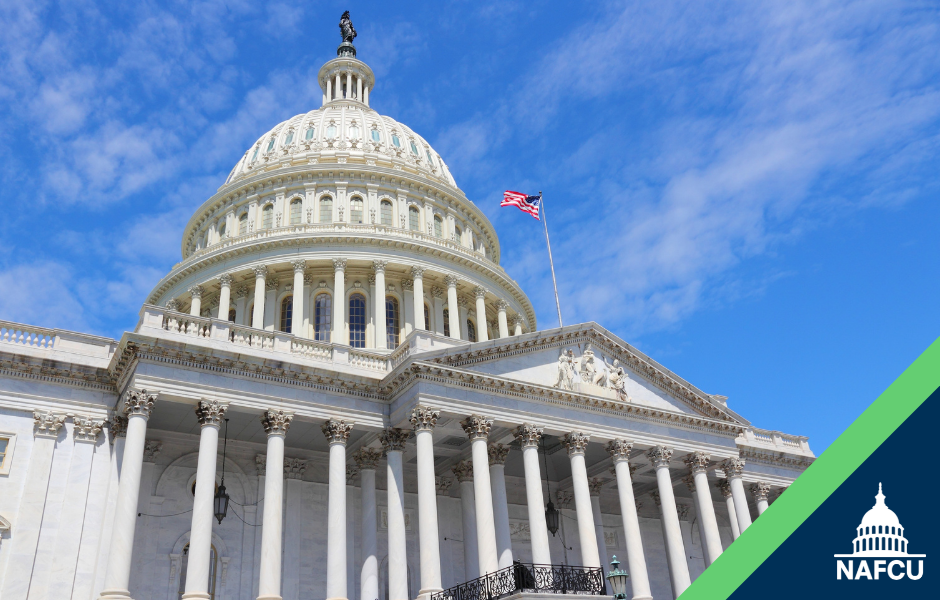 The House Financial Services Subcommittee on Digital Assets, Financial Technology and Inclusion holds a hearing today to discuss stablecoins, including draft legislation that could be used to regulate stablecoins. Ahead of the hearing, NAFCU Vice President of Legislative Affairs Brad Thaler sent a letter to subcommittee leaders reiterating the need for clear regulations and supervisory framework – without which "poses risks to the adoption of these otherwise promising technologies."
"[D]istributed ledger technology and other technologies that support a broad ecosystem of digital assets offer an array of potential operational efficiencies," Thaler wrote. "For example, the ability to facilitate payment transactions that support smart contracts, either through use of stablecoins or other digital assets, may help members with specific business needs and potentially reduce credit unions' operational costs. Most importantly, digital asset technologies can be designed with strong auditability features, which can enhance regulatory compliance and reduce instances of human error, fraud, and other misconduct."
Thaler provided feedback on the draft bill under consideration, noting it's "a step in the right direction." Thaler expressed NAFCU's support for:
using the Federal Reserve definition of an insured depository institution, which would include credit unions, to ensure the credit union industry does not face barriers to adopting digital assets and hinder its service to underserved and low-income communities; and

enforcement and examination by existing regulators – including the NCUA for credit unions – and a framework for oversight of non-depository stablecoin issuers.
Cryptocurrency was a hot topic in Washington Tuesday, as the House Financial Services Committee held an oversight hearing of the Securities and Exchange Commission (SEC), and Federal Reserve Gov. Michelle Bowman spoke at a Georgetown University event about a central bank digital currency (CBDC).
During the SEC oversight hearing, lawmakers raised concerns about enforcement efforts without the commission providing regulatory clarity for the industry.
Bowman, in her speech, provided an update on the Fed's research into developing a U.S. CBDC.
"Of course, as the evolution of money and payments continues, it is important for the Federal Reserve to continue looking ahead to anticipate potential changes to money and payments well into the future," Bowman said. "With this in mind, our consideration of other potential innovations to money and payments, including a potential U.S. CBDC, must be viewed through the lens of whether and how the payment system would be improved beyond what instant payment services will achieve. We should ask 'what current frictions exist or may emerge in the payment system that only a CBDC can solve, or that a CBDC can solve most efficiently?'"
NAFCU has consistently opposed the Fed's development of a CBDC, arguing credit unions are a better option for making fast, safe and affordable payments. The association will continue to advocate for a clear regulatory framework for cryptocurrency and other financial technologies to support innovation and adoption while reducing risks.
Related Resources
Add to Calendar 2023-11-30 09:00:00 2023-11-30 09:00:00 Safeguarding Credit Unions with Threat Intelligence Listen On: Key Takeaways: [1:01] What is threat intelligence, and why is it important to CUs? [2:14] What are threat intelligence feeds, and what role do they play in strengthening CUs? [4:41] Leveraging threat feeds and integrating intelligence into tools is crucial. [6:35] Learn what threat CUs should be most concerned about. [7:39] Phishing is ever-evolving, and user awareness is critical. [10:43] Learn how Defense Storm uses feeds to protect its customers. [13:28] Threat intelligence is not as complicated as some think; initiation can be easy through Slack, discussions, and a reporting culture. Web NAFCU digital@nafcu.org America/New_York public
preferred partner
DefenseStorm
Podcast
Consumer Lending
Blog Post
Add to Calendar 2023-11-28 09:00:00 2023-11-28 09:00:00 Growing Creatively & Innovatively in 2024 Listen On: Key Takeaways: [0:58] What can credit unions do to best prepare themselves for 2024? [2:12] Although he sees a glimmer of hope, Jack points out that the liquidity crisis and slow prepayment speeds hamper rapid recovery. [5:22] We discuss how credit unions seek low loan growth through member-centric strategies such as second mortgages and home improvement lending. [7:34] Credit unions are leveraging advancing technology for member-focused engagement. [9:31] How will technology continue to evolve and affect credit unions? [11:43] What role does AI play in innovative growth? [14:14] Credit unions adopt technology for efficiency, enabling staff to focus on personalized member interactions, especially with younger generations. [17:14] Closing thoughts, emphasizing competition against banks and fintech for younger generations. Web NAFCU digital@nafcu.org America/New_York public
Strategy & Growth, Consumer Lending
preferred partner
Allied Solutions
Podcast
---
Get daily updates.
Subscribe to NAFCU today.