September 06, 2018
NAFCU says banks still 'too big to fail,' calls for modern Glass-Steagall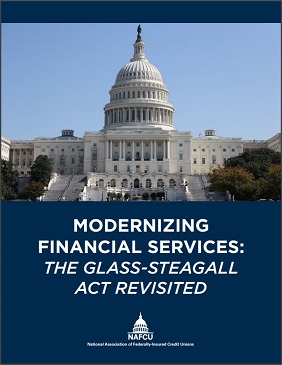 NAFCU, in a new white paper released Wednesday, is calling for members of Congress to discuss creating a modernized Glass-Steagall Act in order to protect consumers from banks that are too big to fail. The association is supportive of reform efforts that allow credit unions and other financial institutions to compete without putting consumers at risk.
"American families and small financial institutions are still recovering of the bank-led 2008 financial crisis. With support now on both sides of the political aisle, we believe Congress should seriously consider evaluating a modernized Glass-Steagall Act to reduce the impact of 'too big to fail,'" said NAFCU President and CEO Dan Berger. "As we look to the future and economists hint at another recession on the horizon, we need to make sure history does not repeat itself. Wall Street banks cannot be allowed to bring the financial system – and a nation full of consumers – to ruin again."
In the report, NAFCU highlights that enacting a modern Glass-Steagall Act has bipartisan support – from former Speaker of the House Newt Gingrich to Sen. Elizabeth Warren, D-Mass., and which the administration has said it will consider. It also cites investigations into the cause of the 2008 financial crisis: the repeal of the Glass-Steagall Act in 1999 with the enactment of the Gramm-Leach-Bliley Act led to weakened regulation and supervision of traditional banking and likely set the stage for the crisis.
"Federal deposit insurance should not be used to subsidize big banks' reckless gambles with their consumers' deposits," NAFCU states in the report. "Consumers should have confidence in the system and know that their financial institution cares more about maintaining a mutually-beneficial relationship with its consumers than allowing private investors to influence their decisions all in the name of profits."
A 21st century Glass-Steagall would:
protect consumers against future financial crises and help end the policy of "too big to fail";
ensure traditional depositories and community-based financial institutions can continue to thrive in a stable financial marketplace;
reduce the regulatory inequalities and moral hazard that arises when large banks take risks on consumer deposits to generate profits; and
improve overall financial stability in times of severe stress by separating commercial and investment banking.
The white paper offers NAFCU's vision for the future state of financial services, provides a detailed background on the Glass-Steagall Act and financial crisis, and outlines political and economic considerations for strengthening the financial system.
Download the full report here.
Related Resources
NCUA , Examination & Enforcement
Blog Post
Add to Calendar 2021-09-16 14:00:00 2021-09-16 14:00:00 Home Improvement Lending: Tools for Helping Your Members About The Interview The pandemic has impacted almost every facet of the lending space, but home improvement loans in particular have seen a major uptick. We're talking with Paul Borghi, Vice President of Point-of-Sale Lending at LendKey, about the competition among lenders, important trends in the market, the prime borrowers you want to serve, and the best tools to be the go-to for your members. Watch the Webinar On-Demand Web NAFCU digital@nafcu.org America/New_York public
preferred partner
LendKey
Webinar
Strategy, Marketing, Growth & Retention, Customer Engagement, Consumer Lending
preferred partner
Upstart
Blog Post
---
Get daily updates.
Subscribe to NAFCU today.