September 06, 2018
NAFCU says banks still 'too big to fail,' calls for modern Glass-Steagall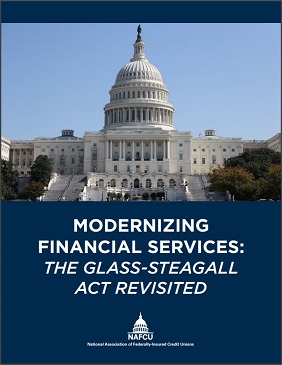 NAFCU, in a new white paper released Wednesday, is calling for members of Congress to discuss creating a modernized Glass-Steagall Act in order to protect consumers from banks that are too big to fail. The association is supportive of reform efforts that allow credit unions and other financial institutions to compete without putting consumers at risk.
"American families and small financial institutions are still recovering of the bank-led 2008 financial crisis. With support now on both sides of the political aisle, we believe Congress should seriously consider evaluating a modernized Glass-Steagall Act to reduce the impact of 'too big to fail,'" said NAFCU President and CEO Dan Berger. "As we look to the future and economists hint at another recession on the horizon, we need to make sure history does not repeat itself. Wall Street banks cannot be allowed to bring the financial system – and a nation full of consumers – to ruin again."
In the report, NAFCU highlights that enacting a modern Glass-Steagall Act has bipartisan support – from former Speaker of the House Newt Gingrich to Sen. Elizabeth Warren, D-Mass., and which the administration has said it will consider. It also cites investigations into the cause of the 2008 financial crisis: the repeal of the Glass-Steagall Act in 1999 with the enactment of the Gramm-Leach-Bliley Act led to weakened regulation and supervision of traditional banking and likely set the stage for the crisis.
"Federal deposit insurance should not be used to subsidize big banks' reckless gambles with their consumers' deposits," NAFCU states in the report. "Consumers should have confidence in the system and know that their financial institution cares more about maintaining a mutually-beneficial relationship with its consumers than allowing private investors to influence their decisions all in the name of profits."
A 21st century Glass-Steagall would:
protect consumers against future financial crises and help end the policy of "too big to fail";
ensure traditional depositories and community-based financial institutions can continue to thrive in a stable financial marketplace;
reduce the regulatory inequalities and moral hazard that arises when large banks take risks on consumer deposits to generate profits; and
improve overall financial stability in times of severe stress by separating commercial and investment banking.
The white paper offers NAFCU's vision for the future state of financial services, provides a detailed background on the Glass-Steagall Act and financial crisis, and outlines political and economic considerations for strengthening the financial system.
Download the full report here.
Related Resources
Add to Calendar 2019-08-22 14:00:00 2019-08-22 14:00:00 Start Small, Save Up: The CFPB's New Initiative to Help Consumers Save Recent Consumer Financial Protection Bureau (CFPB) research finds that even small amounts of liquid savings can make a big difference in financial well-being. Unfortunately, 40 percent of Americans would sell something or borrow money to cover even a $400 emergency expense. It can be difficult to put money away for emergencies. However, without some savings cushion, unexpected expenses can derail people from achieving their financial goals. Through the "Start Small, Save Up" initiative recently announced by Director Kraninger, the CFPB offers tips, tools, and information to help consumers build a basic savings cushion, as a foundation for securing their financial futures. The mission of the CFPB includes educating and empowering consumers to make better informed financial decisions. By law, the Bureau is charged with developing and implementing initiatives to support savings in a variety of ways.  Key Takeaways: Learn more about the CFPB's "Start Small, Save Up" initiative Discuss strategies and ideas for educating and empowering your credit union members to start saving Register Now Registration is free, but you must register to attend. One registration gives your entire team access to the live webinar and on-demand recording until August 22, 2020Already registered? Go to the Online Training Center to view. Who Should Attend? Presidents and Chief Executive Officers Business Development staff Marketing staff Education Credits No NAFCU Credits and No CPE Credits National Association of Federally-Insured Credit Unions (NAFCU) is registered with the National Association of State Boards of Accountancy (NASBA) as a sponsor of continuing professional education on the National Registry of CPE Sponsors. Learn more. About Our Webinars Our webinars are streamed live from NAFCU headquarters near Washington, D.C. Your audio/video feed of the presenters includes presentation slides and downloadable handouts. You can easily submit your questions to the presenters at any time during the live broadcast, with no dialing over the phone! The audio and video stream directly through your computer. Web NAFCU digital@nafcu.org America/New_York public
webinar
Add to Calendar 2019-08-22 14:00:00 2019-08-22 14:00:00 2019 NAFCU–BFB Gallagher Executive Compensation and Benefits Survey For more than a decade, the annual NAFCU–BFB Gallagher Executive Compensation and Benefits Survey has served as one of the leading sources of executive pay. Each year, credit unions across the country, in all asset sizes, are surveyed on compensation and benefits for the CEO and top four executive direct reports. The results help credit unions make informed decisions and document their due diligence. Join the lead researcher for a look at this year's trends and how to interpret the data. BFB's executive benefits consultant will help you put the data into action. The survey also includes covered expenses and budget data for board expenses. Learn about: How to interpret the salary data tables Nonqualified benefit plan usage Volunteer expenses Executive demographics by asset size Key takeaways from the report Web NAFCU digital@nafcu.org America/New_York public
webinar
preferred partner
BFB Gallagher
Add to Calendar 2019-08-21 14:00:00 2019-08-21 14:00:00 Small-Dollar Lending: Meeting Your Members' Needs Watch the Webinar On-Demand About the Webinar According to leading economic indicators in June 2019, the US economy is doing well. It has steady growth, low unemployment, and little inflation. Yet, nearly 4 out of every 10 Americans said they wouldn't be able to scrape together the cash to meet a $400 emergency expense. What are the economic forces at work contributing to this anomaly? And how can your credit union help? Research has demonstrated that consumers would prefer to obtain short-term credit from YOU, their local credit union, and regulatory agencies such as the CFPB and NCUA as well as numerous consumer advocacy organizations are encouraging credit unions to provide responsible small-dollar loans to their members. Historically, the two biggest impediments for credit unions to offer affordable short-term loans were complex regulatory requirements and operational obstacles: time, cost, and technology. In this webinar, Christopher Leonard, CEO of Velocity Solutions, explains that these obstacles are no longer in your way! By leveraging digital, turnkey loan platforms, credit unions can provide much-needed liquidity to their members—responsibly, affordably, and compliantly. Christopher will discuss what to look for in partnering with a FinTech provider, and what types of features your members want from a small-dollar loan product. Key Takeaways:  A startling percentage of American consumers are cash poor – why?  Regulatory agencies are looking to community financial institutions to provide responsible short-term credit to these consumers. The impediments that have prevented credit unions from providing small-dollar loans to their members in the past are no longer obstacles! How to get started in choosing a FinTech provider and loan platform. Web NAFCU digital@nafcu.org America/New_York public
webinar
preferred partner
Velocity Solutions, LLC
---
Get daily updates.
Subscribe to NAFCU today.