March 15, 2019
NAFCU seeks feedback on PACE financing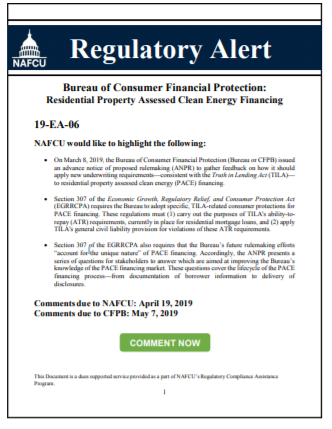 Recently, the CFPB issued an advanced notice of proposed rulemaking (ANPR) to gather feedback on residential Property Assessed Clean Energy (PACE) financing. NAFCU is seeking members' feedback on the extent to which credit unions participate in PACE financing programs and how PACE financing affects their members' ability to meet their financial obligations.
In the CFPB's ANPR, the bureau asks for "information to better understand the PACE financing market and the unique nature of PACE financing" in order to draft proposed rules that satisfy the statutory requirements of the Economic Growth, Regulatory Relief, and Consumer Protection Act (S. 2155) while being aware of the costs and benefits of the regulations.
In a Regulatory Alert sent to members this week, NAFCU notes that S.2155:
requires the bureau to apply new underwriting requirements – consistent with the Truth in Lending Act (TILA) – to residential PACE financing;

requires the bureau to adopt specific, TILA-related consumer protections for PACE financing; and

requires that the bureau's future rulemaking efforts "account for the unique nature" of PACE financing.
In seeking members' feedback on the proposal, NAFCU also asks about members' overall participation in PACE programs, as well as TILA's ability-to-repay rules.
NAFCU has previously supported legislation to increase PACE loans' consumer protections, such as requiring federal TILA-rooted requirements and considerations for PACE loans – including the CFPB's ability-to-repay and qualified mortgage rules, among other standards.
Credit unions can submit feedback on the proposal through NAFCU's Regulatory Alert until April 19; comments are due to the CFPB May 7.
Related Resources
---
Get daily updates.
Subscribe to NAFCU today.