November 20, 2020
NAFCU, trades meet with FCC on call blocking, TCPA exemptions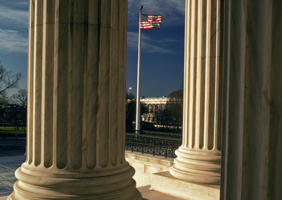 NAFCU and several financial trade organizations met with the Federal Communications Commission (FCC) Consumer and Government Affairs Bureau Thursday to discuss erroneous call blocking under the TRACED Act, which is intended to target illegal robocalls, in addition to the FCC's notice of proposed rulemaking (NPRM) seeking comment on various exemptions that have been issued under the Telephone Consumer Protection Act (TCPA).
NAFCU Senior Regulatory Counsel Elizabeth LaBerge attended the meeting.
Earlier this month, NAFCU wrote to the FCC in response to the NPRM to share the association's support of the agency's efforts to establish and implement exemptions to the TCPA's consent requirement for important information that consumers need regarding their credit union accounts.
During the meeting, the group reiterated that if the FCC includes an opt-out provision in the informational call exemption, it is important that the option be limited to the opt-out method provided by the bank or business. Additionally, NAFCU's call to exempt financial institutions was discussed and the group also urged the FCC to establish a real-time notification to alert callers when their legitimate calls have been blocked or adversely labeled under the TRACED Act.
NAFCU has actively worked with the FCC on efforts to modernize the TCPA for many years.
Last month, NAFCU reiterated its call for the agency to protect legitimate callers and ensure consumers receive important information following the FCC's recent order and fourth further notice of proposed rulemaking (FNPR) on methods to target and eliminate unlawful robocalls.
NAFCU – both independently and in coordination with other financial trade associations – has previously urged the FCC to initiate a rulemaking to implement other provisions of the TRACED Act that require the FCC to address erroneous blocking or mislabeling of legitimate calls. NAFCU has also sought additional transparency and consistency in call labeling and blocking.
NAFCU will continue to work with the FCC and advocate to ensure credit unions can contact their members regarding important, time-sensitive information, without fear of frivolous litigation.
Related Resources
Add to Calendar 2020-12-01 09:00:00 2020-12-01 09:00:00 Beyond the Pandemic Risk Series [Part 1]: Pandemic-Related Lending Portfolio Risks Listen On: Key Takeaways: [08:05] The most critical data that you can get your hands on would be any data that would provide you early indicators that there is going to be a delinquency issue. [10:35] One non-negotiable is that credit unions have a monitoring program that allows them to understand your risk exposure at any point in time.   [13:57] Right now we can't under-score social media; because we all interact virtually, there is a lot of good analytic and trending data that can be provided via social media. As long as you are doing that in a compliant and appropriate manner.   Web NAFCU digital@nafcu.org America/New_York public
Growth & Retention, Risk Management, Consumer Lending, Data and Analytics
preferred partner
Allied Solutions
Podcast
---
Get daily updates.
Subscribe to NAFCU today.