June 19, 2020
NAFCU, trades offer support for CFPB commission bill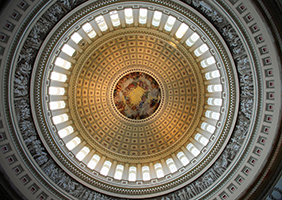 NAFCU joined with more than a dozen other financial services industry trade groups Thursday to offer support for Sen. Deb Fischer's, R-Neb., legislation that would reform the CFPB's leadership structure from a single director to a bipartisan commission.
"The current single director structure, as we witnessed in the transition in CFPB leadership from the Obama Administration to the Trump Administration, leads to significant uncertainty within the financial services industry," the groups wrote. "This uncertainty is not only borne by financial institutions providing significant lending services, but it negatively impacts America's consumers, small businesses, and our local economies. The financial services marketplace thrives in a stable regulatory environment. When regulatory stability is eroded by changing political dynamics, the consumer suffers from financial institutions' inability to rely upon a consistent regulatory environment."
NAFCU has consistently advocated that the bureau's leadership structure should be reformed to a commission-based model to ensure transparency and stability. Following Fischer's introduction of the bill – the Financial Product Safety Commission Act of 2020 (S. 3990) – NAFCU President and CEO Dan Berger reiterated the association's support for the reform.
"By establishing a bipartisan commission at the CFPB, consumers would benefit from more robust debate, diversity of thought, and a stable leadership structure at the agency," said Berger. "We thank Senator Deb Fischer for introducing this important legislation, and we encourage Congress to swiftly pass this bill. Until the CFPB's leadership structure is reformed by Congress, we look forward to continuing to work with Director Kathy Kraninger. Over the years, she has been responsive, transparent, and receptive to the needs of credit unions."
The introduction of S. 3990 comes as the U.S. Supreme Court is expected to soon issue its decision in the lawsuit brought by Seila Law challenging the CFPB's single-director structure. Prior to the Supreme Court's oral arguments for the case in March, the bureau announced it would no longer defend its structure after years of lawsuits and calls to reform it from various stakeholders. This case could have implications on the structure of the Federal Housing Finance Agency (FHFA), as well.
House Financial Services Committee Member Blaine Luetkemeyer, R-Mo., introduced similar legislation with other Republican members of the committee in March that would reform the CFPB's governance structure to a bipartisan commission. NAFCU joined with 18 trade associations to voice support for the bill.
NAFCU will continue to urge Congress to pass this needed reform and inform credit unions of the Supreme Court's decision once released.
Related Resources
---
Get daily updates.
Subscribe to NAFCU today.