September 28, 2022
NAFCU, trades warn Congressional leaders on risks surrounding House interchange bill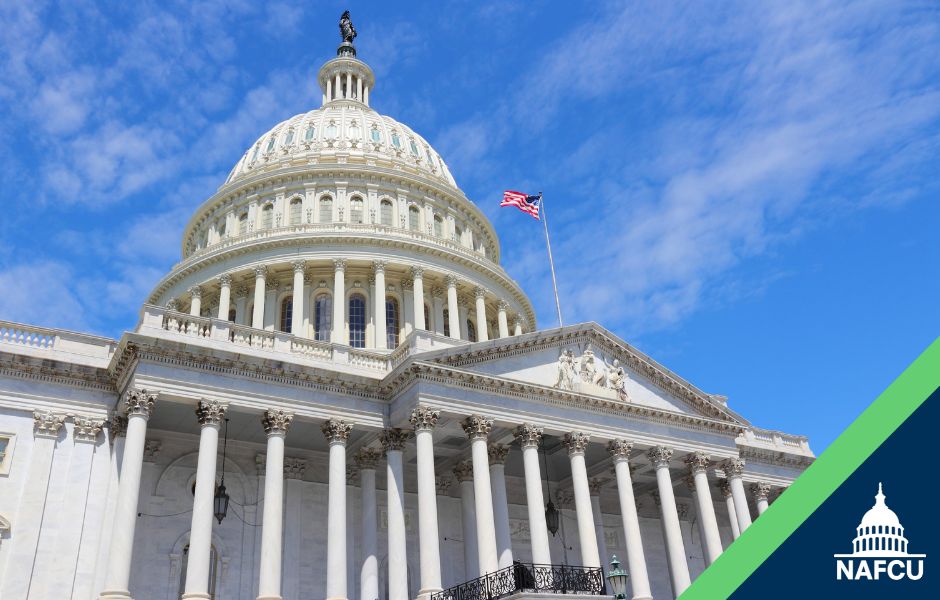 On Tuesday, NAFCU joined the American Bankers Association, the Bank Policy Institute, the Consumer Bankers Association, the Credit Union National Association, the Electronic Payments Coalition, the Independent Community Bankers of America, and the National Bankers Association in a letter to House Speaker Nancy Pelosi, D-Calif., and Minority Leader Kevin McCarthy, R-Calif., voicing concerns on the NAFCU-opposed House companion to the Credit Card Competition Act of 2022 (CCCA). This legislation, recently introduced by Representatives Peter Welch, D-Vt., and Lance Gooden, R-Texas, aims to expand interchange price controls by creating a new credit card routing mandate. Of note, NAFCU President and CEO Dan Berger recently sent a similar letter to the House emphasizing the bill's risk to consumers and Main Street, just as he did for the Senate's companion bill that was introduced in July.
In the letter, copied to all members of the House, the groups emphasize that the impacts of the bill are clear, including fewer options for consumers, greater threats to consumer data and privacy, weakened community banks and credit unions, and the disappearance of card rewards programs.
"Far from increasing competition in the credit card marketplace, this legislation will benefit the big box retailers by reducing the number of credit card issuers competing for consumers' business, wringing out the competitive differences among card products, limiting credit card rewards programs and putting the nation's private-sector payments system under the micromanagement of the Federal Reserve Board," wrote the groups. "The Gooden-Welch bill does all this by eliminating using the free market and using legislation to award private-sector contracts to a small handful of the sponsors' favored payment networks in order to pad the profits of the largest e-commerce and multi-national retailers who are raising prices on American families far more than the real rate of inflation."
NAFCU has fervently opposed this anti-consumer bill, most recently sharing the harmful effects during a briefing with more than 50 Congressional and Federal Reserve staff members. After the hour-long briefing, co-moderator NAFCU Senior Vice President of Government Affairs Greg Mesack reiterated how this legislation would turn the payments system on its head and take away credit unions' ability to provide low-cost, and sometimes free, financial products and services. Berger recently wrote an op-ed on why enacting the CCCA would worsen inflation pressures for Americans by limiting consumers' access to safe and secure payment networks during credit card transactions.
NAFCU Vice President of Legislative Affairs Brad Thaler sent an email to members Monday urging credit unions to take action on this legislation and contact their local Representatives via NAFCU's Grassroots Action Center. "The big box retailers are pushing for this legislation, your elected officials need to hear from you on it," wrote Thaler.
Read the full letter. NAFCU will continue to advocate against this legislation on behalf of the credit union industry and its 133 million members and will update members via NAFCU Today.
Related Resources
Add to Calendar 2023-11-30 09:00:00 2023-11-30 09:00:00 Safeguarding Credit Unions with Threat Intelligence Listen On: Key Takeaways: [1:01] What is threat intelligence, and why is it important to CUs? [2:14] What are threat intelligence feeds, and what role do they play in strengthening CUs? [4:41] Leveraging threat feeds and integrating intelligence into tools is crucial. [6:35] Learn what threat CUs should be most concerned about. [7:39] Phishing is ever-evolving, and user awareness is critical. [10:43] Learn how Defense Storm uses feeds to protect its customers. [13:28] Threat intelligence is not as complicated as some think; initiation can be easy through Slack, discussions, and a reporting culture. Web NAFCU digital@nafcu.org America/New_York public
preferred partner
DefenseStorm
Podcast
Consumer Lending
Blog Post
Add to Calendar 2023-11-28 09:00:00 2023-11-28 09:00:00 Growing Creatively & Innovatively in 2024 Listen On: Key Takeaways: [0:58] What can credit unions do to best prepare themselves for 2024? [2:12] Although he sees a glimmer of hope, Jack points out that the liquidity crisis and slow prepayment speeds hamper rapid recovery. [5:22] We discuss how credit unions seek low loan growth through member-centric strategies such as second mortgages and home improvement lending. [7:34] Credit unions are leveraging advancing technology for member-focused engagement. [9:31] How will technology continue to evolve and affect credit unions? [11:43] What role does AI play in innovative growth? [14:14] Credit unions adopt technology for efficiency, enabling staff to focus on personalized member interactions, especially with younger generations. [17:14] Closing thoughts, emphasizing competition against banks and fintech for younger generations. Web NAFCU digital@nafcu.org America/New_York public
Strategy & Growth, Consumer Lending
preferred partner
Allied Solutions
Podcast
---
Get daily updates.
Subscribe to NAFCU today.