October 24, 2022
NAFCU writes to FHFA on FHLBs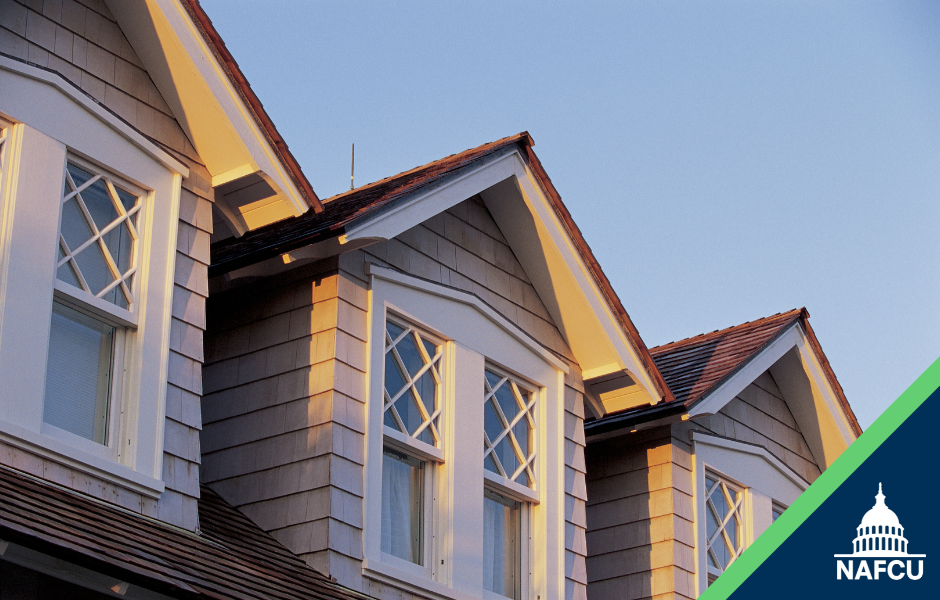 NAFCU Senior Regulatory Affairs Counsel Aminah Moore wrote to the Federal Housing Finance Agency (FHFA) Friday in response to the agency's comprehensive review of the Federal Home Loan Bank (FHLB) System as it approaches its centennial. Overall, Moore urged the FHFA to avoid disrupting the FHLB System as a result of this review and recommended any expansion of FHLB membership should exclude non-depository institutions, such as underregulated fintechs, because they are not subject to capital requirements or regulated by a prudential regulator.
NAFCU previously wrote to the FHFA in response to its request for input on FHLB membership. The association wrote that any membership expansion should only include entities that are subject to a regulatory scheme, and that the agency should "prohibit the use of conduits as they inject significant serious risk to the system and cannot demonstrate a nexus to the FHLB's public policy mission."
In addition, Moore called on the FHFA to waive the prohibition in its tangible capital rule in the short term and align its tangible capital rule with the capital definition of federal financial regulators in the longer term.
"Many of NAFCU's member credit unions rely on the FHLBs for liquidity purposes to fully serve their membership's mortgage and community development needs," wrote Moore. "As of the end of 2022's second quarter, the System had 1,574 credit union members, an increase of more than 30 percent over the past 10 years." She went on to note that credit unions now account for nearly 25 percent of the System's total membership base.
Moore also requested that the FHFA support NAFCU in its efforts to correct the exclusion of credit unions from the statutory definition of community financial institutions.
NAFCU earlier this year wrote to the House Rules Committee urging Committee members to support an amendment filed by Rep. Ritchie Torres, D -N.Y., which would "expand the definition of Community Financial Institutions in the Federal Home Loan Bank Act to include credit unions and Treasury-certified non-depository community development financial institutions." This status would enable credit unions to pledge small business, small agriculture, and community development loans as collateral within the FHLB System.
Earlier this month, Moore provided remarks during the FHFA's three-day public listening session on the FHLB System where she reiterated many of these same points.
As a leader in housing finance reform efforts, NAFCU advocates for credit unions' ability to help provide safe, sustainable, and equitable housing for all communities.
Related Resources
Add to Calendar 2023-11-30 09:00:00 2023-11-30 09:00:00 Safeguarding Credit Unions with Threat Intelligence Listen On: Key Takeaways: [1:01] What is threat intelligence, and why is it important to CUs? [2:14] What are threat intelligence feeds, and what role do they play in strengthening CUs? [4:41] Leveraging threat feeds and integrating intelligence into tools is crucial. [6:35] Learn what threat CUs should be most concerned about. [7:39] Phishing is ever-evolving, and user awareness is critical. [10:43] Learn how Defense Storm uses feeds to protect its customers. [13:28] Threat intelligence is not as complicated as some think; initiation can be easy through Slack, discussions, and a reporting culture. Web NAFCU digital@nafcu.org America/New_York public
preferred partner
DefenseStorm
Podcast
Consumer Lending
Blog Post
Add to Calendar 2023-11-28 09:00:00 2023-11-28 09:00:00 Growing Creatively & Innovatively in 2024 Listen On: Key Takeaways: [0:58] What can credit unions do to best prepare themselves for 2024? [2:12] Although he sees a glimmer of hope, Jack points out that the liquidity crisis and slow prepayment speeds hamper rapid recovery. [5:22] We discuss how credit unions seek low loan growth through member-centric strategies such as second mortgages and home improvement lending. [7:34] Credit unions are leveraging advancing technology for member-focused engagement. [9:31] How will technology continue to evolve and affect credit unions? [11:43] What role does AI play in innovative growth? [14:14] Credit unions adopt technology for efficiency, enabling staff to focus on personalized member interactions, especially with younger generations. [17:14] Closing thoughts, emphasizing competition against banks and fintech for younger generations. Web NAFCU digital@nafcu.org America/New_York public
Strategy & Growth, Consumer Lending
preferred partner
Allied Solutions
Podcast
---
Get daily updates.
Subscribe to NAFCU today.