December 28, 2022
NAFCU writes to SBA on affiliation, lending criteria for business loan programs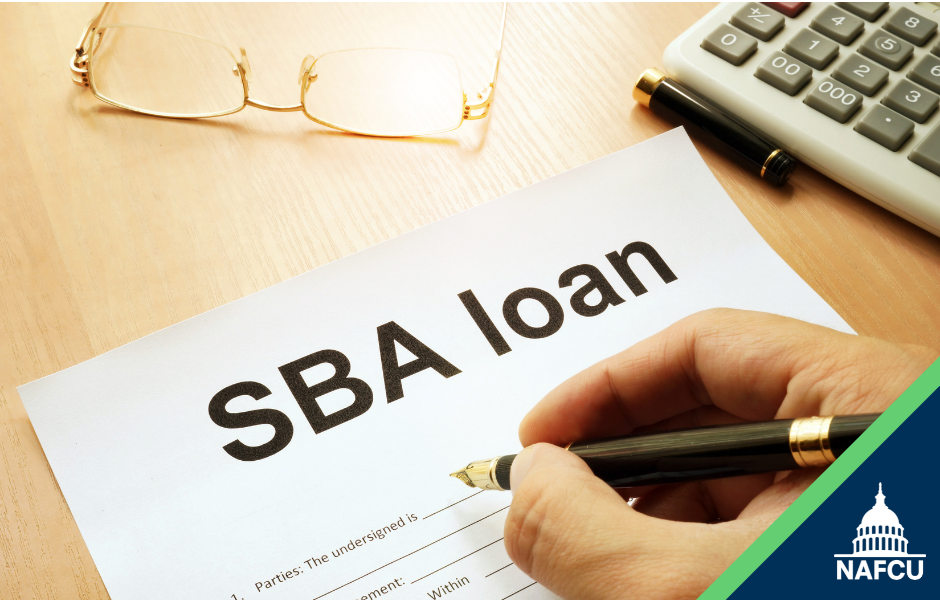 NAFCU Regulatory Affairs Counsel James Akin wrote to the Small Business Administration (SBA) yesterday in response to the agency's proposal to change regulations governing SBA's 7(a) Loan Program and 504 Loan Program. In the letter, Akin said NAFCU urges "the SBA to safeguard the 7(a) Loan Program by rescinding or pausing this rulemaking until its impact in relation to Small Business Lending Companies (SBLCs) is better understood."
The letter offered NAFCU's support of certain portions of the proposed rule, particularly that it "reduces burdens and costs on credit union SBA lenders." However, Akin shared concerns with the timing of the proposal, noting that shortly after issuing this proposal, "the SBA published a notice of proposed rulemaking to lift the moratorium on licensing new SBLCs and add a new type of entity called a Mission-Based SBLC (SBLC Proposed Rule)." The proposed rescission of the moratorium on the licensing of new SBLCs would allow non-depository institutions, including fintechs, to apply to participate in the SBA's 7(a) lending program. NAFCU requests the SBA to delay a final rule for both proposals until "it has adequately considered the impacts of each rule upon the other, and the combined impact of both."
Additionally, the letter touched on the portion of the proposal which incorporates a new underwriting standard. The proposal states that "lenders must underwrite SBA loans using the same appropriate and prudent, generally acceptable commercial credit analysis processes and procedures used for their similarly-sized, non-SBA guaranteed commercial loans where they bear all risk of loss in the case of loan default." However, Akin noted non-depository lenders are not subject to the same level of underwriting requirements as credit unions, which raises concerns due to the uneven playing field between credit unions and fintechs.
Akin also expressed NAFCU's concern with involving the politically appointed SBA Administrator in the process, as the proposal would give the Administrator "the ability to make final reconsideration of denial of a loan application or loan modification request." In addition, Akin noted NAFCU's support for the revision of its affiliation provisions to simplify the program requirements.
The letter concluded by explaining how this proposal "cannot be evaluated in a vacuum," and must be considered along with the SBA's proposal to lift the moratorium on licensing new SBLCs. Due to this, Akin said the SBA should heed the recommendation of the Select Subcommittee on the Coronavirus Crisis and pause these proposals until the impacts are fully understood.
NAFCU and other trade groups previously wrote to Congress to express concerns over these proposals, and reiterated issues in a request last week to SBA Administrator Isabella Casillas Guzman for the SBA to withdraw the proposal. The association will continue to engage the SBA to ensure the safety and soundness of its business loan programs. 
Related Resources
Add to Calendar 2023-11-30 09:00:00 2023-11-30 09:00:00 Safeguarding Credit Unions with Threat Intelligence Listen On: Key Takeaways: [1:01] What is threat intelligence, and why is it important to CUs? [2:14] What are threat intelligence feeds, and what role do they play in strengthening CUs? [4:41] Leveraging threat feeds and integrating intelligence into tools is crucial. [6:35] Learn what threat CUs should be most concerned about. [7:39] Phishing is ever-evolving, and user awareness is critical. [10:43] Learn how Defense Storm uses feeds to protect its customers. [13:28] Threat intelligence is not as complicated as some think; initiation can be easy through Slack, discussions, and a reporting culture. Web NAFCU digital@nafcu.org America/New_York public
preferred partner
DefenseStorm
Podcast
Consumer Lending
Blog Post
Add to Calendar 2023-11-28 09:00:00 2023-11-28 09:00:00 Growing Creatively & Innovatively in 2024 Listen On: Key Takeaways: [0:58] What can credit unions do to best prepare themselves for 2024? [2:12] Although he sees a glimmer of hope, Jack points out that the liquidity crisis and slow prepayment speeds hamper rapid recovery. [5:22] We discuss how credit unions seek low loan growth through member-centric strategies such as second mortgages and home improvement lending. [7:34] Credit unions are leveraging advancing technology for member-focused engagement. [9:31] How will technology continue to evolve and affect credit unions? [11:43] What role does AI play in innovative growth? [14:14] Credit unions adopt technology for efficiency, enabling staff to focus on personalized member interactions, especially with younger generations. [17:14] Closing thoughts, emphasizing competition against banks and fintech for younger generations. Web NAFCU digital@nafcu.org America/New_York public
Strategy & Growth, Consumer Lending
preferred partner
Allied Solutions
Podcast
---
Get daily updates.
Subscribe to NAFCU today.