June 14, 2018
NAFCU's advocacy receives ASAE award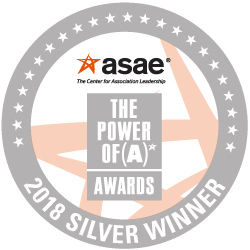 NAFCU's advocacy has been named a 2018 ASAE Power of A (association), Silver Award winner for its efforts in helping advance the credit union industry. This award recognizes associations that distinguish themselves with innovative, effective and broad-reaching programs and activities that positively impact America and the world.
ASAE – the American Society of Association Executives – represents both organizations and individual association professionals involved in almost every sector of the economy.
Among this year's winners, NAFCU was the only financial trade association to win the prestigious award.
"NAFCU is extremely proud to receive this award, and we are grateful for the recognition by ASAE," said NAFCU President and CEO Dan Berger. "At NAFCU, our mission is to help credit unions grow stronger, and a big piece of our strategy is centered on our research arm and advocacy efforts. This award is a testament to the hard work done every day by the men and women here at NAFCU who strive to provide our members with extreme member service, and no other team is more deserving."
"Congratulations to the 2018 Power of A Award winners. There are very few things that get done, very few ideas that get implemented, without an association being involved at some point in the process," said ASAE President and CEO John Graham, FASAE, CAE. "That's a story we can all be proud of, and one that deserves to be shared with others to create a deeper understanding and appreciation for associations and their role in the world."
About the Power of A
The Power of A Awards are part of The Power of A program, an industry brand and awareness campaign that helps associations tell their story to key audiences including policymakers, the media, business leaders and their own members. Associations represent different industries and professions but they are all part of a collective association industry that makes extraordinary contributions to society here in the United States and throughout the world.
About NAFCU's Advocacy
Since NAFCU's inception in 1967, the association has pursued opportunities to provide member credit unions with top-notch resources related to federal advocacy, education and compliance. To support each of these, understanding members' needs and perspectives is critical, which is where NAFCU's Advocacy comes in. One branch of this team is research and data, which provides insight to the credit union industry on critical issues affecting business operations and financial services, but also identifies financial and growth trends to help credit unions take advantage of the current economic environment. The association's research has been recognized for its methodology and leading insights by federal government agencies and national publications. For instance, in June 2017, the U.S. Treasury Department cited 31 specific recommendations spelled out in NAFCU's annual report in its own report, A Financial System That Creates Economic Opportunities, Banks, and Credit Unions.
To learn more about NAFCU's advocacy, click here.
Related Resources
---
Get daily updates.
Subscribe to NAFCU today.