December 13, 2021
NCUA, CFPB, more announce fall rulemaking agenda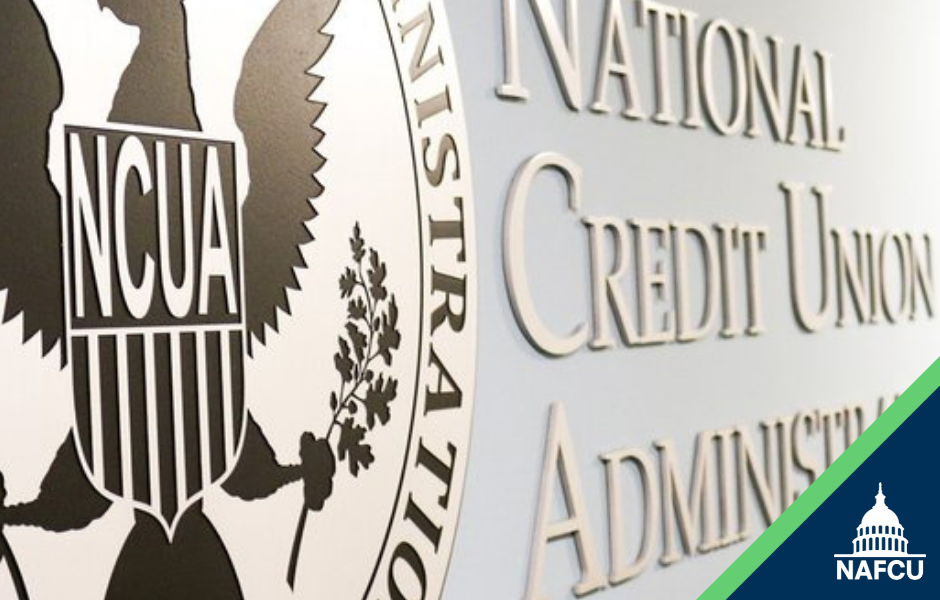 Administrative agencies – including the NCUA and CFPB – have released their fall regulatory agendas, which include several NAFCU and credit union advocacy priorities, as well as already introduced or included items on previous rulemaking agendas.
Here are a few notable items included on the agencies' fall rulemaking agendas:
Automated Valuation Models (AVMs): The NCUA is set to propose a rule that would implement Dodd-Frank's four quality control standards for the use of AVMs by mortgage originators and secondary market issuers as part of the process of determining the collateral worth of a mortgage secured by a principal dwelling.
Purchase, Sale, and Pledge of Loans: In April 2022, the NCUA Board is considering issuing a proposed rule to clarify federal credit unions' authority to purchase, sell, and pledge loans--including loan participations and eligible obligations.
Compensation in Connection with Loans to Members and Lines of Credit to Members: Also scheduled for April, NAFCU continues to advocate that this rule be proposed as soon as possible  to update regulations with industry practices.
Digital assets: NCUA says it will carefully review the comments submitted to its recent request for comment and determine what, if any, proposals should be forthcoming. Read NAFCU's letter on this topic here.
Combination Transactions: This final rule will establish requirements related to transactions where a federally insured credit union (FICU) proposes to assume liabilities from an institution other than a credit union. Read NAFCU's letter on this topic here.
Bank Secrecy Act: The NCUA plans to issue a final rule that will amend the NCUA's SARs regulation to allow the Board to issue exemptions from the requirements of that regulation to grant relief to FICUs that develop innovative solutions to meet BSA requirements.
Loans in Areas Having Special Flood Hazards; Interagency Questions and Answers Regarding Flood Insurance: The OCC, Fed, FDIC, Farm Credit Administration, and NCUA plan to issue a joint rule to reorganize, revise, and expand the Loans in Areas Having Special Flood Hazards; Interagency Questions and Answers Regarding Flood Insurance. Read NAFCU's letter on this topic here.
CFPB: Of note, all items on the CFPB's agenda are carried over from the Spring 2021 agenda.
Federal Housing Finance Agency (FHFA):
GSE liquidity requirements: The FHFA plans to issue a final rule on the GSE's liquidity requirements in January 2022. Read NAFCU's letter on this topic here.
Prior Approval of Enterprise Products: The FHFA will finalize its proposed rule on prior approval of GSE products and services, which NAFCU has previously commented on suggesting additional improvements to support technological innovation in the housing market.
Small Business Administration (SBA):
Build Back Better Act (BBBA) recovery loan program: An interim final rule is listed for June 2022 to implement regulations in the BBBA that would allow modifications to the 7(a) program to assist with COVID-19 recovery.
Streamlining and modernizing 7(a) and 504: The SBA will issue a final rule in April of 2022 to eliminate or revise obsolete, ineffective, burdensome, or unnecessary provisions for 7(a) and 504 loan programs.
Express loan: A proposed rulemaking is expected in March 2022 that will codify CARES Act authorization to permanently increase the maximum loan amount from $350,000 to $500,000 for express lenders.
Financial Crimes Enforcement Network (FinCEN):
Voluntary Information Sharing Under Section 314(b): According to the agenda, FinCEN's NPRM on voluntary information sharing has been delayed to March 2022; however, FinCEN noted in the agenda that the proposal will strengthen the existing program.
Requirements for CVC: A final rule is delayed and now expected in September 2022, originally anticipated in November 2021. This proposal would require reporting of transactions in convertible virtual currencies (CVCs) or digital assets held in un-hosted wallets. NAFCU suggested more time was needed when the proposal was initially announced in early 2021.
Several rulemaking efforts pursuant to fiscal year 2021 National Defense Authorization Act (NDAA) provisions.
Department of Housing and Urban Development (HUD):
Single-Family Loan Sale Program: The agenda notes HUD will propose a rule to codify the Federal Housing Administration's (FHA) single-family loan sale program for assigning defaulted single-family mortgage loans to FHA and disposing of the assigned loans through competitive loan sales in June 2022.
Acceptance of Private Flood Insurance for FHA-Insured Mortgages: A final rule is expected in February 2022 to amend FHA regulations allowing mortgagors the option to purchase private flood insurance on FHA-insured mortgages for properties located in Special Flood Hazard Areas in satisfaction of the mandatory purchase requirement under the National Flood Insurance Act of 1968.
Temporary asset thresholds: The Federal Reserve again expects further action this month related to the banking agencies' IFR on asset thresholds, first published in December 2020.
Regulation II: The Fed expects further action on Regulation II, its interchange regulation, specifically on proposed amendments to clarify the requirement that each debit card transaction have the ability to be processed on at least two unaffiliated payment card networks. Read NAFCU's letter on this topic here.
Related Resources
Examination & Enforcement
Blog Post
Add to Calendar 2022-06-28 14:00:00 2022-06-28 14:00:00 5 Ways You Can Help Older Members Avoid Fraud and Financial Exploitation In this webinar you'll learn how to identify, prevent, respond, and report scams and fraud targeting older adults. Though anyone can experience fraud and financial exploitation, scammers and other bad actors often target older adults. Explore why your older members may be at risk, who the abusers are, and red flags to identify scams and fraud. You will also hear about steps that older adults, their caregivers and loved ones, and credit union staff can take to spot and report financial exploitation if it does occur. In 5 Ways You Can Help Older Members Avoid Fraud and Financial Exploitation, you will get a baseline understanding of elder financial exploitation and what you can do about it. Topics covered include: defining elder financial exploitation, common types of fraud and scams, a snapshot of data about scams, prevention and reporting resources, including financial caregiving and Trusted Contacts. Key Takeaways Learn the basics of elder financial exploitation, fraud, and scams. Review red flags and prevention resources for members, their caregivers and loved ones. Discover resources to help credit union staff spot, prevent, and report financial exploitation.   Register NowRegistration is complimentary, but you must register to attend.One registration gives your entire team access to the live webinar and on-demand recording until June 28, 2023.Go to the Online Training Center to access the webinar after purchase » Who Should Attend NCCOS NCBSOs NCRMs Compliance, BSA and risk staff Education Credits NCCOs will receive 1.0 CEUs for participating in this webinar NCRMs will recieve 1.0 CEUs for participating in this webinar NCBSOs will receive 1.0 CEUs for participating in the webinar CPA credit information is below; recommended 1.0 CPE credits. CPA Certification Credit Information Reviewer: Josie Collins, Associate Director of Education, NAFCU Learning Objectives:  See key takeaways Program Level: Basic Prerequisites Needed: None Advance Preparation Needed: None Delivery Method: Group Internet-Based Recommended CPE Credits: 1.0 credits Recommended Field of Study: Regulatory Ethics – Technical About Our Webinars Our webinars are streamed live from NAFCU headquarters near Washington, DC. Your audio/video feed of the presenters includes presentation slides and downloadable handouts. You can easily submit your questions to the presenters at any time during the live broadcast, with no dialing over the phone! The audio and video stream directly through your computer. Web NAFCU digital@nafcu.org America/New_York public
Credits: NCCO, NCRM, NCBSO, CPE
Webinar
---
Get daily updates.
Subscribe to NAFCU today.