January 05, 2023
NCUA, CFPB release fall rulemaking agendas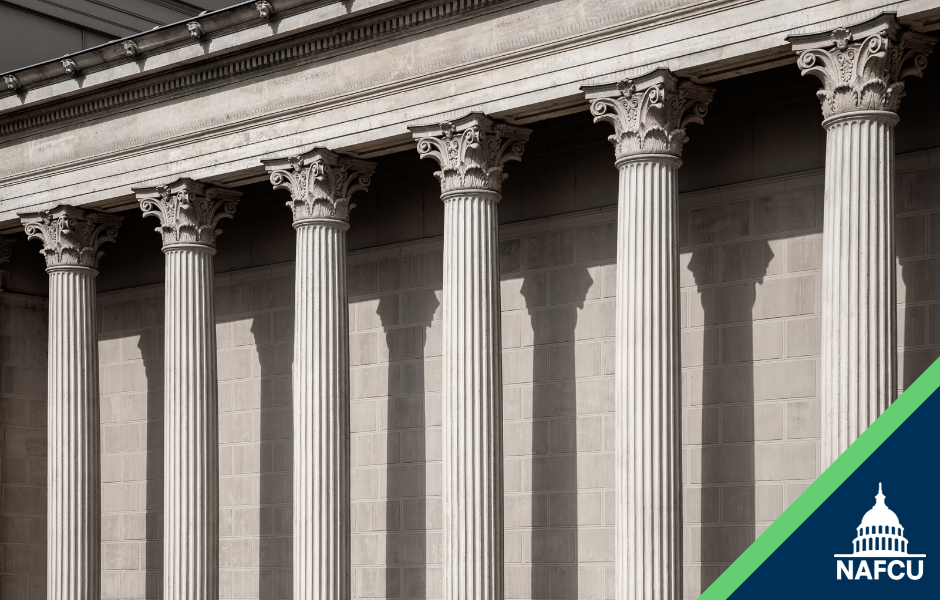 Federal agencies, including the NCUA and CFPB, released their fall 2022 regulatory agendas Wednesday. There are several NAFCU and credit union advocacy priorities included among the items, some of which have been previously introduced or included on rulemaking agendas.
Here are a few notable items included on the fall agendas; NAFCU will have additional insights available in the NAFCU Networks:
Automated Valuation Models (AVMs):

This interagency proposed rule would implement Dodd-Frank's four quality control standards for the use of AVMs by mortgage originators and secondary market issuers as part of the process of determining the collateral worth of a mortgage secured by a principal dwelling. This item has been carried over from several previous rulemaking agendas, and more information can be found in NAFCU's

Insights post

on the Fall 2021 agenda.

NAFCU has asked

the NCUA to prioritize its AVM rulemaking.
Climate-Related Financial Risks:

The NCUA is seeking public input on potential climate-related financial risks to federally insured credit unions, related entities, and the National Credit Union Share Insurance Fund (SIF).

Federal Credit Union Bylaws:

The board continues to work on finalizing a proposed rule to amend the federal credit union bylaws to implement the Credit Union Governance Modernization Act of 2022 related to the expulsion of members.

NAFCU submitted comments to the agency Dec. 2, 2022

.

Simplification of Share Insurance Rules:

Expected in early spring, the proposal would simplify the share insurance regulations by establishing a "trust accounts" category that governs coverage of shares of both revocable and irrevocable trusts using a common calculation and provide consistent share insurance treatment for all mortgage servicing account balances held to satisfy principal and interest obligations to a lender. The FDIC previously adopted a similar final rule.

Subordinated Debt:

The NCUA is considering amending its subordinated debt regulation as it applies to the duration of regulatory capital treatment of debt issued to government investors, as well as other possible changes. Comments on the proposed rule closed in December 2022.

NAFCU submitted comments supporting the proposal.

Succession Planning:

A final rule to require FCUs to establish and adhere to succession plans for key positions, including board officers, management officials, and other positions identified in credit unions' bylaws is tentatively planned for May.

NAFCU opposed this proposed rule

.

Asset Threshold for Determining Supervisory Office:

The final rule to increase the threshold for transitioning large credit unions to ONES supervision is set for this summer.

NAFCU advocated for increasing

the Tier I threshold to $20 billion in assets rather than the $15 billion Tier I threshold in the proposed rule.

The NCUA's agenda also includes a number of final actions on interim final rules related to COVID relief, including prompt corrective action and the Central Liquidity Facility, as well as several items carried over from

previous rulemaking agendas

.
Fair Credit Report Act (FCRA):

The bureau is considering whether to amend Regulation V, which imposes legal duties on consumer reporting agencies, data furnishers, and users of consumer reports, and furnishers of information to consumer reporting agencies. NAFCU filed several amicus briefs with other trades associations in 2022 to clarify the requirements of data furnishers in investigating credit disputes and confirm that the FCRA preempts state credit reporting laws.

Section 1071 Small Business Lending Data:

The bureau plans to finalize this rule to implement Section 1071 of the Dodd-Frank Act in March.

NAFCU's

comment

and a

joint trades letter

urged significant changes to the proposed rule to reduce compliance burdens imposed on credit unions.

Section 1033 Personal Financial Data:

The Small Business Regulatory Enforcement Fairness Act (SBREFA) panel is expected to release its report in February. NAFCU will provide comments to the bureau on the panel's outline of proposals under consideration.

Fees:

The bureau has several items on its agenda related to fees, including overdraft, insufficient funds, and

credit card penalties

.
Voluntary Information Sharing Under Section 314(b):

NAFCU has asked

FinCEN to improve the utility of the information sharing program by allowing financial institutions to share information about fraud. This item has been included in several previous agendas and a proposed rule is now scheduled for June.
Related Resources
Add to Calendar 2023-03-16 14:00:00 2023-03-16 14:00:00 AI Lending Partnerships and the Power of Efficiency About The Webinar How one credit union is balancing profitability and member growth with personal loans.   Discover how your credit union can tap into personal lending opportunities to gain new, creditworthy members safely, even in periods of economic volatility. This session will dive deep into how a Chief Lending Officer is growing members in Arizona and proactively managing their return targets.  Attendees will hear about: Attracting new members for long-term growth with a digital-first experience The benefits of AI-driven lending, including more accurate credit decisioning How Vantage West is navigating a successful partnership with a fintech How Upstart has helped Vantage West lend more inclusively as a CDFI Web NAFCU digital@nafcu.org America/New_York public
preferred partner
Upstart
Webinar
Add to Calendar 2023-03-15 14:00:00 2023-03-15 14:00:00 Exponential Fraud Exposure: Reg II Awareness About the Webinar On this webinar we explore the impact of Reg II on card-not-present fraud. We'll hear from Ann Davidson, VP of Risk Consulting, at Allied Solutions and a first-hand account of the implications attached to this regulation from Tracie Wilcox, President and CEO of On Tap Credit Union. We will examine how the timeline, with an effective date of July 1, 2023, will likely create unintentional negative consequences for consumers and credit unions as they're forced to reprioritize this implementation over other consumer-oriented and security-focused improvements. This webinar will provide valuable insights into the challenges and potential solutions for navigating the new regulation. Attendees will walk away equipped with: An overview of Reg II and the upcoming implementation deadline. Steps to take to mitigate exposure. Examples of the risks on the horizon. Ann and Tracie are looking forward to sharing their vast  experience and knowledge with the NAFCU community on March 15th. WATCH NOW Web NAFCU digital@nafcu.org America/New_York public
preferred partner
Allied Solutions
Webinar
---
Get daily updates.
Subscribe to NAFCU today.