September 14, 2021
NCUA Chairman Harper updates CUs on economic outlook, agency priorities at NAFCU's Caucus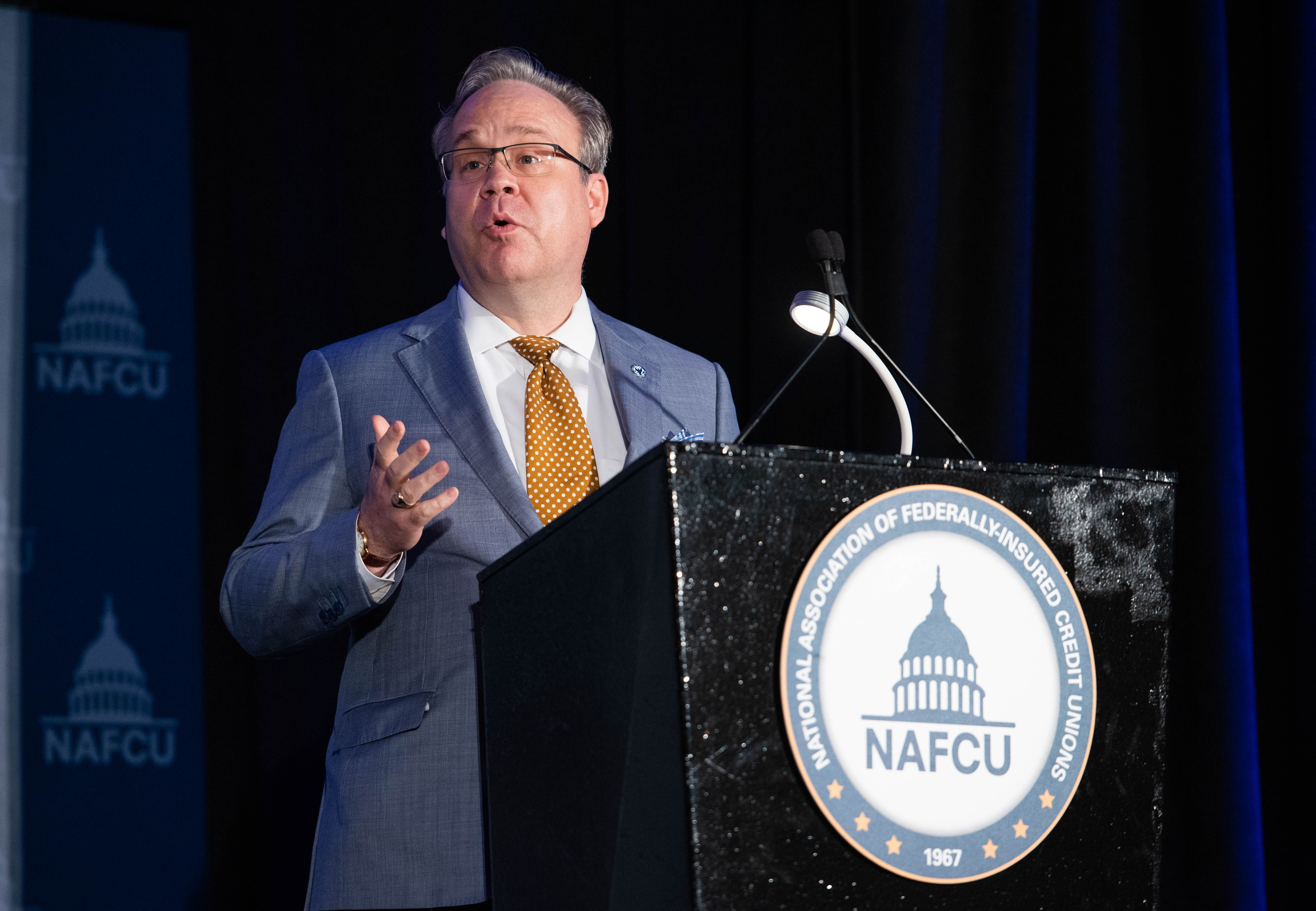 NCUA Board Chairman Todd Harper Monday offered his insights on the current priorities of the agency, the state of the economy and the near-term outlook during the first day of NAFCU's Congressional Caucus. Additionally, Harper expressed the need for credit unions to continue working with their members and detailed the actions the agency has taken to support these efforts.
"While the economic outlook is positive, the pandemic-induced recession hit the poorest households the hardest, and for these households, many of whom are credit union members, the recovery could take longer," said Harper during his opening remarks. "The expiration of forbearance programs will lead to financial stress for many, and that stress could lead to rising delinquencies and charge-offs at federally insured credit unions."
Harper encouraged credit unions to continue working with their members who have financial difficulties, noting the importance of targeted relief measures and the NCUA's recent finalized capitalization of interest rule.
"For borrowers experiencing financial hardship, a prudently underwritten and appropriately managed loan modification, consistent with consumer financial protection laws and safe-and-sound lending practices, is often a win-win-win for the borrower and the credit union as well as for communities and our economy," said Harper. "As such, the capitalization of interest rule should serve members and our economy well in the long term."
Harper provided an overview of priorities for the Federal Financial Institutions Examination Council (FFIEC), reiterating that successful financial institutions should be fair and forward-looking, innovative, inclusive, risk-focused, and engaged appropriately with all stakeholders. Particularly, he highlighted the importance of recognizing the appraisal bias and how credit union regulators can combat it.
"At the NCUA, we are studying the causes of disparities in appraisal and valuation services to inform our future policymaking, stated Harper. "As FFIEC Chairman, I will continue this conversation and take action on appraisal bias with my fellow regulators, including working to finalize a joint-agency rule to establish quality control standards for appraisal valuation models."
Additionally, Harper addressed the agency's request for information (RFI) regarding how credit unions use and may use digital assets and what risks such uses pose to credit unions, related entities, and the agency. NAFCU sent members a Regulatory Alert breaking down the RFI and solicited member feedback; the association will submit comments to the NCUA and continue to update members on this topic.
Finally, Harper touched on his concern for the increased reliance of credit unions on Credit Union Service Organizations and other third parties. To address this 'growing regulatory blind spot,' Harper mentioned that the Government Accountability Office, the Financial Stability Oversight Council, and the NCUA Inspector General have all called on Congress to provide the agency with examination and enforcement authority over third-party vendors. 
"In closing, the COVID-19 pandemic and its economic fallout have changed almost everything, from how we live, work, and socialize, to how we think about, and plan for, the future," Harper concluded. " But, if the credit union community works together to navigate through the pandemic-induced economic crisis smartly and safely, we will emerge stronger from it." 
Read Harper's full remarks here. NAFCU will remain in close communication with the NCUA regarding regulatory priorities for credit unions.
NAFCU's Congressional Caucus is currently being held in a hybrid format, both in-person and virtually, through Wednesday; view the agenda here.
Follow along on Twitter with #NAFCUCaucus for live event updates.
Related Resources
Strategy, FinTech, Web/Tech, Technology, Cloud Computing
preferred partner
Q2
Blog Post
Add to Calendar 2021-09-23 14:00:00 2021-09-23 14:00:00 IRA Update Whether you're new to IRAs or just need a refresher, it's important to stay on top of the latest IRA-related regulatory changes and legislative developments. Following a high-level review of IRAs, we'll discuss the latest IRA guidance and how it may affect your IRA program, documents and procedures. We'll also review the IRA establishment, SEP plan, and recent tax law changes. Key Takeaways Latest IRA rules and regulations Discuss how recent changes may affect your IRA program Recent tax law changes Walk through SEP plan Register Now$295 Members | $395 Nonmembers (Additional $50 for CD)One registration gives your entire team access to the live webinar and on-demand recording until September 23, 2022.Go to the Online Training Center to access the webinar after purchase » Who Should Attend? Chief Executive Officers Chief Financial Officers Education Credits CPA credit information is below; recommended 1.0 CPE credits. CPA Certification Credit Information Reviewer: Josie Collins, Associate Director of Education, NAFCU Learning Objectives:  See key takeaways Program Level: Basic Prerequisites Needed: None Advance Preparation Needed: None Delivery Method: Group Internet-Based Recommended CPE Credits: 1.0 credits Recommended Field of Study: Business Law – Technical About Our Webinars Our webinars are streamed live from NAFCU headquarters near Washington, D.C. Your audio/video feed of the presenters includes presentation slides and downloadable handouts. You can easily submit your questions to the presenters at any time during the live broadcast, with no dialing over the phone! The audio and video stream directly through your computer. Web NAFCU digital@nafcu.org America/New_York public
Credits: CPE
Webinar
---
Get daily updates.
Subscribe to NAFCU today.