August 03, 2018
NCUA keeps 18% interest rate ceiling, seeks input on longer maturity limits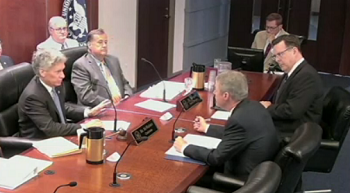 The NCUA Board on Thursday voted to maintain federal credit unions' current interest rate ceiling at 18 percent. NAFCU encouraged the board to consider increasing the interest rate ceiling or, absent an increase, keep the rate at 18 percent and explore a floating interest rate ceiling.
"We appreciate NCUA Board Chairman J. Mark McWatters and Board Member Rick Metsger maintaining the current 18 percent interest rate ceiling and inquiring about more flexibility in this area going forward," said NAFCU President and CEO Dan Berger. "Credit unions exist to provide provident credit to their members. Maintaining the current interest rate cap will ensure the industry is able to compete on a level playing field with other lenders – one of our top priorities."
The current interest rate ceiling was set to expire Sept. 10. NAFCU has reminded the NCUA Board that it has flexibility in establishing the interest ceiling on loans. Berger has pushed for the board to explore options to modify the interest rate ceiling away from a fixed rate to a "15 percent spread over Prime," which would help credit unions reduce their interest rate risk and likely lead to an overall increase in lending and access to credit.
The board-approved 18 percent maximum loan interest rate for federal credit unions is effective Sept. 11 through March 10, 2020.
Also during Thursday's meeting, the NCUA Board:
considered a proposal to delay the agency's risk-based capital (RBC) rule;
had a mid-year review of its 2018 budget;
issued a proposal on loans to members; and
finalized a rule on suspension and debarment procedures.
RBC proposal
NAFCU has long supported and led efforts to delay the RBC rule so it could be revisited by the agency. Its advocacy efforts have led to congressional action to obtain a two-year RBC delay; this provision has passed the House three times. The proposed NCUA changes to the rule would include a one-year delay of the rule and raise the definition of a complex credit union from $100 million to $500 million; the proposal will have a 30-day comment period.
"We thank Chairman McWatters and Board Member Metsger for proposing these changes," said Berger. "NAFCU has continually pressed the NCUA for changes to its current RBC rule since it was introduced, and this new proposal is positive. NAFCU has done significant work in analyzing appropriate capital levels for the credit union industry and will provide the NCUA with even further suggestions to strengthen credit unions and the economy at large."
During the one-year delay period, the NCUA's current prompt corrective action requirements would remain in effect.
Mid-year budget review
NCUA staff projects obligations for the year will be about $8.5 million less than the 2018 approved budget, which stands at $298.1 million.
Of note, NCUA Chief Financial Officer Rendell Jones recommended a reprogramming of $675,000 to aid in the integration of the current Automated Cybersecurity Examination Tool (ACET) into the standardized Cyber Security Evaluation Tool (CSET). Jones noted that this integration will enhance the tool's value and improve the examination process. The current ACET is a workbook/spreadsheet solution derived from the Federal Financial Institutions Examination Council (FFIEC) Cybersecurity Assessment Tool (CAT). The board approved of this reprogramming.
Loans to members proposal
This proposal would streamline regulations regarding loans by identifying in one section all of the various maturity limits applicable to federal credit union loans. The rulemaking also proposes to make explicit the maturity date for a "new loan," and consider whether to provide a longer maturity limit for one-to-four family real estate loans and other loans including home improvement, mobile home and second mortgage loans.
The proposal will have a 60-day comment period. NAFCU will provide comments and issue a Regulatory Alert to obtain member credit union feedback.
 
Suspension and debarment procedures rule
The NCUA Board approved its final rule on suspension and debarment procedures related to procurement issues and contractor due process. The rule will be effective 30 days after its publication in the Federal Register.
The rule mirrors the proposal issued in March. The rule contains eight sections, which describe the NCUA's authority in these procedures, circumstances for and impact of suspension or debarment, the decision-making process and the contractor's right to seek judicial review of decisions.
Related Resources
---
Get daily updates.
Subscribe to NAFCU today.