January 27, 2023
NCUA votes to maintain interest rate ceiling at 18%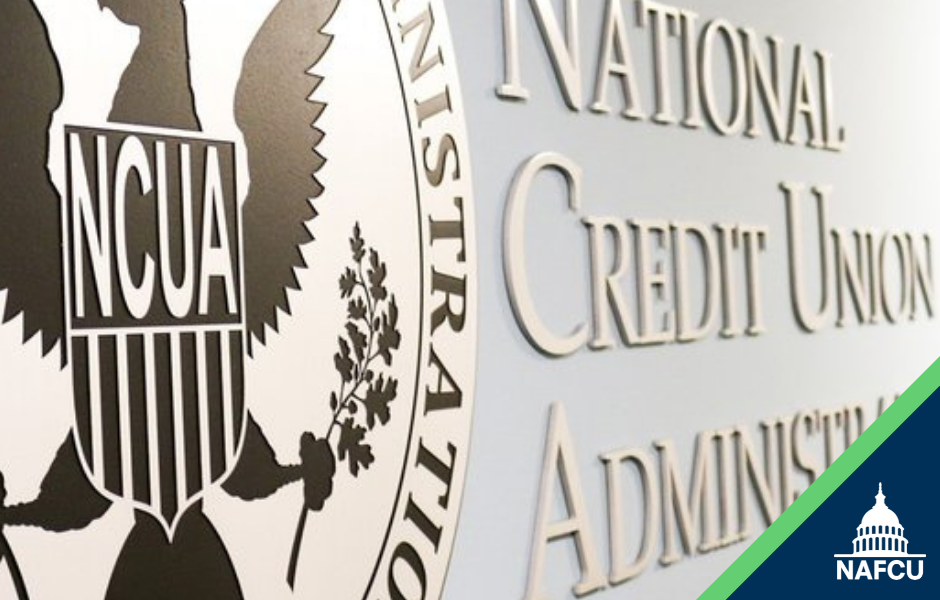 The NCUA Board held its first meeting of the year yesterday and unanimously approved maintaining the current temporary 18 percent interest rate ceiling for loans made by federal credit unions (FCUs) for a new 18-month period. The extension begins after the current period expires March 10. The NCUA Board has consistently maintained the interest rate ceiling at 18 percent for decades by extending the expiration date.
NAFCU urged the NCUA to make adjustments that will mitigate FCUs' interest-rate-related risks and enable FCUs to better serve their communities ahead of the meeting, including by immediately raising the ceiling to 21 percent. NAFCU has consistently advocated for a floating permissible interest rate ceiling to address constraints of the 15 percent ceiling set by the FCU Act.
During the meeting, NCUA Chairman Todd Harper noted that the floating interest rate ceiling is an interesting point and that the NCUA should complete its analysis by the April Board meeting. Board Member Rodney Hood quoted NAFCU's letter when expressing concerns about maintaining the rate at 18 percent.
Additionally, the agency unanimously approved its 2023 Annual Performance Plan. While the NCUA's strategic and performance goals are mostly the same as last year, the plan provides more specifics regarding the metrics the agency will use to track its efforts.
NAFCU will continue to engage the NCUA, including reiterating the need to establish a floating permissible interest rate ceiling.
Related Resources
Consumer Lending
Blog Post
Add to Calendar 2023-03-28 14:00:00 2023-03-28 14:00:00 A Deep Dive into FedNow Service Features and 24/7/365 Operations Join part 2 of this FedNow webinar series to deepen your knowledge of FedNow Service features and capabilities to prepare your credit union for 24/7/365 operations. Join Director of FedNow Product Management, Stephanie Miracle, and you'll explore important operational topics that are top of mind for credit unions including release 1 features, reconcilement, accounting changes, reporting, liquidity management, fraud and risk mitigation, ISO 20022, and how to work with your service provider. Operations, technology and business development staff will find this webinar particularly valuable as they consider tactical next steps to convert to always-on payment operations. Key Takeaways Examine specific FedNow operational topics including reporting, reconcilement, seven-day accounting, liquidity management, ISO 20022 and more. Learn about fraud and risk considerations that are inherent to instant payments, and the Federal Reserve's fraud mitigation approach and tools. Discover how to best engage with your service provider partners as you embark on your instant payments implementation journey. Register Now Registration is Complimentary, but you must register to view.One registration gives your entire team access to the live webinar and on-demand recording until March 28, 2024.Go to the Online Training Center to access the webinar after purchase » Who Should Attend? Credit union accounting and finance management NCRMs and risk titles NCCOs and compliance titles Education Credits NCCOs will receive 1.0 CEUs for participating in this webinar NCRMs will recieve 1.0 CEUs for participating in this webinar About Our Webinars Our webinars are streamed live from NAFCU headquarters near Washington, D.C. Your audio/video feed of the presenters includes presentation slides and downloadable handouts. You can easily submit your questions to the presenters at any time during the live broadcast, with no dialing over the phone! The audio and video stream directly through your computer. Web NAFCU digital@nafcu.org America/New_York public
Credits: NCCO, NCRM
Webinar
Add to Calendar 2023-03-28 14:00:00 2023-03-28 14:00:00 SECURE 2.0: Creating a New Retirement Plan Foundation About the Webinar The SECURE 2.0 Act of 2022 was passed by Congress and signed into law by the President on December 26th 2022. The law contains 92 provisions, many of which are designed to expand retirement savings and coverage and simplify retirement plan rules. A number of these provisions will serve as the foundation for new plan formation among small businesses and may propel overall increased participation and savings rates. This is one of the largest pieces of retirement plan legislation in some time. This legislation has been anticipated for nearly a year, with key features contained in previously proposed bills presented over the last several years. While some of these features are identical to what was previously proposed, others have been modified to some extent in the final version of the law. Watch On Demand Web NAFCU digital@nafcu.org America/New_York public
preferred partner
Pentegra
Webinar
---
Get daily updates.
Subscribe to NAFCU today.