August 17, 2023
New on the Compliance Blog: ATMs and checks, CFPB Supervisory Highlights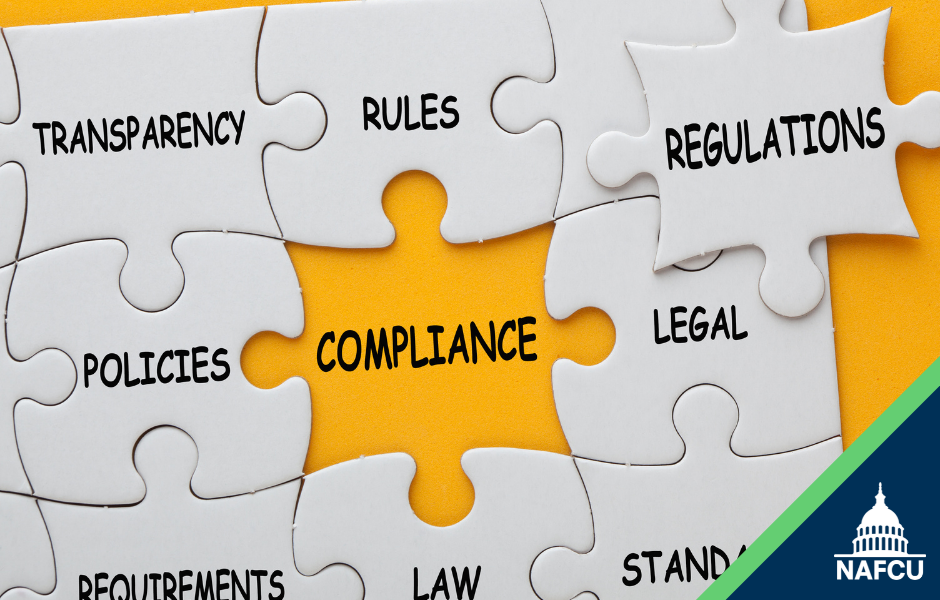 As credit unions work to meet the needs of more than 137 million Americans, NAFCU's award-winning regulatory compliance team continues to keep credit unions informed with new posts on the Compliance Blog every Monday and Wednesday.
Here's a roundup of what's new this week:
On-Us Checks Deposited at a Proprietary ATM and Availability under Regulation CC: Regulatory Compliance Counsel Tara Simpson explains when funds from an "on-us" check deposited at a proprietary ATM must be made available. She highlights that "which funds availability rule applies may depend on where the proprietary ATM is located." For "on-us" checks deposited at an ATM at the branch, at least $225 must be made available "by the business day following the banking day of deposit. After that, it will follow the general check availability rules found in section 229.12". For checks deposited at ATMs not at the credit union, Simpson notes "on-us check are required to be made available by the second business day after the deposit was made."
Peering into the Future: 2023 Supervisory Highlights (Pt. 2): Regulatory Compliance Counsel Aminah Moore discusses the CFPB's summer edition of its Supervisory Highlights. Moore reviews additional sections outlined in the document, such as auto loan marketing, pricing exceptions, discriminatory lending restrictions, and loss mitigation applications.
Sign up to receive the latest Compliance Blog posts in your inbox. Access additional compliance resources, including a compliance calendar, numerous final regulation summaries, and more here.    
Related Resources
Add to Calendar 2023-11-30 09:00:00 2023-11-30 09:00:00 Safeguarding Credit Unions with Threat Intelligence Listen On: Key Takeaways: [1:01] What is threat intelligence, and why is it important to CUs? [2:14] What are threat intelligence feeds, and what role do they play in strengthening CUs? [4:41] Leveraging threat feeds and integrating intelligence into tools is crucial. [6:35] Learn what threat CUs should be most concerned about. [7:39] Phishing is ever-evolving, and user awareness is critical. [10:43] Learn how Defense Storm uses feeds to protect its customers. [13:28] Threat intelligence is not as complicated as some think; initiation can be easy through Slack, discussions, and a reporting culture. Web NAFCU digital@nafcu.org America/New_York public
preferred partner
DefenseStorm
Podcast
Consumer Lending
Blog Post
Add to Calendar 2023-11-28 09:00:00 2023-11-28 09:00:00 Growing Creatively & Innovatively in 2024 Listen On: Key Takeaways: [0:58] What can credit unions do to best prepare themselves for 2024? [2:12] Although he sees a glimmer of hope, Jack points out that the liquidity crisis and slow prepayment speeds hamper rapid recovery. [5:22] We discuss how credit unions seek low loan growth through member-centric strategies such as second mortgages and home improvement lending. [7:34] Credit unions are leveraging advancing technology for member-focused engagement. [9:31] How will technology continue to evolve and affect credit unions? [11:43] What role does AI play in innovative growth? [14:14] Credit unions adopt technology for efficiency, enabling staff to focus on personalized member interactions, especially with younger generations. [17:14] Closing thoughts, emphasizing competition against banks and fintech for younger generations. Web NAFCU digital@nafcu.org America/New_York public
Strategy & Growth, Consumer Lending
preferred partner
Allied Solutions
Podcast
---
Get daily updates.
Subscribe to NAFCU today.