June 27, 2022
New home sales 'rebound modestly' in May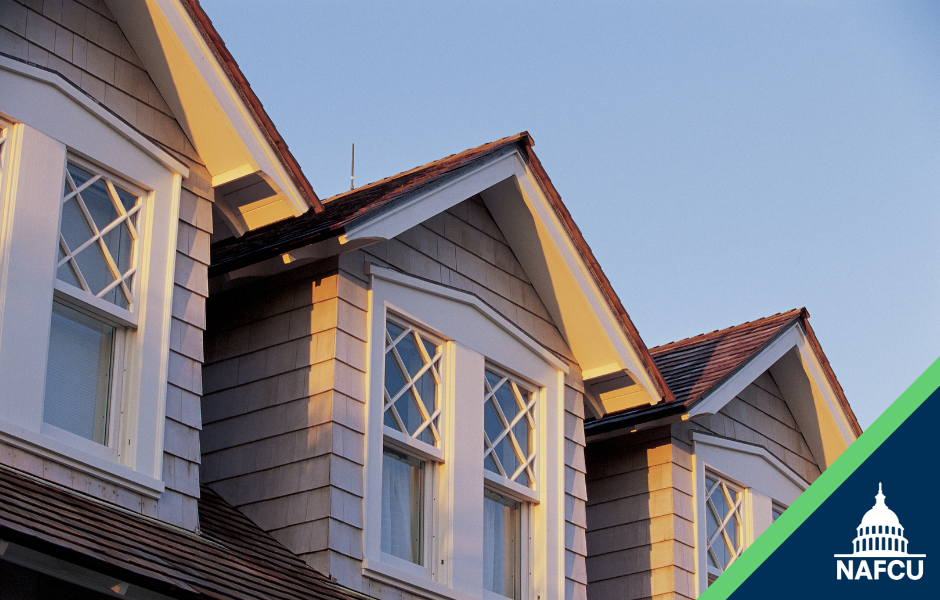 New home sales grew 10.7 percent in May to 696,000 annualized units, while April saw an upward revision of 38,000 units. Compared to last year, May sales were 5.9 percent lower. NAFCU Chief Economist and Vice President of Research Curt Long analyzes the data in the latest Macro Data Flash report.
"From a high-level view, homebuilder stock is in decent shape, with 7.7 months of inventory on hand. But that is deceptive, as an abnormally large share of that inventory is unfinished due to ongoing supply chain problems," said Long.
Based on current month sales, there were 7.7 months of supply in May, down by 0.6 months from April. Unsold homes left on the market increased by 7,000 homes to 444,000, representing a 42.6 percent increase from year-ago inventory levels.
"To wit, the total number of new homes for sale at the end of the month grew by 1.6 percent in May to 444,000, but only 37,000 of those homes are complete," added Long. " Furthermore, sales may be getting a temporary boost as builders – who had throttled sales in recent months in an environment of rapid price inflation – begin to release that inventory."
Results were mixed across the Census regions in May. Sales in the West rose 39.3 percent, followed by the South (12.8 percent). Meanwhile, sales in the Northeast fell by 51.1 percent, and in the Midwest by 18.3 percent.
Of note, the median home price, non-seasonally adjusted, fell by 1.3 percent in May to $449,000, which is 15.0 percent higher than last year.
"The National Association of Homebuilders/Wells Fargo Housing Market Index has declined every month in 2022, and housing starts in May fell to their lowest level since April 2021," concluded Long. "NAFCU expects new home sales to be muted in the near term due to rising rates and economic uncertainty."
For more economic updates from NAFCU's award-winning research team, view all of NAFCU's Macro Data Flash reports.
Related Resources
Add to Calendar 2023-11-30 09:00:00 2023-11-30 09:00:00 Safeguarding Credit Unions with Threat Intelligence Listen On: Key Takeaways: [1:01] What is threat intelligence, and why is it important to CUs? [2:14] What are threat intelligence feeds, and what role do they play in strengthening CUs? [4:41] Leveraging threat feeds and integrating intelligence into tools is crucial. [6:35] Learn what threat CUs should be most concerned about. [7:39] Phishing is ever-evolving, and user awareness is critical. [10:43] Learn how Defense Storm uses feeds to protect its customers. [13:28] Threat intelligence is not as complicated as some think; initiation can be easy through Slack, discussions, and a reporting culture. Web NAFCU digital@nafcu.org America/New_York public
preferred partner
DefenseStorm
Podcast
Consumer Lending
Blog Post
Add to Calendar 2023-11-28 09:00:00 2023-11-28 09:00:00 Growing Creatively & Innovatively in 2024 Listen On: Key Takeaways: [0:58] What can credit unions do to best prepare themselves for 2024? [2:12] Although he sees a glimmer of hope, Jack points out that the liquidity crisis and slow prepayment speeds hamper rapid recovery. [5:22] We discuss how credit unions seek low loan growth through member-centric strategies such as second mortgages and home improvement lending. [7:34] Credit unions are leveraging advancing technology for member-focused engagement. [9:31] How will technology continue to evolve and affect credit unions? [11:43] What role does AI play in innovative growth? [14:14] Credit unions adopt technology for efficiency, enabling staff to focus on personalized member interactions, especially with younger generations. [17:14] Closing thoughts, emphasizing competition against banks and fintech for younger generations. Web NAFCU digital@nafcu.org America/New_York public
Strategy & Growth, Consumer Lending
preferred partner
Allied Solutions
Podcast
---
Get daily updates.
Subscribe to NAFCU today.