November 29, 2021
New NAFCU campaign, 'Stop Big Bank Bullies,' calls out banking industry misconduct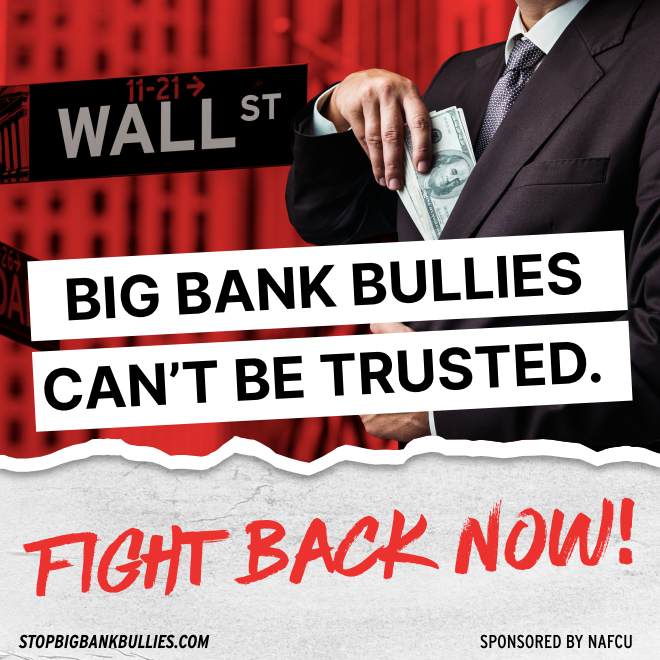 NAFCU today launched a national digital campaign with the goal of educating Americans on how they can limit the influence that Big Wall Street banks have over their finances and the economy. In addition, the campaign focuses on ways that banks take advantage of consumers in order to make a profit and urges consumers to join consumer-friendly credit unions instead.
The association launched this campaign in response to the continuous wrongful attacks banks and their trade associations have made against the credit union industry.
In the "Stop Big Bank Bullies" campaign, NAFCU underscores the $243 billion in fines paid by Big Wall Street banks for the harm they've imposed on consumers after violating numerous consumer laws. In addition, the campaign highlights the billions of dollars banks have spent buying back shares of their own stock in order to line their own pockets.
"It's time for banks to be held accountable; their bad behavior has been overlooked for far too long," stated NAFCU President and CEO Dan Berger. "Consumers have the power to stop these bullies by leaving their bank and joining a credit union. Credit unions put their 127 million consumers first and provide better quality financial products and services that consumers need. At a time when financial services are needed most, banks abandoned countless underserved communities resulting in a sprawl of banking deserts across our nation."
Bank lobbyists have launched numerous campaigns calling for the removal of credit unions' tax-exempt status even though, under the Tax Cuts and Jobs Act, banks receive $95 billion in tax breaks, an amount that far exceeds the credit union tax exemption.
Banks wrongfully claim that credit unions exploit the tax-exempt status to fuel rapid expansion; however, this could not be further from the truth. Credit unions utilize this tax-exempt status, which has been reaffirmed by the IRS, Treasury Department, and Congress, and their not-for-profit cooperative structure to focus on providing consumers with better rates, lower fees, and going above and beyond to serve the communities in which they operate.
Additionally, NAFCU's campaign also points out the large disparity among bank and credit union net earnings, which highlights that the 100 largest banks earn just as much in one month as the entire credit union industry earns in one year.
"What's concerning is that each of the top three banks earn more individually, than the credit union industry as a whole," remarked Berger. "It's time to stand up to these bullies; enough is enough. We need reliable, trustworthy, and genuine community financial institutions to help American families achieve their financial dreams. Credit unions will do just that, not greedy banks who only care about making a quick buck."
NAFCU encourages credit unions to join the association in its fight against the big bank bullies by sharing this campaign with members, credit union staff, and stakeholders. View more about NAFCU's "Stop Big Bank Bullies" campaign.
Related Resources
Examination & Enforcement
Blog Post
Credit Unions, Education, Risk Management, Growth & Retention
preferred partner
Franklin Madison
Blog Post
---
Get daily updates.
Subscribe to NAFCU today.