March 10, 2022
Omnibus includes NAFCU-sought CUGMA, LIBOR legislation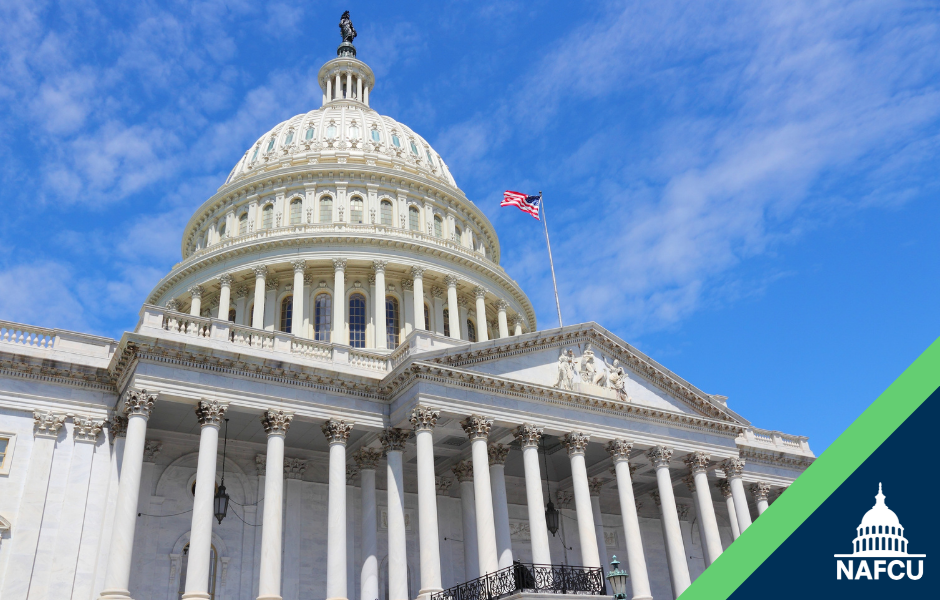 Congressional leadership early Wednesday morning released the text of a massive fiscal omnibus spending bill, which includes the Credit Union Governance Modernization Act (CUGMA) – NAFCU-sought legislation that would modernize the Federal Credit Union (FCU) Act's provisions related to member expulsion in order to keep credit unions, their members, and staff safe from illicit behavior. The legislation was unanimously approved by the House Financial Services Committee in November.
"NAFCU applauds Congressional leadership for advancing the Credit Union Governance Modernization Act and commends Senators Tina Smith and Ben Sasse and Representatives Tom Emmer and Ed Perlmutter for their leadership on this issue and continued efforts to further protect credit unions," said NAFCU Vice President of Legislative Affairs Brad Thaler. "This important legislation will ensure safeguards for credit unions dealing with members who engage in illicit activity that endangers credit union staff and members by allowing federal credit unions establish procedures for expelling members, rather than requiring a member vote.
"NAFCU and our credit union members have pushed hard to advance this bill that provides fundamental reforms for the credit union expulsion process we stand ready to help enact this legislation," concluded Thaler.
The association has long advocated for less burdensome expulsion regulations to alleviate difficulty for credit unions expelling members who are engaging in fraudulent or illegal activities or conducting physical or verbal abuse.
In addition, the omnibus bill contains the Adjustable Interests Rate (LIBOR) Act introduced by Representative Brad Sherman, D-Calif., which would provide clear guidance and a consistent federal standard for contracts with interest rates transitioning away from the London Interbank Offered Rate (LIBOR) index for financial products – which ends June 2023.
Of note, the legislation would also direct the Federal Reserve to determine replacement rates that can be used for contracts lacking fallback language by providing a safe harbor should the contract not specify a non-LIBOR replacement rate.
The omnibus package also includes new provisions on cybersecurity that require critical infrastructure entities and federal agencies to report cyber incidents within 72 hours to the Cybersecurity and Infrastructure Security Agency (CISA) and any ransomware payments with 24 hours. The cyber legislation is similar to language that was originally included in the Senate version of the National Defense Authorization Act (NDAA) last year but ultimately dropped in the final package.
The package provides for $295 million in annual appropriations for the Community Development Financial Institutions (CDFI) Fund and $1.545 million for the NCUA's Community Development Revolving Loan Fund (CDRLF) as well as report language to prioritize those loans for minority depository institutions (MDIs) and smaller credit unions.  It also includes report language to encourage the NCUA to look for ways to increase access to credit unions for the underserved.
In addition, the House also released a short stopgap funding extension through March 15, giving the Senate additional time to clear the larger package. The House cleared both spending measures late Wednesday, sending them to the Senate for action, where they are expected to be considered later this week.
NAFCU remains engaged with Congress as they work to pass this omnibus and will keep credit unions up-to-date via NAFCU Today.
Related Resources
Add to Calendar 2023-03-20 14:00:00 2023-03-20 14:00:00 Liquidity Considerations in Light of Silicon Valley Bank As the financial industry is discussing the ramifications of the recent closings of Silicon Valley Bank (SVB) and Signature Bank, many are asking themselves, "Where do we go from here?" This is an opportunity to take a step back and evaluate your institution's next steps in this rapidly changing environment. The combination of mindset, critical thinking, and an understanding of the potential impact of different scenarios has increased in importance.  In this webinar, Liquidity Considerations in Light of Silicon Valley Bank, your questions and concerns will be addressed about short-term and long-term liquidity management and analysis, opportunities and risks that could arise from member actions, and the importance of maintaining trust and communication with your members throughout this wild ride.    Key Takeaways Heighten your thought process and strategies regarding the position of your credit union and considerations around potential actions Understand how evaluating your liquidity, ranging from expectations to stress events, from 3 levels helps you gain perspective on how much you may directly control, versus liquidity that is reliant on others Explore examples of critical thinking around the potential outcomes that you may want to examine FREE FOR ALL   Register NowOne registration gives your entire team access to the live webinar and on-demand recording until March 20, 2023.Go to the Online Training Center to access the webinar after purchase »   Who Should Attend C-suite Executive vice presidents Education Credits NCRMs will receive 1.0 CEUs for participating in this webinar Web NAFCU digital@nafcu.org America/New_York public
Credits: NCRM
Webinar
Accounts Advertising
Blog Post
Add to Calendar 2023-03-16 14:00:00 2023-03-16 14:00:00 AI Lending Partnerships and the Power of Efficiency About The Webinar How one credit union is balancing profitability and member growth with personal loans.   Discover how your credit union can tap into personal lending opportunities to gain new, creditworthy members safely, even in periods of economic volatility. This session will dive deep into how a Chief Lending Officer is growing members in Arizona and proactively managing their return targets.  Attendees will hear about: Attracting new members for long-term growth with a digital-first experience The benefits of AI-driven lending, including more accurate credit decisioning How Vantage West is navigating a successful partnership with a fintech How Upstart has helped Vantage West lend more inclusively as a CDFI Web NAFCU digital@nafcu.org America/New_York public
preferred partner
Upstart
Webinar
Add to Calendar 2023-03-15 14:00:00 2023-03-15 14:00:00 Exponential Fraud Exposure: Reg II Awareness About the Webinar On this webinar we explore the impact of Reg II on card-not-present fraud. We'll hear from Ann Davidson, VP of Risk Consulting, at Allied Solutions and a first-hand account of the implications attached to this regulation from Tracie Wilcox, President and CEO of On Tap Credit Union. We will examine how the timeline, with an effective date of July 1, 2023, will likely create unintentional negative consequences for consumers and credit unions as they're forced to reprioritize this implementation over other consumer-oriented and security-focused improvements. This webinar will provide valuable insights into the challenges and potential solutions for navigating the new regulation. Attendees will walk away equipped with: An overview of Reg II and the upcoming implementation deadline. Steps to take to mitigate exposure. Examples of the risks on the horizon. Ann and Tracie are looking forward to sharing their vast  experience and knowledge with the NAFCU community on March 15th. WATCH NOW Web NAFCU digital@nafcu.org America/New_York public
preferred partner
Allied Solutions
Webinar
---
Get daily updates.
Subscribe to NAFCU today.