August 30, 2018
Q2 GDP sees fastest growth pace in 4 years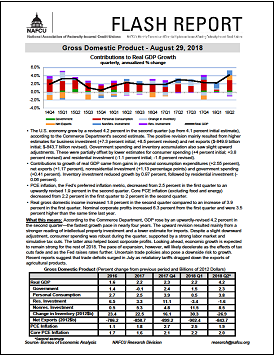 The U.S. economy grew an upwardly revised 4.2 percent in the second quarter – the fastest growth pace in nearly four years, according to the Commerce Department's second estimate released Wednesday. The revision (from the initial estimate of 4.1 percent) came mainly from a stronger reading of intellectual property investment and a lower estimate for imports.
"Looking ahead, economic growth is expected to remain strong for the rest of 2018," NAFCU Chief Economist and Vice President of Research Curt Long said in a NAFCU Macro Data Flash report. "The pace of expansion, however, will likely decelerate as the effects of tax cuts fade and as the Fed raises rates further." The Fed is expected to increase rates following its Federal Open Market Committee meeting next month, Sept. 25-26.
"Uncertain trade policies also pose a downside risk to growth," Long added. "Recent reports suggest that trade deficits surged in July as retaliatory tariffs dragged down the exports of agricultural products."
Contributions to growth of real GDP came from gains in personal consumption expenditures (+2.55 percent), net exports (+1.17 percent), nonresidential investment (+1.13 percentage points) and government spending (+0.41 percent). Inventory investment reduced growth 0.97 percent, followed by residential investment (-0.06 percent).
Personal consumption expenditure (PCE) inflation, the Fed's preferred inflation metric, decreased from 2.5 percent in the first quarter to an upwardly revised 1.9 percent in the second quarter. Core PCE inflation (excluding food and energy) decreased from 2.2 percent in the first quarter to 2 percent in the second quarter.
Real gross domestic income increased 1.8 percent in the second quarter compared to an increase of 3.9 percent in the first quarter. Nominal corporate profits increased 6.3 percent from the first quarter and were 3.5 percent higher than the same time last year.
Related Resources
---
Get daily updates.
Subscribe to NAFCU today.