July 16, 2019
Report: 2/3 of credit cards carry revolving balance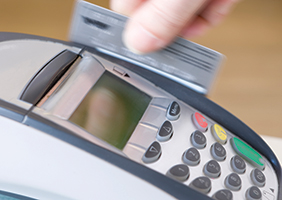 A new report from the CFPB revealed that two-thirds of actively used credit card accounts don't pay off the full balance at the end of the billing cycle. Those accounts that carry a revolving balance do so continuously for 10 months on average; 15 percent revolve continuously for two years or more.
NAFCU Chief Economist and Vice President of Research Curt Long, in a recent NAFCU Macro Data Flash report on consumer credit, noted that delinquency rates for credit card loans are on the rise "but are generally on par with pre-crisis levels."
The CFPB report, "Data Point: Credit Card Revolvers," uses data from the bureau's credit card database, specifically a sample of large banks' credit card portfolios between April 2008 and April 2016. It "focuses on the duration of credit card indebtedness and the manner by which credit card debt is repaid."
Other key findings from the report include:
credit score is not a clear predictor of repayment trends;
revolvers either take on debt on a particular account and make regular payments on their debt, or revolve about the same amount on a particular account for long periods and then make a lump-sum payment of the balance in full; and
there are geographical trends in how and why consumers choose to revolve balances on their credit cards.
On credit score reporting, the CFPB has estimated that 26 million Americans are "credit invisible" because they do not have a credit record. NAFCU and its member credit unions have long advocated for the use of alternative models that more accurately capture creditworthy borrowers and permit them access to affordable credit.
The CFPB is currently in the process of reviewing stakeholder feedback to include in its biennial report on the state of the credit card market, which is expected later this year.
Related Resources
Board and Governance Consumer Lending
Blog Post
Consumer Lending
Blog Post
Consumer Lending
Blog Post
Consumer Lending
Blog Post
---
Get daily updates.
Subscribe to NAFCU today.