May 22, 2020
Senate considers bill to expand certain PPP provisions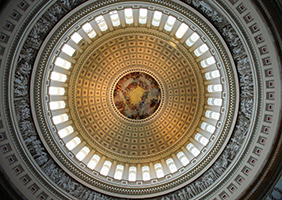 The Senate Thursday reached a bipartisan agreement and began a process to hotline legislation – attempting to advance it by unanimous consent – that would make changes to some provisions of the Small Business Administration's (SBA) paycheck protection program (PPP). Of note, the bill would extend the period during which small businesses can use PPP funds from 8 weeks to 16 weeks.
The Senate could clear the legislation as early as today.
In an article from ABC News on the legislation, NAFCU President and CEO Dan Berger said extending the period for small businesses to use the loan funds "would be beneficial as the coronavirus crisis has evolved significantly since the first relief measures were passed. Each small business has their own unique needs, and providing additional flexibility to use the funds over a longer period of time will help them and their employees get from crisis to recovery that much quicker."
In addition, the bill would extend the PPP's authorization from June 30 to Dec. 31, 2020. It would also allow PPP funds to be used to purchase personal protective equipment for employees and pay for adaptive investments needed to reopen safely. It also includes a NAFCU-sought provision to clarify the lender "hold harmless" provision to ensure lenders are not held liable for:
the borrower certification and documentation they provide when applying for a PPP loan and subsequent forgiveness; and

following previously released guidance from the SBA and Treasury if guidance had subsequently changed.
Prior to the bipartisan agreement on the Senate bill, the House had indicated it would consider its own bipartisan plan next week to ease restrictions on how businesses use the PPP. That proposed legislation would reportedly give businesses 24 weeks to spend the money from the program and would eliminate a requirement that at least 75 percent of the PPP loan forgivable amount must be used toward payroll. House leadership has not indicated if it will continue to move forward with its own plan or take up the Senate's version.
The House-passed HEROES Act also aims to make changes to the PPP, including:
expanding eligibility for PPP loans to all non-profits;

extending the coverage period of loans from 8 weeks to 24 weeks;

extending the loan term from 2 years to a minimum of 5 years in an effort to lower payments;

requiring mandatory reporting on certain demographics and data collection related to forgiveness;

establishing technical assistance grants for small community financial institutions with less than $10 billion in assets;

ensuring that debt forgiveness is not considered taxable income;

eliminating the requirement that at least 75 percent of the PPP loan forgivable amount must be used toward payroll; and

clarifying the "hold harmless" provision for lenders, for which NAFCU has advocated.
However, the Republican-led Senate is not expected to take up the HEROES Act and could instead propose its own Phase 4 coronavirus relief package in the coming weeks.
NAFCU will continue to monitor potential changes to the PPP and remain in contact with the SBA, Treasury Department, and Congress to ensure credit unions can lend effectively through the program. Of note, in the past week the SBA has released additional information in NAFCU-sought areas, including loan forgiveness and 1502 reporting.
Access NAFCU's PPP FAQs here; more information is also available on the SBA's and Treasury's websites.
Related Resources
---
Get daily updates.
Subscribe to NAFCU today.