June 27, 2018
Thaler thanks Brady for protecting CU tax exemption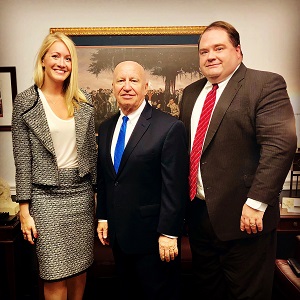 NAFCU Vice President of Legislative Affairs Brad Thaler met Tuesday with House Ways and Means Committee Chairman Kevin Brady, R-Texas, to discuss issues of importance to credit unions, including the industry's federal income tax exemption.
The House Ways and Means Committee has jurisdiction over tax-related legislation; as chairman, Brady was instrumental in protecting credit unions' tax exemption throughout last year's tax reform efforts. Thaler thanked Brady for his leadership and role in preserving the industry's tax-exempt status as the Tax Cuts and Jobs Act worked its way through the congressional process.
NAFCU Associate Director of Legislative Affairs Allyson Browning also attended Tuesday's meeting.
NAFCU has met repeatedly with members of Congress, including Brady, to discuss the importance of the credit union tax exemption and share an independent tax study that details the exemption's value to the U.S. economy.
The association remains engaged with lawmakers to tout the benefits of the tax exemption and defend the industry against unwarranted attacks from bankers.
Get daily updates.
Subscribe to NAFCU today.