June 23, 2022
Today: NAFCU's 2022 State of the Industry begins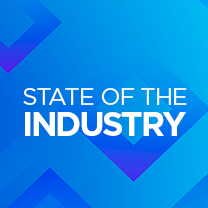 NAFCU's State of the Industry starts today, taking place from 1:00 to 4:00 p.m. Eastern. This complimentary virtual event – open to all credit unions – will bring together industry leaders, experts, and NAFCU's award-winning staff for a discussion on key trends, strategies, and legislative and regulatory developments. Registration is still open!
NAFCU launched the State of the Industry as it quickly pivoted to a virtual environment to keep credit unions running strong amid the coronavirus pandemic. As the nation recovers from the crisis, this year's event is set to explore what's coming next and equip credit unions with the tools and information needed to support their members and communities. Watch NAFCU President and CEO Dan Berger detail more information.
During the event, attendees will hear from some of the industry's top influencers to:
explore the latest advancements in artificial intelligence (AI) and digital delivery to better position your credit union against your competition;
learn the essentials about today's crypto environment and how to take advantage to help keep your members' money safe with your credit union;
uncover what you need to know if your credit union is considering a merger to partner for greater diversity;
hear the latest information about the future of financial services including DeFi, embedded finance and open finance; and
discover workforce trends and innovative ways credit unions are combating the great resignation.
Stay tuned to NAFCU Today and NAFCU's Twitter for more information on this must-attend event.
Related Resources
Home-Secured Lending Consumer Lending
Blog Post
Student Loans, Consumer Lending, Growth & Retention
preferred partner
LendKey
Blog Post
Accounts Examination & Enforcement
Blog Post
---
Get daily updates.
Subscribe to NAFCU today.