August 01, 2018
Treasury, OCC announce fintech news, ideas supported by NAFCU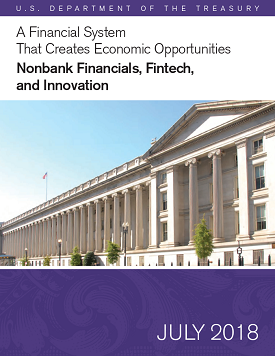 Sharing many ideas put forward by NAFCU, the Treasury Department on Tuesday released a report detailing ways that Congress and regulators could aid the growth of fintech companies. Also yesterday, the Office of the Comptroller of the Currency (OCC) announced that it will move ahead on special-purpose national bank charters for fintech firms, which addresses many of NAFCU's recommendations regarding fintech supervision.
"How fintechs operate in the financial services marketplace is a critical issue for credit unions, both now and into the future," said NAFCU President and CEO Dan Berger. "We thank the Treasury Department for taking into consideration many of NAFCU's policy recommendations relating to small-dollar lending, TCPA and data breach notifications. While many credit unions partner with fintechs to deliver valued products and services, we believe it to be in the best interest of agencies to balance the desire for regulatory flexibility with concern for overall marketplace stability. We support Treasury's effort to promote financial innovation and better the lives of American consumers."
The Treasury report also touched on the OCC's charter consideration. "We support the concept of a special-purpose national bank charter for fintech companies," said Berger. "NAFCU believes that fintech companies require a minimum level of regulation and supervision to ensure a level playing field."
As NAFCU continues to analyze the report, here are a few from the more than 80 suggestions relevant to the credit union industry:
Small-dollar lending: The Treasury Department recommends that the Bureau of Consumer Financial Protection (formally the CFPB) rescind its payday lending rule because the industry is already regulated by the states. NAFCU supports exempting credit unions from this rulemaking.
Debt collection: The department recommends that the bureau establish federal standards for third-party debt collectors. However, Treasury does not recommend a broad expansion of the Fair Debt Collection Practices Act to first-party debt collectors. Although the bureau has yet to issue a proposal related to third- or first-party debt collection, NAFCU maintains that credit unions should not be the target of future debt collection rules.
TCPA: The Treasury Department recommends a number of NAFCU-supported ideas, including creating a reassigned numbers database and establishing a safe harbor for calls to reassigned numbers. In addition, Treasury recommends that the Federal Communications Commission provide clear guidance on methods for consumers to revoke consent. NAFCU also supports Treasury's recommendation that Congress make certain statutory changes to the TCPA.
Remittances: Treasury supports the bureau's efforts to reassess Regulation E and recommends that it provide more flexibility regarding the issuance of Regulation E disclosures and raise the current transfer safe harbor – aligning with NAFCU's position.
Payments: Following NAFCU's recommendations, the Treasury Department suggests that the Federal Reserve play an operational role in a future faster payments system and develop a framework that emphasizes competitive fairness to credit unions.
Consumer financial data/Section 1033 of the Dodd-Frank Act: The Treasury Department does not endorse any particular set of standards for data aggregation and sharing of consumer financial data, but offers a more expansive view on how consumers may authorize third-party access to their data. NAFCU believes that while data sharing through open application programming interfaces (APIs) may be beneficial in some contexts, credit unions' ability to conduct data sharing via bilateral contracts should not be impaired.
Data security: Like NAFCU, Treasury recommends that Congress enact a federal data security and breach notification law that will protect consumers' financial data and recognize existing federal data security requirements for financial institutions.
New credit models: Recommendations from the Treasury Department align with NAFCU's position that regulators should encourage flexibility in terms of allowing the use of more than one credit model.
NAFCU agrees that fintech produces real benefits to consumers, but any company engaged in core banking functions should be regulated the same way as credit unions. The association continues to support a fair playing field so credit unions have as many opportunities as banks and non-regulated entities as part of its 2018 priorities.
Related Resources
---
Get daily updates.
Subscribe to NAFCU today.