December 05, 2018
Treasury recommends postal system stay out of banking; NAFCU agrees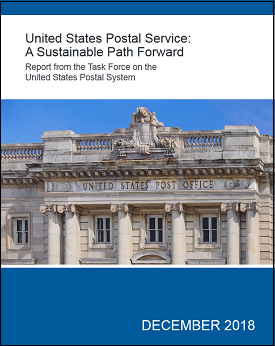 The Treasury Department on Tuesday, in a report on how to overhaul the U.S. Postal System to return it to sustainability, specifically noted that the entity should not pursue postal banking given its "narrow expertise and capital limitations" – a view shared by NAFCU.
"Given the USPS's narrow expertise and capital limitations, USPS should not pursue expanding into new sectors, such as postal banking, where the USPS does not have a demonstrated competency or comparative advantage, or where balance sheet risk would be added," the report states.
The report, United States Postal System: A Sustainable Path Forward, notes that between fiscal years 2007 and 2018, the USPS experienced net losses totaling $69 billion and is forecast to lose tens of billions of dollars over the next decade. This report derived from an executive order establishing a task force chaired by Treasury Secretary Steven Mnuchin to review the USPS's business model. More specifically, the task force was directed to "evaluate the operations and finances of the USPS and to develop recommendations for administrative and legislative reforms that will enable the USPS to create a sustainable business model."
A list of recommendations from the task force can be read here.
NAFCU has raised concerns over the U.S. Postal Service offering banking services. The association holds that credit unions already offer loan products and savings mechanisms for their members, and consumers are best served by institutions that can offer a full range of financial services and develop relationships with their members.
Related Resources
---
Get daily updates.
Subscribe to NAFCU today.