September 12, 2019
Waters, HFSC members stand by CUs, share updates on key issues at Caucus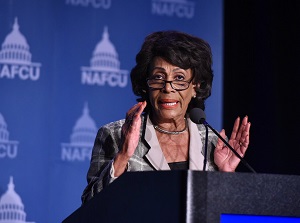 On the final day of NAFCU's Congressional Caucus, House Financial Services Committee Chairwoman Maxine Waters, D-Calif., and a host of key members from the committee pledged to stand by credit unions in the fight to keep the industry's tax exemption intact and many called to halt the current expected credit loss (CECL) standard.
"Credit unions serve their members and their communities. When there are calls for Congress to take away credit unions' tax-exempt status, I want to ensure you that I will strongly oppose that change," Waters said to the applause of the crowd.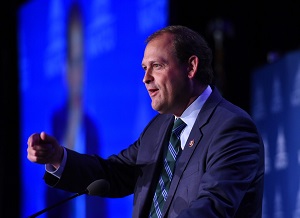 Waters also offered her support to raising the member business lending cap "to ensure that small businesses get the resources and support they need" and touted credit unions' responsible lending to benefit those in underserved markets.
Waters recently outlined her priorities for the committee this fall and gave attendees an update on legislation related to marijuana banking and Bank Secrecy Act (BSA) reforms. On fintech, the chairwoman said the committee is "working to encourage responsible innovation with the appropriate safeguards to protect consumers and not displace credit unions."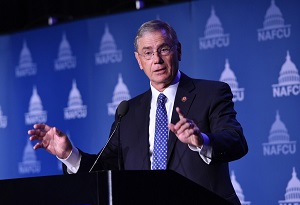 Rep. Andy Barr, R-Ky., and Rep. Blaine Luetkemeyer, R-Mo., also shared a number of credit unions' concerns related to CECL, including consequences on capital and access to credit. Luetkemeyer said that "credit unions will be among hardest hit" and said "[the Financial Accounting Standards Board (FASB)] needs to be narrowing the standard's scope, if not getting rid of it." Barr cosponsored legislation to require FASB to halt its implementation until a study is conducted; credit unions will likely have to comply with the standard in 2023.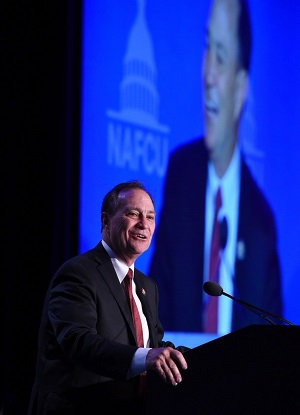 Earlier in the day, Rep. Ed Perlmutter, D-Colo., also discussed marijuana banking concerns and the need for legitimate businesses to have access to legitimate financial services. He said legislation that he introduced should get a vote on the House floor in the coming weeks.
Relatedly, Barr discussed hemp banking and commended the NCUA for offering interim guidance for credit unions to service hemp businesses.
Rep. Bill Foster, D-Ill., as the chair of the committee's task force on artificial intelligence (AI), dedicated his time to discussing risks of AI and fintech facing financial institutions, as well as opportunities in underwriting processes to guard against bias and discrimination.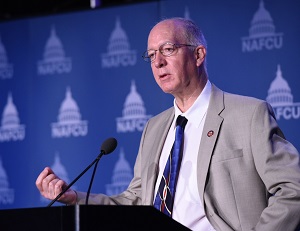 Rep. French Hill, R-Ark., serves as ranking member of the AI task force and discussed related issues. He said he wants to keep the U.S. on the cutting edge in the global competitive market while ensuring a level playing field for financial institutions. Like Foster, Hill sees opportunities for these technologies for improving the credit underwriting process with a keen interest in the Fair Credit Reporting Act and Fair Lending Act.
Rep. Sean Duffy, R-Wis., who recently announced that he is retiring from Congress soon, also addressed Caucus attendees, saying credit unions "help people fulfill their dreams. For all of you, serving your communities and making your communities stronger is a really cool mission."
For more on Caucus, follow #NAFCUCaucus and subscribe to NAFCU Today.

Related Resources
---
Get daily updates.
Subscribe to NAFCU today.