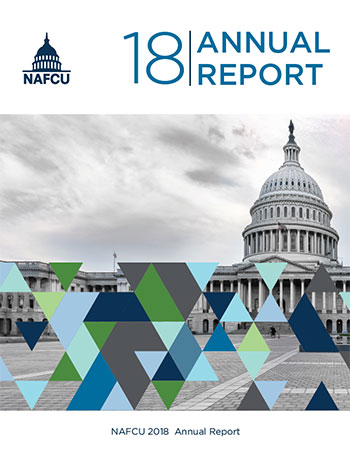 Despite headwinds that brought renewed attacks on the credit union tax exemption and called into question the industry's mission and structure, NAFCU persevered and at the close of 2018 landed higher than ever in our 52-year history. The association's record membership numbers, as well as the growth of our award-winning advocacy, compliance and education services and products, support the strength of our year-end financials.
This 2018 annual report provides an overview of NAFCU's legislative and regulatory wins for the credit union industry during the year; the association's award-winning compliance programs; new developments in education and training resources; national media attention; and the year's financial results.
Download the 2018 Annual Report
Throughout 2018, NAFCU: 
Grew both membership and revenue;

Secured the first credit union industry meeting with President Donald Trump at the White House;

Was recognized with its second ASAE award—this one recognizing our research and advocacy efforts;

W

orked with the NCUA and lawmakers to secure relief for credit unions under the NCUA's risk-based capital (RBC) rule

;

Called on Congress to enact a

modernized Glass-Steagall Act

to protect consumers from banks that are still too big to fail;

Answered over 7,800 compliance questions, continuing our 1-business day or less response time;

Supported credit unions against frivolous ADA lawsuits, including filing 16 amicus briefs in 7 states; 2 briefs in appellate courts; and

Launched a new in-person CFO Summit and online community for member credit union CFOs.
Past Annual Reports