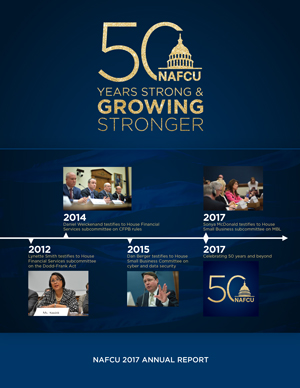 2017 was another successful year of strong growth and evolution at NAFCU—and this would not have been possible without NAFCU's growing membership base.
This 2017 annual report provides an overview of NAFCU's legislative and regulatory wins for the credit union industry during the year; the association's award-winning compliance programs; new developments in education and training resources; and the year's financial results.
Throughout 2017, NAFCU: 
continued its aggressive advocacy to ensure the industry saw a reduction in
regulatory burden;
was invited to the White House by President Donald Trump, and met with several members of the administration to further advance the needs of NAFCU's members and the industry as a whole;
became the first credit union trade association to join global blockchain consortia;
Grew both membership and revenue; and
As an organization still led by a board of directors made up of credit union CEOs, maintained its focus on what credit unions need and care about most
In the year ahead, NAFCU will remain focused on ensuring member credit unions have a voice on Capitol Hill, easy access to the association's experts and the best educational and compliance resources available.
Download the 2017 Annual Report
Past Annual Reports