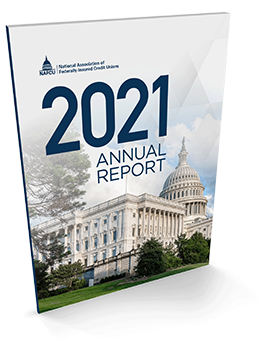 2021 continued to provide unprecedented challenges. As credit unions sought to support members facing financial hardships amid the coronavirus pandemic, NAFCU worked to bolster your mission and secure policies that provided you with the flexibility and tools needed to do so.
Everything we do is focused on helping credit unions grow and serve more Americans, and we continue to be laser-focused on that effort.
This 2021 Annual Report highlights our legislative and regulatory advocacy efforts to obtain more guidance and clarity as new programs and policy changes were enacted, compliance assistance to keep you informed of the operating environment, education opportunities to help you solve challenges and build revenue , and year-end financials.

Download the 2021 Annual Report
Throughout 2021, NAFCU: 
Secured passage of a resolution of the Congressional Review Act, overturning a rule that allowed non-banks to use banks to avoid certain lending regulations;

Ensured the establishment of Federal Reserve guardrails for access to the payment system that hold underregulated institutions to a higher standard of due diligence;

Led efforts that resulted in the Office of the Comptroller of the Currency initiating a review of special purpose charters, which has slowed the chartering of non-FDIC insured crypto banks;

Answered nearly 6,000 member questions through our direct compliance assistance program;

Offered 13 virtual, in-person and hybrid conferences and events, including our landmark State of the Industry that attracted more than 1,300 registrants; and

Experienced over 5,400 credit union professionals and board members streaming more than 18,000 hours of our educational content
Past Annual Reports