FinCEN's Stats on Elder Financial Abuse
Last month, FinCEN released a strategic analysis of BSA filings regarding elder financial exploitation and it revealed some pretty concerning trends.
In the six-ish years between October 2013 and August 2019, FinCEN tracked a 20% increase in the number of filings reporting elder abuse and a 30% increase in the amount of money involved in the reported activities. This increase in filings could mean a significant uptick in elder financial exploitation activity, but it could also mean that financial institutions are watching more closely and reporting more often than they used to.
SAR narratives of a statistically representative sample indicated that 77% of reported elder financial exploitation scams involved money transfer scams conducted through MSBs. 21% involved theft perpetrated through depository institutions.
MSB Scams
The MSB scams most often involved lottery, person-in-need or romance scams and resulted in the elders sending money to someone they did not know. FinCEN provided brief descriptions of these scams:
Romance Scams Scammers establish a romantic relationship with their victims and then request money for "hardships" they experience, or to "visit" the victim (but never do).
Person-in-need Scams Scammers prey on victims' emotional vulnerability by claiming to be a loved one who needs money quickly to help with an emergency.
Prize/Lottery Scams Scammers coerce their victims into sending an "import tax" or "fee" in order to receive the money they have supposedly won in a lottery.
Transfers ranged from a single $500 transfer to an aggregate of $513,855 over time. About 66% of these MSB scams involved transferring money to receivers in a foreign location. The foreign locations are often somewhere in Asia or Africa.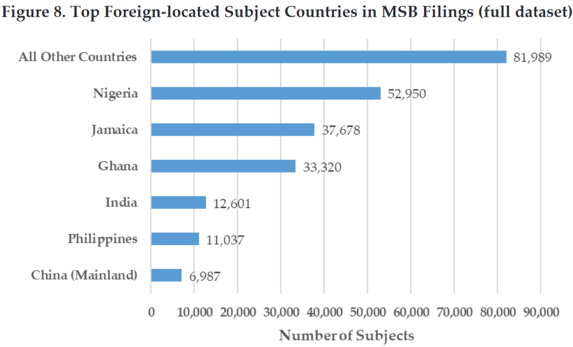 Theft
While MSB scams are most often perpetrated by a stranger, SAR reports of theft most often involve the elder's family members or caregivers. Frequently, reports identified the elder person as suffering some type of incapacitation such as dementia.
The average amounts involved in reports of theft are more than double the amounts involved in MSB scams. These thefts are often repeated thefts of small amounts that can represent a major portion of the elder person's wealth over time. In the aggregate, reported thefts ranged from $52 to $1,186,437.
Resources for Preventing Elder Financial Exploitation
In 2030, all baby boomers will be older than 65. At that point,  it is likely that 1 in 5 American residents will be of retirement age. Based solely on demographics, the number of potential victims of elder financial abuse will steadily increase in the coming decades. Credit unions reviewing their policies do have some resources they can turn to:
About the Author