Report: Taking a Look at Consumer Complaints to the CFPB in 2018
Written by Shari R. Pogach, NAFCU Regulatory Paralegal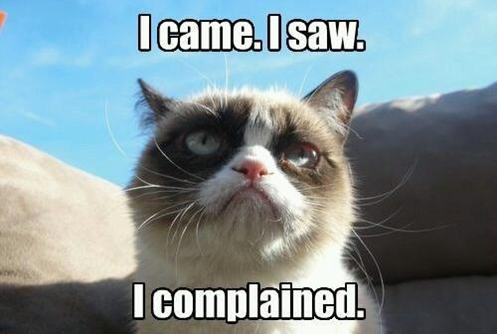 As required under Dodd-Frank, late last month the Consumer Financial Protection Bureau (CFPB) released its Consumer Response Annual Report for the period of January 1 to December 31, 2018.  This report is a breakdown of the approximately 329,800 consumer complaints the bureau received in 2018.  Complaints came through the bureau via its website, by referral from the White House, congressional offices, other federal and state agencies, and by telephone, mail, email and fax.  In her opening statement, CFPB Director Kathleen L. Kraninger states this report is one way the bureau is delivering on the promise of the bureau's transparency.  She also indicates this review will "inform how our complaint program will evolve and how we will serve and interact with the program's various stakeholders, including consumers, companies, and other regulators."
Credit or consumer reporting, debt collection, mortgage, credit card and checking or savings were the most complained about consumer financial product and service categories, comprising approximately 89 percent of all the complaints the bureau received.  Other categories consumers complained about included: student loan, money transfers or services, virtual currencies, vehicle loans or leases, personal loans, prepaid cards, payday loans, credit repair or title loans.  In most cases according to the CFPB report the majority of consumers indicated having attempted to resolve the issue with the company named in the complaint.  Complaints were submitted by consumers in all 50 states and the District of Columbia.  Interestingly, the bureau received more complaints from the District than anywhere else in the U.S., followed by Georgia, Florida, Nevada and Delaware, while South Dakota consumers filed the fewest complaints. 
The bureau monitors complaints from servicemembers, veterans and military families (collectively "servicemembers").  Although servicemembers filed complaints at similar rates as non-servicemembers, these complains were slightly more often about debt collection, mortgages and vehicle loans or leases. The CFPB also monitors those complaints from consumers who indicated they were 62 years or older at the time the complaint was submitted.  Older consumers' complaints were more often about mortgage, credit card and checking or savings than those complaints from those consumers under 62.
Analysis of the data determined certain trends within the top reported complaint types.
Credit or Consumer Reporting.  Consumers complained about credit reports more often by a wide margin than other personal consumer reports, such as background checks or employment screenings.  Incorrect information on a report was the most common issue.  In many instances consumers were victims of identity theft with a close relative's suspected involvement but in other cases the consumer acknowledged the account was theirs but disputed specific details.  Approximately 85 percent of consumers indicated they contacted the consumer reporting company prior to submitting a complaint.  Most of the complaints concerning nationwide consumer reporting agencies related to: 1) accuracy issues or 2) problems with the process of investigating accuracy disputes. Servicemembers complained the most about credit or consumer reporting products.  Older consumers were less likely to submit complaints about such products but reported problems trying to access their free annual report online because the credit reporting company was unable able to authenticate their identity online.  Consumers would then have to mail sensitive personal information in order to get the report.
Debt Collection.  The majority of debt collection complaints concerned credit card or telecommunications debt with attempts to collect debt not owed as the most common issue reported.  Consumers noted problems with not getting enough documentation or notice in order to verify a debt. Complaints about communications from third-party collectors included issues with frequent or repeated calls and the threat of negative credit reporting to induce payment.  Approximately 10 percent of debt collection complaints came from servicemembers with 14 percent of those complaints about collectors taking or threatening negative or legal action.  Twenty-two percent of the approximately 10 percent debt collection complaints filed by older consumers were about mortgages.
Mortgages.  Conventional home mortgages were the most complained about mortgage type in 2018.  Trouble during the payment process was the most common issue reported with the bureau's data suggesting that consumers are more likely to submit a complaint when their loans enter delinquency or are at risk of going into delinquency.  Of the approximately 46 percent of complaints concerning trouble during the payment process, most consumers identified problems regarding escrow accounts, missing payments and fees assessed on their accounts. Missing payments frequently coincided with the servicing transfer of the loan.  Those struggling to pay their mortgage often cited concerns involving loss mitigation assistance with issues ranging from repeated requests for documentation to delays in the review of their loss mitigation application. In complaints about applying for a mortgage or refinancing an existing mortgage, consumers often raised issues about interest rate locks. Both servicemembers and older consumers submitted more complaints about mortgages. Approximately 84 percent of consumers submitting complaints about VA mortgages identified as a servicemember while older consumers were more likely to describe issues with home equity loans and lines of credit.
Credit Cards.  Consumers filed more complaints about general-purpose credit cards than store credit cards in 2018, with the most common issue being a problem with a purchase shown on a statement.  Consumers described problems with disputing transactions they claimed they did not initiate and with disputing charges of products and services they either did not receive or that did not meet expectations.  Complaints were also submitted about late fees, promotional interest rates and the computation of interest.  Approximately 21 percent of credit card complaints were submitted by older consumers and more often were about general-purpose cards.  Older consumers were also more likely to submit a complaint about a purchase on a statement with more than 28 percent of such complaints filed.  According to the report, this may be an indication of the targeting of older consumers in fraud and identity theft schemes resulting in more disputes of charges.
Checking or Savings.  A checking account was the most complained about product with managing an account as the most common issue.  Approximately 63 percent of the complaints identified issues with depositing and withdrawing funds and using a debit or ATM card. Consumers described problems getting funds, reported financial institutions placing holds on deposits and noted extensions of the release date of the funds by an institution without notice. Unauthorized transactions whether online, at merchants or at ATMs are also common concern.  Although older consumers filed approximately 17 percent of checking or savings complaints, they made up more than 28 percent of the complaints on savings accounts and other banking products Older consumers tended to raise issues about managing and closing accounts and were less likely to complain about overdrafts, associated fees and problems associated with opening an account.
Although the CFPB only handles complaints for financial institutions with more than $10 billion in assets, it's still helpful to see what consumers are concerned about when it comes to their finances.  The National Credit Union Administration's (NCUA) Consumer Assistance Center addresses consumer complaints involving federal credit unions with total assets up to $10 billion as well as federally insured state-chartered credit unions in some cases.  NCUA's Letter to Credit Unions 15-CU-04 and its enclosed document: Responding to Consumer Complaints outline the agency's handling process and recommendations for credit unions to maintain effective procedures to process consumer complaints.
About the Author