In July 2015, the Department of Defense (DoD) released its final rule amending regulations under the Military Lending Act (MLA). The new rule vastly expands the number and types of products that are subject to the MLA. Credit unions that weren't covered before must now develop rigorous MLA compliance policies and procedures before the majority of the changes must be implemented, starting October 3, 2016.
Below you'll find credit union resources for MLA compliance implementation, including compliance guide, final rule summary, insightful blog posts, articles and webcasts, to help you get up-to-speed.
Resources marked by * are member-only. If you are not a NAFCU member, learn more about membership.
Compliance Deadline: October 3, 2016
(Credit card compliance deadline is October 3, 2017)
MLA Second Interpretative Rule Redline*
Guides & Tools
Complete MLA Compliance Guide*
Updated May 2018 with more details on the DoD's amended interpretive rule from December 2017! A helpful compliance reference for credit unions that addresses many key areas of the DoD's MLA rule including credit cards, security interests and calculating the MAPR. Details include discussions on the effect of financing add-on products, share-secured loans and more.
MLA Scope & Applicability Chart*
A handy resource detailing the background, scope and exemptions for the new MLA requirements.
Articles
NAFCU Compliance Blog Posts
Visit the NAFCU Compliance Blog for more MLA compliance blog posts.
Department of Defense MLA Chart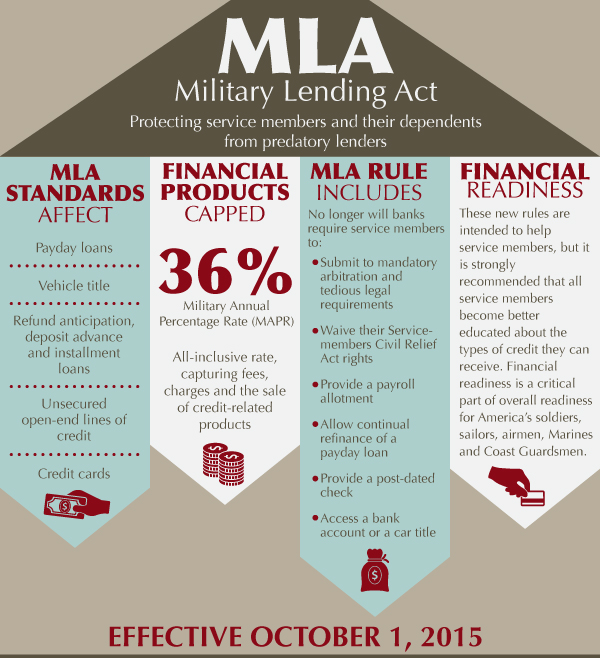 Source: www.defense.gov